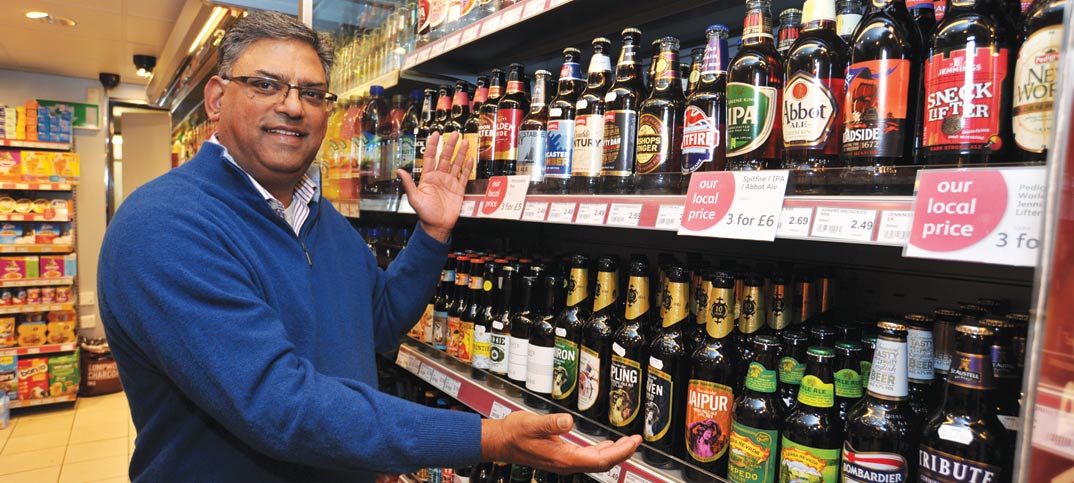 After three decades' trading, Putney retailer Ash Patel met his greatest challenge: the arrival of Sainsbury's Local. He tells Nadia Alexandrou how diversifying his ranges and working more closely with his symbol group has given his customers lots of good reasons to stay loyal
Five years ago Londis retailer Ash Patel lost a significant part of his trade when a Sainsbury's Local store opened down the road from his shop, Gerhold Fine Food & News. Against a backdrop of already-growing competition from coffee shops and delicatessens, Ash saw his £18,000 weekly turnover almost halve.
"After 30 years in the trade, I knew it was time for change, but rather than compete with them, I wanted to base my business around something different," he says. To give himself a strong footing, Ash's first step was to refurbish his shop before deciding how to diversify.
Working with Londis on a £90,000 refit, Ash dispensed with his old fridges and replaced them with more modern chiller units. He installed new shelves and lighting and worked with the group on a layout that better suited his store's shape. "My shop is narrow but very long, so we put fast-selling, less-profitable lines such as milk right at the back of the store to direct customers in," he says.
It only took a few visits to the new Sainsbury's store to decide on his ranges, looking at what wasn't being offered in each category and adding them to customers' requests. "The biggest opportunity was chilled alcohol and soft drinks. I already stocked everything from large bottles of mixers such as tonic water, Coca-Cola, and orange juice to the full range of pre-mixed drinks and wines, and stored them in the chiller," says Ash.
Indeed, across his shop, where Sainsbury's had only three or four best-selling lines of a product, Ash would stock the full range. His dairy chiller, for example, includes five soya Alpro lines, a variety of organic milks and four different types of cream. Ash adds: "I'm the only retailer in Putney that does the full range of Ben & Jerry's and Häagen Dazs, which is incredibly popular and gives us a 50% margin."
For products that he couldn't compete with on price, Ash offered upmarket alternatives and reduced the rest of his range. "I reduced beer multipacks to the 15 bestsellers, which I put near the back of my store – there's no point in investing in something Sainsbury's is known for selling cheaply," he says.
With these larger formats scaled back, Ash had more space to stock premium craft beers and ciders, a sub-sector of the market which quickly became a focus for the business. "When my two sons came back from university to help me after finishing their degrees last year, they told me I was doing my beer and cider range wrong," says Ash.
At this time Putney was filling up fast with young graduates and professionals, so Ash agreed to let his sons remerchandise his range based on their own taste and experience.
"We started out with 20 new bottles, and put them in the chillers near the entrance and by the window. They told me to focus on London-brewed pale ales and anything that looked quirky and rustic," he says.
Since then Ash has expanded his selection, making weekly trips to alcohol specialist Hothi Cash & Carry. He also scouts for new craft brands to stock by chatting to staff. "It's the easiest way to build a craft range – they know what's new and what's popular," he says.
With this new focus, Ash has raised his weekly turnover to £14,000, having seen a 25% lift in alcohol sales alone. "I've worked hard with my family and with Londis to get the store back to where it needs to be.
Near to his beer range Ash offers 125 mostly-premium priced chilled prosecco, white and rosé wines – another point of difference against Sainsbury's Local, where most bottles cost closer to £5. "If customers want a cheap basic wine, they will go there," he says. "They come to me for everything else."
It's now about maintaining our standards and making sure customers choose our niche ranges over the Sainsbury's Local every time."
Visit my Store