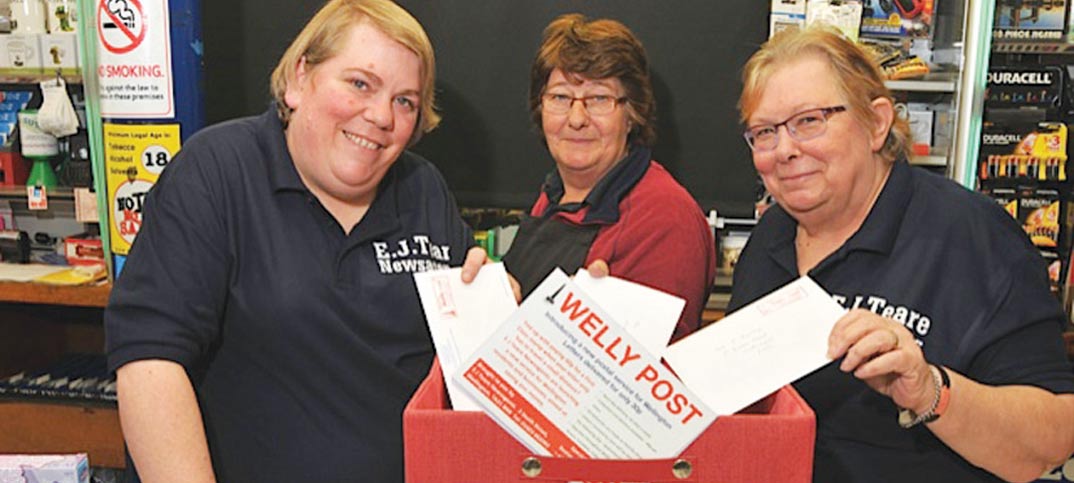 By starting up their own local postal service, Lorraine and Trish Lettley have found an innovative way to drive their business forward as well as solving their community's issues with stamp prices. Tom Hogarth reports
After realising that sales of cards were decreasing due to customer complaints about the cost of stamps, mum and daughter team Lorraine and Trish Lettley decided to come up with their own solution at their 800 sq ft stores, E J Teare Newsagents.
The result was the Welly Post, a local post service that delivers to roughly 12,000 homes around Wellington, Somerset.
Trish says: "We launched Welly Post in December 2013 and by Christmas we'd done over 4,000 letters."
Since then, volumes have increased to 6,000 items delivered over Christmas 2014 and now Trish forecasts that they'll reach 10,000 over Christmas 2015. This is alongside 24 paper rounds and an average of 400 letters delivered weekly during the rest of the year.
Trish's father, Richard, handles a majority of the letter deliveries alone, on a bicycle. If demand gets too high, help comes in the form of a couple of retired gentlemen from the local community.
In addition, Welly Post's price per item has remained at 30p since its inception at the end of 2013. There are plans to review the price following Christmas 2015 but for now, customers of E J Teare can secure the service for less than half the cost of a first class stamp.
Trish believes this is a great way to appeal to her local community and her customers, of whom she estimates 40% are over 50-years-old. News delivery is also very popular, with more than 900 account customers signed up at the store.
E J Teare falls within the catchment area of three large schools and a large portion of this customer base comes from teenagers and families, according to Trish.
Trish explains that magazine sales are another large part of the store's £10,000 weekly turnover and, while they try to provide a range of titles, their focus is on being partwork specialists.
"A lot of shops in the area are moving away from partworks, because they can be hassle, but we encourage people," says Trish.
"We have a very simple deposit system; people have to pay a two-issue deposit. We probably do about 50 different partworks a week."
Trish has also noted an increase in greeting card sales contributing to their weekly turnover.
Our main focus with our staff is
interaction with customers. We pride ourselves on our customer service and friendliness
She says: "The majority of our cards are under £1, but they're quality cards so people know they can come and get something really nice for a decent price.
"Of course, that goes hand in hand with the Welly Post, which we'll cross-sell against."
The pair are now trying to push their business further through social media.
Trish says: "We are expanding our social media presence, including lots of special offers and giveaways.
"We did a Back to School promotion at the end of August, offering up to 20% off various stationary items. We also regularly do scratchcard giveaways."
Alongside Welly Post, Trish and Lorraine pride themselves on providing excellent customer service and having a good team to back them up.
"Our staff have been with us for years," says Trish. "They are all local people with retail experience who are well known within the town."
"Our main focus with our staff is interaction with customers. We pride ourselves on our customer service and friendliness."
The newsagent has been a part of Wellington for over 100 years but now the Lettley family are injecting fresh ideas and cementing themselves within the business' history.
Trish says: "My mum had worked at the shop for nearly 30 years when the owners put it on the market.
"I've got a business degree, so I turned around and said, 'why don't we buy it?' Nine years later, here we are."
Visit our store