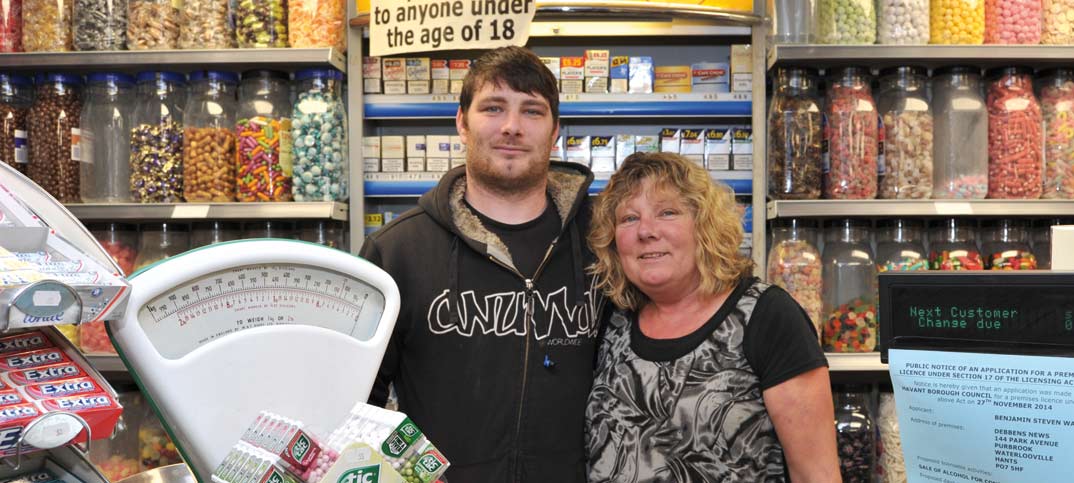 When Debbie Dyer asked her son if he was interested in setting up a convenience store business he jumped at the chance. A decade later they are going strong, with a £47,000 refit giving them more space to stock a wider range. Steven Lambert reports
After the birth of her youngest daughter, Debbie Dyer was looking for a change of pace from her hectic nursing job.
She says: "I'd been looking around the internet for something else that I could do. That's when I came across the shop.
"It looked interesting, so I asked my son Ben if he wanted to join me. When he agreed, we decided to buy it."
The shop in question was a CTN in Waterlooville, Hampshire, which had been open since 1908. But, despite her new role as newsagent at the renamed Debbens News, Debbie soon discovered the life of an independent retailer is anything but easy.
"We had no prior experience of running a shop, and it has been a lot of hard work since we started 10 years ago.
"We're open seven days a week – the only holiday we have is on Christmas Day. But now we're almost like an extended family to many of our customers."
Having endeared themselves to the local community with friendly customer service for a decade, Debbie and Ben realised they needed to improve their business following the closure of several shops in the neighbourhood.
Debbie says: "We had a Co-op shut its doors a little while ago, along with some smaller shops, and suddenly we were the only retailers left open in the immediate area.
"We then had customers coming in asking for all kinds of different things. We knew then that we needed to make some changes."
To ensure they were meeting new demands from shoppers, Debbie and Ben decided to spend £47,000 on a major refit of the store in the autumn, giving it a new look and enabling them to stock a wider range of products.
"We worked with the Jordon Group and they've done a brilliant job," says Debbie, with the works having just been completed.
"Everything's been changed, from floor to ceiling, and we've had a small extension at the front of the store. We've gone from being a traditional newsagent to being a mini supermarket."
The investment included the addition of a new six-door fridge, allowing Debbie and Ben to expand on their existing chilled soft drinks and dairy ranges, while also giving them room to add ready meals, chilled snacks and cooked meats to target busy workers and parents and children on the school run.
Extra space has also been given to everyday grocery lines such as cereal and pet food, while the store is targeting new sales opportunities with a Bake & Bite food to go counter.
Debbie says: "We're located on the top of a hill, so a lot of our trade comes from elderly shoppers who can't travel far and want to get everything they need in one shop.
"We also offer a delivery service to shoppers if they want to place an order in the shop, which is popular with older people."
At the same time, Debbens News is also appealing to a younger demographic with a healthy selection of Games Workshop kits and figures.
A lot of the changes we've made here have been influenced by our shoppers. For us, listening to customers has been the key to our success
Debbie says: "We've had them for a while but, since the refit, we've been able to bring them out from behind the counter and put them on the shop floor. We sold four packs almost immediately."
She adds that the store is also well renowned for its home news delivery service, which currently has 300 customers on its books.
"It is a slowly declining market but there are still people here who want their local paper delivered, so it's an important service to have," says Debbie.
Looking to the near future, the front of the business is in the midst of being updated with new signage to encourage further footfall, while Debbie and Ben have also applied for an alcohol licence.
"A lot of the changes we've made here have been influenced by our shoppers," says Debbie. "For us, listening to customers has been the key to our success."
Visit our store