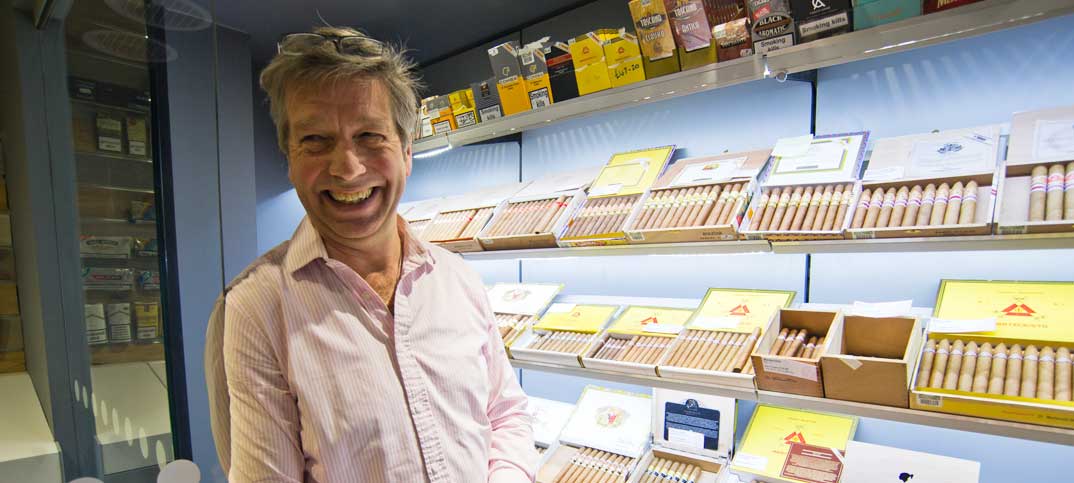 Surrey retailer David Worsfold has completed phase one of his shop development plan to compete with Sainsbury's. Having grown up living above his father's shop, David knows how to make customers feel right at home.
Steven Lambert
reports
David Worsfold can legitimately claim to know every inch of Farrants Newsagents, having spent most of his early years living above the shop his father used to run.
But even if this hadn't been the case, David's keen eye for detail means he would probably still be able to tell you about every square inch of the 3,000sq ft business he now owns in the affluent village of Cobham in Surrey.
It is part of the reason why trade is booming at his store, despite the presence of Sainsbury's Local just two doors down.
This success has also come from an investment of just under £1m to transform the business into a one-stop shop for confectionery, news and magazines, toys and tobacco.
David says: "When Sainsbury's Local opened up two years ago, we chose to put everything on the line to try and defeat them.
"I got in a consultant – something my father would have killed me for – and she took me on a journey of how retail has changed.
"She told me that whereas people in the past would socialise while doing their shopping, they now tend to congregate elsewhere."
With this in mind, Farrants underwent a nine-month refit to give the store a modern look while celebrating its 120-year history.
The new wooden interior – "inspired by Fat Face stores" says David – is complemented with various items dotted around the store relating to Cobham's past, including the engine from a Hawker Hurricane plane which crashed nearby during World War II.
"I wanted shoppers to feel like it was their store and somewhere they could use as a social hub, and not be processed like they would be in Sainsbury's."
I wanted shoppers to feel like it was their store and somewhere they could use as a social hub, and not be processed like they would be in Sainsbury's
Farrants officially reopened on 7 November and, since then, David said the store has "doubled in profitability" thanks to a number of new features.
Chief among these has been the creation of a special tobacco room, hidden away from view behind the store's main till. The 'shop within a shop', which is only accessible to customers aged over 18, allows David to fully display his wide range of tobacco products.
This includes big-name brands, specialist rolling tobacco, a comprehensive range of pipes, and even a large selection of Cuban cigars located in the store's own walk-in humidor.
"We have a separate till in the room for transactions and, because we can display the products, we've had a bit of fun with the presentation, such as embedding cigar boxes into the wall.
"Since the changes our tobacco sales have grown by 20% and our cigar sales are up by 30%."
Other additions include a revamped news and magazine section, complete with two leather sofas and table for customers looking to browse before they buy.
"It ties in with trying to get people to linger in the store," says David. "Our news and mag sales are up 8% as a result."
Children are all also well catered for at Farrants, with a new confectionery Christmas tree-shaped display filled with American sweets.
David says: "We're now looking to add lights so it draws your eye right from the front of the store.
"Confectionery sales have grown by 8%, and we'll be working with a company called American Fizz to extend our American range further."
Despite the positive early results, David says the business is "only 75% there" and is already moving onto "phase two" of the development.
His plans include the creation of a function room at the back of the store to hold community events and workshops, as well as a separate 'smoking room' underneath the business for pipe and cigar smokers.
David says he will also launch a 'Friends of Farrants' loyalty scheme, with fee-paying customers gaining exclusive deals such as free cups of coffee from the soon-to-be-installed coffee machine.
He adds "I have a two-year programme of things to do and, now that we have the platform to build on this, it's going to be a very exciting time for us."
Visit my Shop