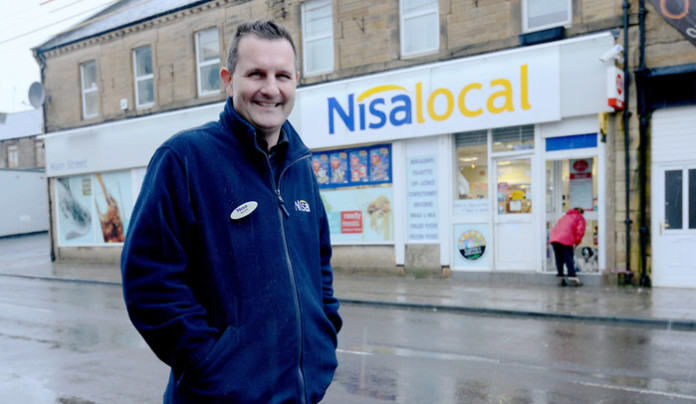 Catering to his customers' wants and needs enables Tyne-and-Wear retailer David Brown to be a lifesaver. While the savings he's making on energy bills allow him to splash out more on specialist products from local suppliers. Steven Lambert reports
We're often seen as the fourth emergency service," says Nisa retailer David Brown when asked about the importance of being an independent retailer in his village.
And it's not hard to see why the owner of Nisa Local in Crawcrook in Tyne-and-Wear is held in such high regard, having dedicated the past 15 years to offering services and products tailored to his shoppers' needs.
David says his previous jobs have stood him in good stead for convenience retailing. He became one of Marks & Spencer's youngest supervisors in the early '90s and took on one of the chain's first food-only stores in Pinner, London.
But after three years and a "first class experience" with the chain, David felt "homesick" and returned to the north to work with a freezer company with 28 stores. When the company went into administration in 1995, David bought six of the stores, eventually selling on five of them in 1997.
"The one store we had left became our Nisa Local, and we used the proceeds from the other five stores to buy the freehold for another business eight miles away, which is now a Loco store," he says.
Needless to say, frozen and chilled foods still represent a large part of David's setup in his businesses: "In our Local shop, we have a seven door freezer, a large chest freezer and a McCain branded freezer that we got through Nisa.
"We do really well on frozen meals, especially now that we are taking advantage of Nisa's promotions every three weeks.
"Fruit and veg is another area which has taken off. We get everything pre-packed from Nisa and a lot of it is pricemarked, such as a bunch of bananas for £1, which gives customers confidence that they're not being ripped off."
However, an abundance of chillers and freezers has led to an increase in utility costs, with David estimating his electricity bill has increased a whopping 500% over the last five years. It's an 18 month payback to Enviroglow but we're looking at paying £16,000 a year on electricity, knocking a
third off our bills. To combat this, he has sought the help of Enviroglow, a company dedicated to providing energy saving technology to businesses.
David says: "I can remember five or six years ago when our electricity bills were £5,000 a year and now they're nearer £25,000. So we had an installation done by Enviroglow a few months back.
"They changed our lighting system to LED, put limiters on to reduce energy wastage and put an apparatus called Chillscoop on the bottom of our chillers, which redirects the air flow back into the unit.
"It's an 18 month payback to Enviroglow but we're looking at paying £16,000 a year on electricity, knocking a third off our bills."
In addition, David says he works closely with four local suppliers to provide a range of specialist products, including beer from Wylam Brewery and bread from Trotters bakery.
He adds that that he was one of the first stores to receive a Post Office Local counter, which has become an increasingly important service for villagers.
He explains: "The local post office was shut down a few years ago and we were seeing people driving out of the village to get parcels delivered, which meant they were also shopping outside the village.
"But with Post Office Local, we can now offer postal services from 6:30am to 9pm seven days a week and, now, we are seeing more people shopping locally."
David also uses Nisa's Making a Difference Locally scheme support the village football team and community centre.
He is also quick to shout about his business to potential new shoppers: "About 30 houses were recently built nearby. When people were moving in a few months back we left a hamper filled with goods for them to welcome them to the neighbourhood.
"It probably cost us around £5 a hamper and I know that the people who got them are still with us today. I would say we know 90% of the customers we get here by their first names.
"At the end of the day, we're just proud to be community champion for the village."
Visit my Store