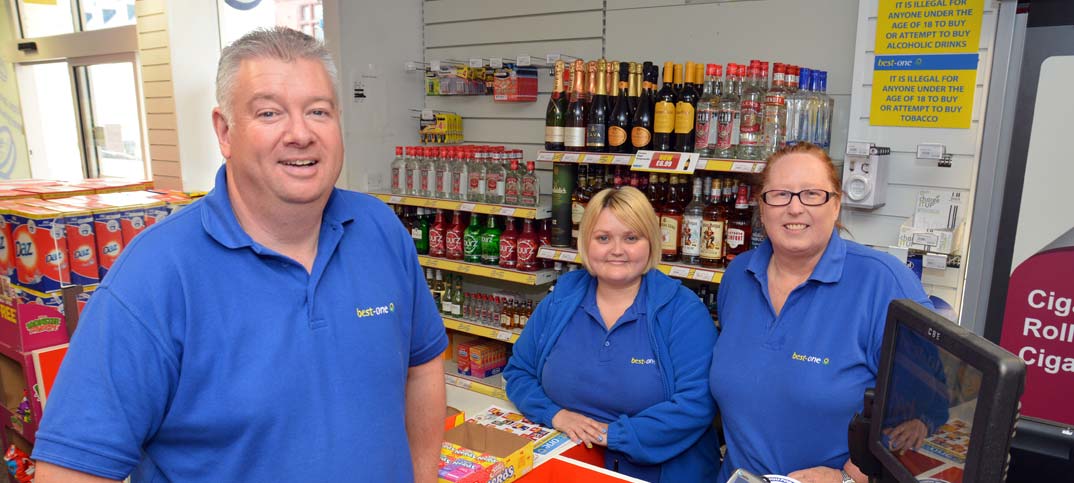 With supermarkets dominating his local community, Welsh retailer Darren Briggs felt it was time to transform his store with help from Bestway. The result was the creation of the first Best-one Value store, helping his sales grow by up to 7% week-on-week.
Steven Lambert
reports
When Darren Briggs set out to find a new symbol operator to help him develop his convenience store in Milford Haven in south west Wales, he made it clear immediately he wanted to create a new business that was completely different to his competition.
"I specified that what I was looking for was not the normal convenience store because of the competition with Tesco, Spar, Lidl and Aldi," he says.
After many talks with various groups, Darren settled on Bestway after the company offered him the opportunity to create a completely new convenience format.
"After meeting Bestway, seeing the way they operate and the support they gave us, it was clear they offered the best option.
The result was the launch of the Best-one Value fascia, which officially opened at Darren's business in January.
The revamped 2,600sq ft store is completely geared around offering the best possible prices to shoppers through promotions and £1 ranges, while Darren adds the products he stocks are now 99% pricemarked.
He says the shift has been driven by increasing competition from both supermarkets and discounters around the business.
Competition around the store
"We now have a Tesco and a Lidl nearby, and Aldi and other convenience stores not too far away as well.
"The catalyst for change was about three years ago, when Lidl launched its in-store bakery.
"We could see their car park getting busier and busier by the day.
"I would say 40% of the footfall from the Milford Tesco has diverted to the discounters. We knew we had to make some changes."
While some might question the decision to bring his store directly in competition with the larger discounters, Darren says there are a number of noticeable differences about his business.
"The discounters focus on their own brand goods whereas we have the big FMCG brands at discounted prices, so it's a different proposition," he notes.
"For example, this week we have a Walkers variety 30-pack at £2.95, Pringles at £1, and Andrex toilet roll pricemarked at £2.99.
"We have 15 pallets at the front of the store that we fill with a number of different bulk-buy products, which we change on a regular basis."
How he grew his sales
In addition, Darren says he has grown sales further by expanding his range of discounted non-food lines, including household cleaning products, and has also increased the number of deals in his alcohol section with offers such as Premier Estates wine at £3.99. "A
lot of our deals are better than Tesco," he adds.
"Bestway have also been fantastic with their support and promotions.
"While most of what we stock is on offer, we're still achieving a gross margin of 20% across the board, including cigarettes."
Darren says since the changes, weekly sales and basket spend have been growing between 5% and 7% week on week, while footfall is also on the rise.
He is now looking to differentiate his store further by adding more locally-sourced goods, such as freshly picked potatoes from Trehill Farm, and introducing a range of American sweet brands.
"We were considering food to go as well, but we have a Greggs and a Subway nearby, so the market is already saturated."
This early success has also prompted Darren to begin planning the launch of another Best-one Value store in the near future.
He says "I think I'll give it 12 months and by then we will have opened another store in west Wales.
"It's been really important to build a clear and focused proposition for shoppers. We've got that now, and it is giving us an advantage against the competition."
Visit my store