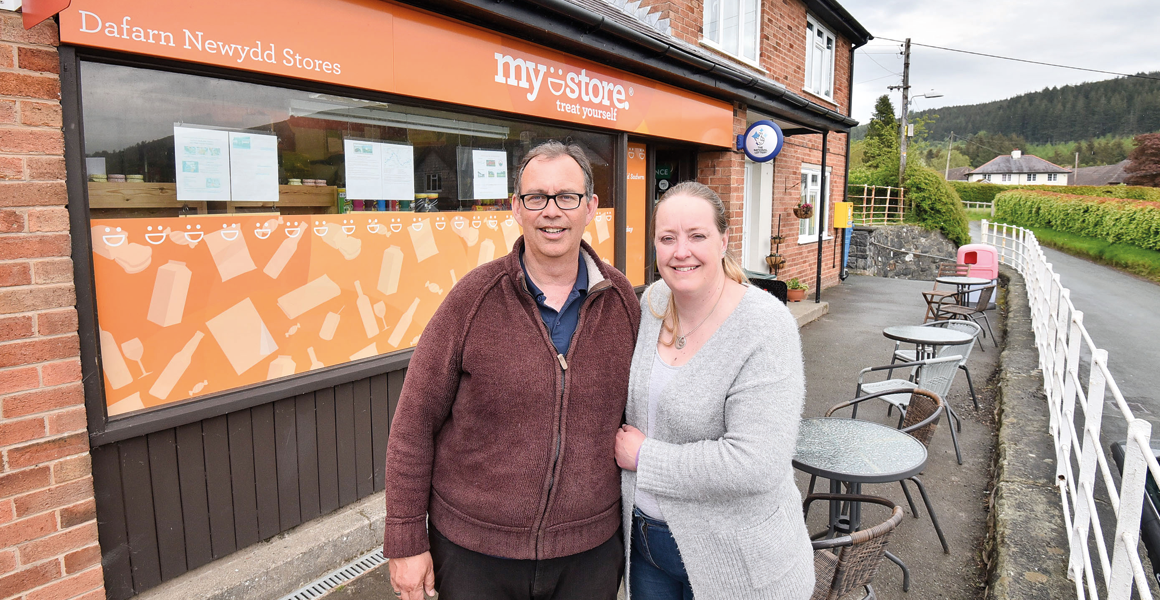 Dafarn Newydd, Llanwddyn, Oswestry, SY10 0LT
For Andrew and Coleen Johnson, from Dafarn Newydd Stores in Llanwddyn, Powys, listening to their customers – however unusual their requests – has been the key to making a success of food to go, reports Daryl Worthington
Basically, we say if the store is open, the takeaway gear is on
"It's about community rather than getting rich," says Andrew Johnson, from the Dafarn Newydd store in Llanwddyn, Wales. He and his wife, Coleen, took over the 516sq ft store in 2009. Starting as a petrol station and convenience store, they decided to look into food and drink to go, quickly establishing the store as a popular site for both locals and tourists visiting nearby attractions.
"We put in a Rijo coffee machine five years ago and it increased trade," says Andrew. "We had delivery drivers travelling from miles around saying they were waiting until they got to us to have their breaks because we had such good coffee. That's what really kicked off the idea of putting hot food and takeaway options in."
Building up food to go has been challenging, but it has made a huge difference for the store. "We've had to convert half of our domestic kitchen into a catering establishment to comply with all the legislation around food to go. It's been a success, but it's also a constant challenge to maintain standards, which I guess is the case for most small shops these days," he continues.
"About five years ago we were struggling a bit, and my wife was having to work nights at another job. But with food to go we've managed to get our heads above the parapet again. Me and Coleen are now both working full-time in the shop."
Located in a small rural community, a short distance away from Lake Vyrnwy Nature Reserve and Estate, Andrew says their customers are roughly 60% tourists and 40% locals. A strong relationship with those customers was crucial to shaping the food-to-go range.
"We asked them what they wanted. A lot of them are farm workers, who want hot food before they go to work in the morning. We even have one customer who asked if we could do fish and chips for breakfast!" reveals Andrew.
"After that, we went to Harlech Foodservice. We asked them what the bestsellers were in their restaurants and cafés on the North Wales coast. They told us what was most popular, and we put those products in. So far, all our customers seem happy.
"Basically, we say if the shop's open, the takeaway gear, which is two fryers and a griddle, is on. If you want an all-day breakfast at 6.29pm, just before we close, or fish and chips when we open at 8.00am, it's all there and available."
More recently, the Johnsons have found success serving fresh orange juice in glass bottles. "Sales have gone through the roof," Andrew says. Bottles for their customer milk orders are also all glass, while their takeaway food is served in fully recyclable boxes.
"Customers are getting more conscious, because the plastic issue is in their face all the time," he says.
The Johnsons are keen on doing as much as they can to promote the store. At the moment, this is a combination of social media promotion through Facebook and Twitter, word of mouth and writing articles for inclusion in local magazines. The important thing for them is to establish a good reputation.
"With the tourist business, you never know who's going to come through the door, so you always need to be on your game. You're only ever one bad sale away from a bad review," Andrew explains.
Last year, the store served as a rest point on a 600km cycling challenge, staying open late to serve food and drink to participants. "We ended up cooking fish and chips all night," says Andrew. He thinks the hard work paid off, though, with more cyclists now planning routes via the store.
"From a PR point of view, it was brilliant, but from a sleep point of view, it was exhausting," he concludes.
Find Dafarn Newydd Stores
Explore Dafarn Newydd Stores