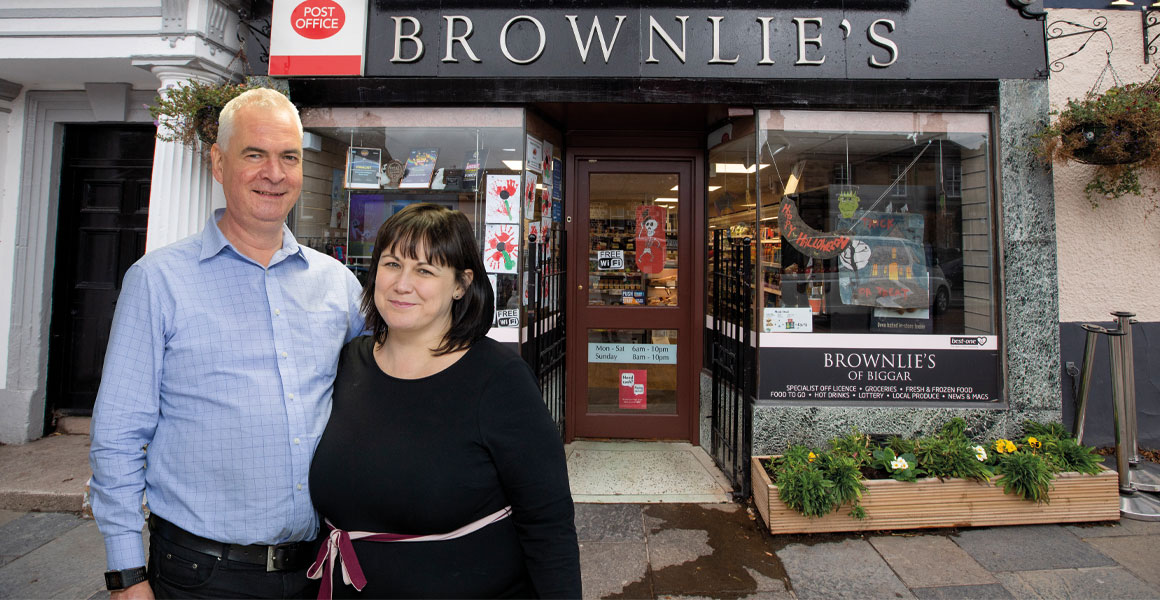 107 High St, Biggar, Fife, ML12 6DL
Located in secluded Fife in Scotland, Bruce Morgan, of Brownlie's Best-one, has relied
onpremiumisation to keep his local customers coming back.
"We're in a rural location with a population of around 2,500," says Bruce. "We don't have too much competition as our nearest big supermarket is 12 miles away and we have a post office. We have increased our point of difference by bringing in more local specialty produce and we are now a destination for specialty alcohol."
The alcohol area of the shop had the biggest development in recent months.
"We've made our alcohol range premium," explains Bruce. "We make good margins on expensive bottles and we have put effort into this area with tasting notes, barrel displays and digital screens.
"We've also added mood lighting. This, alongside some good in-store theatre, has seen our spirit sales rise £20,000 year on year."
Despite the uplift, Bruce is showing no signs of slowing down. "This year we want to further concentrate on our alcohol," he says. "We created tasting notes for all of our whiskeys and we are doing the same for our gins. The tasting notes sit in the display."
Trying out ideas in store has been vital to the store's success. "There's no need to be scared," says Bruce. Enhancing his shop's display is something Bruce has evolved over time. "Shop display is the first thing your customers see, so it's vitally important," he adds.
"Displaying things differently does have an impact on sales. When we put items on display, we can roughly see a 20-30% uplift in sales just by making it more visible. Our promotion stand is also right near the post office queue, so people have a chance to look at it."
However, Bruce stressed that sometimes even small changes can have a big impact. "We've pushed the boat out on special occasions," he says. "This year we won the best decorated shop during the region's gala week. We decorated it like a circus outside and inside, and the staff all dressed up."
It's efforts like this that help pull in the neighboring school crowds. "We've got a large primary and secondary school near us so we get the lunch and after-school trade," adds Bruce.
But, being the only store in the area does come with its difficulties. "Increasing costs and decreasing margins are a real challenge for us," says Bruce. "Staff costs have gone up, so have energy costs and rates, so it's all about staying competitive while tackling this.
"I price my alcohol not far off internet pricing and I always stay within RRP for tobacco, which has made me a destination shop – I may lose margin, but I've increased turnover."
This isn't the only way Bruce has used the internet to his advantage. "We have our business development executive who comes in two or three times a month from Best-one who alerts us to new products and gives us advice on merchandising," he explains. "I do use the internet a lot, both in terms of sourcing local produce and looking at planograms. One size doesn't fit all, so I adapt whatever I pick up."
One example of this includes Bruce's recent staff contract revamp. "One of the areas that I realised needed work was our staff contracts and staff development," he says.
"I've now brought in a company to advise me. Not only were my contracts not fit for purpose, but I realised my staff could take on more, like ordering and the financial side of the business and that I could develop them."
What to do next is something never far from Bruce's thoughts. "Be creative and do something different," he states.
"I am working on creating a free-from zone in the store and have been working with a company in Glasgow to do this," he notes. "I plan to stock gluten-free breads, bars and biscuits against a
large sign so customers know there is a dedicated area."
Find my store