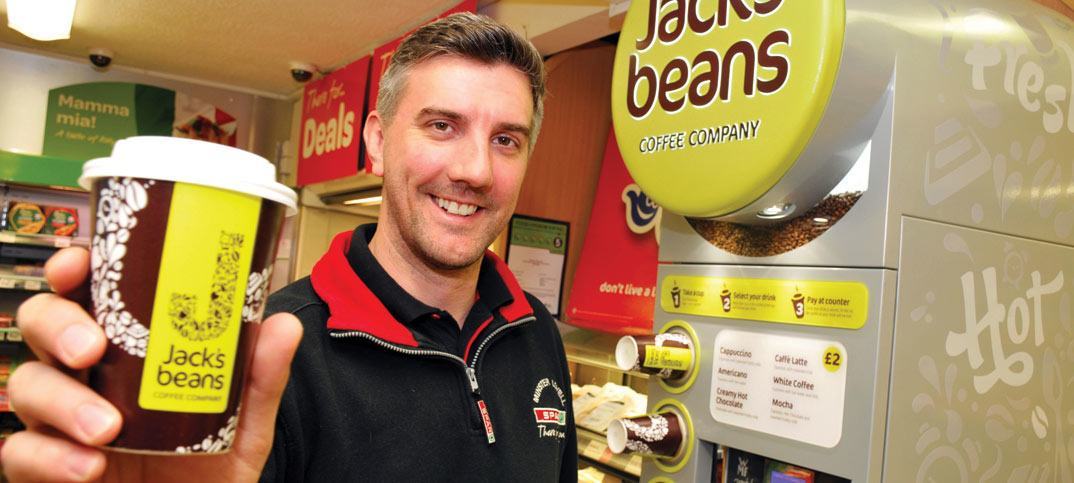 Since installing their Jack's Beans coffee machine, Ian Lewis and his family have seen a dramatic lift in trade, particularly from passing trade looking for hot drinks and snacks.
Steven Lambert
finds out what else the team has been doing to grow profits
An ideal balance of the traditional and the new is probably the best way to describe Spar Crescent Stores in Oxfordshire, according to Ian Lewis.
The retailer puts this down to the dynamic between the family team behind the business, which includes himself, his sister Karen, and their dad and store owner David.
"We all contribute something different to the business. My sister is a director and manager at the store, and I'm from an IT background so I'm always looking at ways we can modernise the business, whereas my dad likes to focus more on what has worked well in the past. We sometimes disagree on things but I think that's a good thing for the shop."
Their working relationship is reflected in the type of business they run, an independent store under the Spar brand, where long-running services such as home news delivery and dry cleaning run alongside more modern shopper incentives such as Collect+ parcel collection and a self-serve coffee machine.
In fact, the store's Jack Bean's coffee machine has become one of the main draws for shoppers since its installation in 2013, and has led to a steady stream of repeat visits from passing and local trade.
Ian says: "We were one of six stores to trial Jack's Beans through Smiths two years ago. Back then, we had an unbranded machine and were doing 30 cups a week. But since then, after Smiths provided us with branding, this has gone up to 110 cups a week.
"We charge £2 per cup, which is pretty reasonable, and we had a promotion at £1.50 a little while back that helped us pick up a few extra sales, which we have maintained when the price went back up."
The coffee machine is now seen as a central hub in the store and has become so popular that the majority of shoppers are buying extra goods alongside their cappuccinos and lattes.
Ian says: "Our food to go sales are up 20% as a result of people buying something along with a coffee.
"We work with Cuisine de France and we have moved their products close to the coffee machine to encourage people to pick some up. We have things like pies, pastries and sausage rolls, which are really popular with builders on their way to work in the morning."
Ian has also been able to link the coffee machine in with the selection of goods he gets from local suppliers.
"We get lardy slices from the local Bread Bin bakery, which is easily our best-selling product, and customers are now buying these with a cup of coffee.
"We also have a lady who comes in at 5am every day to make 400 filled rolls every day, which will we sell out of pretty quickly.
Elsewhere, Ian says he has been using his technical know-how to help improve logistics and stock allocation at the store.
Our food to go sales are up 20% as a result of people buying something along with a coffee
"We had the card machine go down for a week when we had trouble with our broadband, which must have cost us around £9,000 in lost trade. So now I've introduced a 3G failover system which means that we have a backup system if our broadband goes down.
"I've also been working with Spar to introduce suggestive ordering, meaning we'll get alerts on the system when something's running out of stock.
"And I'm a big user of Smiths' SNapp. We have 10 rounds on our HND service and more than 600 magazines, so it's helpful for me to keep on top of our orders at any time."
With Ian also set to be made a director at the store very soon, shoppers can be assured that they will be receiving the same excellent levels of availability and range of services for years to come.
Visit my Store