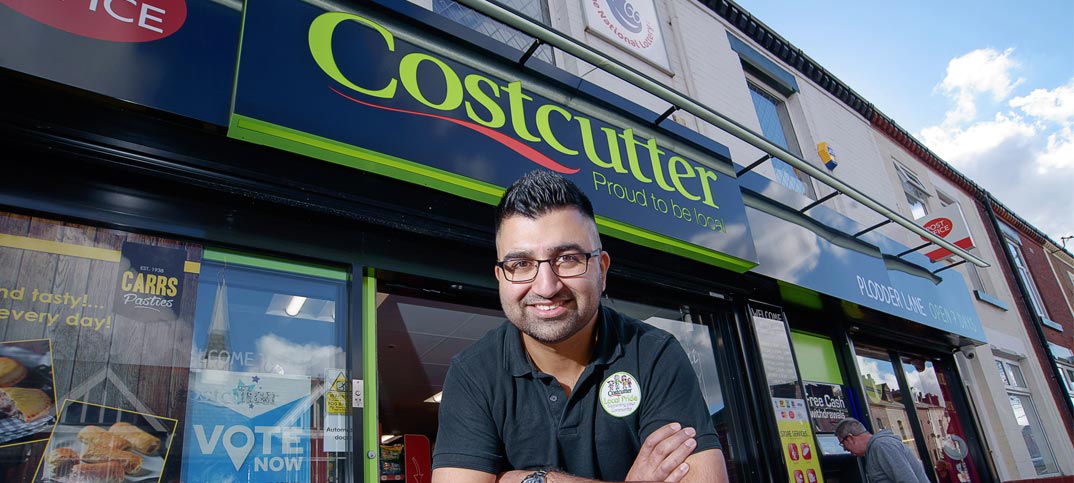 Having grown his flagship Costcutter store by £1m in just a year, Bolton retailer Baz Jathwa has turned his attention to refitting his smaller store. He has installed a Costa Coffee machine, SmartTills and even a tobacco chute from upstairs to the shop floor.
Steven Lambert
reports
Bolton retailer Baz Jethwa was facing a conundrum – how to take a successful convenience store model, which had allowed him to grow sales at his 3,800sq ft flagship Costcutter store by more than £1m in a year, and adapt it for a store with three times less floor space.
The question had been on Baz's mind ever since he invested £400,000 to completely refit his Campbell Street business in Farnworth in 2014. The move was a hit with shoppers, with turnover at the shop growing by 55% to £2.7m last year.
He says: "We've been doing really well since the investment, and I wanted to do something similar with our other store on Plodder Lane, which is only 1,400sq ft. The challenge was to do something similar but on a smaller scale."
"We also made the aisles wider and made our shelves higher, which meant we could add more stock while also giving the perception that we've created extra space."
With this vision in mind, Baz started by giving the store a £250,000 refit. He says: "We ripped out everything completely and added a new ceiling, LED lights, and a kitchen and bakery area, as well as updating the front of the store.
The investment also led to the installation of a Costa coffee machine, two Post Office Local counters and hi-tech equipment including new SmartTills being trialled by Costcutter, which automatically count coins and notes held in cash drawers.
In addition, a new tobacco delivery system from Navarra Retail Systems allows staff easy access to tobacco products while helping Baz free up space to promote other profitable lines around the front counter.
He says: "The tobacco is located in a machine upstairs and, when a customer wants a pack, you just press a button on the till and it drops down a chute to the counter. It has allowed us to stock more spirits and e-cigarettes around the tills and we're already seeing more impulse sales as a result."
Other similarities to the Campbell Street store include a big focus on fresh and chilled, with Baz saying space for these categories has been increased by 70% with the refit. However, with the Plodder Lane site having more passing trade in comparison, he adds that he has made subtle changes to better meet shopper needs.
"We've given more space to impulse lines like sandwiches and chilled ready meals," he says.
"We've been able to keep up availability on these by getting four deliveries a week from Costcutter, which means we have less back-room stock and better cash flow."
The store's food to go has also been updated to attract busy workers and commuters, with hot bacon butties and pasties from popular local supplier Carrs particular favourites, according to Baz.
He adds: "Half of our fruit and veg is pre-packed from Costcutter while the rest is loose and sourced from local markets. We also get our eggs, milk and meat from local suppliers, something that has been popular at Campbell Street."
Since re-opening in February, Baz says weekly sales at Plodder Lane have already grown by 25% and he is now aiming for a 50% rise over the coming months.
He will look to achieve this by widening the store's presence on social media and continuing his ongoing work with the local community.
"We're aiming to go bigger on Facebook and Twitter this year – we want to use it talk to customers more directly.
"We're also donating items to a local homeless shelter and, since we have a larger elderly population around Plodder Lane, we'll be looking at ways to help them as well."
With customers already beginning to flock to the updated store, Baz's work is proof that big things can come in small packages.
Visit my shop