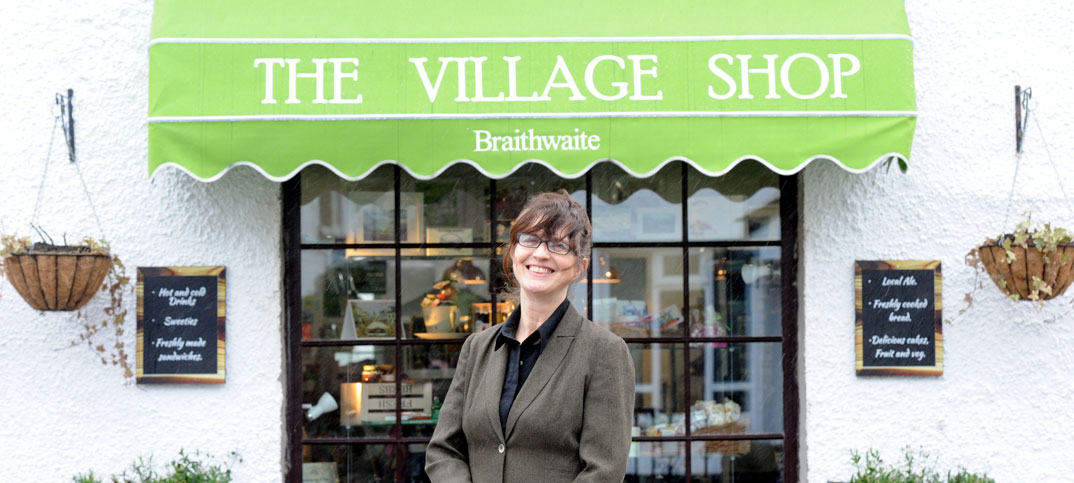 By turning adversity into opportunity Daphne Eddington has overcome her village store being flooded five times in 12 years, including during Storm Desmond last year. The revamped store offers greater freezer, fridge and shelf space. Gurpreet Samrai reports
The old saying 'lightning never strikes the same place twice' may often be true, but for Braithwaite retailer Daphne Eddington it certainly isn't – for her store has been devastated by flooding not once, not twice, but five times since 2005.
When the store was completely gutted after the latest incident, Storm Desmond in December 2015, Daphne decided to evaluate every section of the 590sq ft shop to build a "bigger and better" business, bringing in new features and products with the end result boosting her turnover by 30%.
"I decided to use this opportunity to bring in new ideas. This was an opportunity to make radical changes to the layout to ensure this village shop doesn't go into oblivion in the same way as so many others across the UK have," says Daphne.
"Innovation, even at such a small scale, is not easy. To make everything bigger and better, I had to squeeze in more shelving. Every fitting from the fridges to shelves were sourced to save space, but allow more products to be brought in. The result was I created more shelf and fridge and freezer space than I had before, meaning more space for more product lines, but the shop actually appeared more spacious and airy."
At the centre of Daphne's plan was catering for the needs of her varied customer base. "We have everything from builders coming in for bacon butties and cups of tea, to tourists who range from people in tents and caravans who want the basic convenience items plus lager, wine and freshly-made pies, bread, and sandwiches to higher-end people who buy more fancy food such as local cheeses from the nearby Appleby Creamery and Cow and Co, local ales, the Cottage Delight range of jams and chutneys and Delverde pastas. We needed to cover a massive range," she says.
This was an opportunity to make radical changes to the layout to ensure this village shop doesn't go into oblivion in the same way as so many others across the UK have
Local suppliers played a big part in making the store "bigger and better". This included expanding the off-licence to feature more local breweries, the patisserie to accommodate more locally-made cakes, and bringing in locally-made ready meals and a larger range of products from a local butcher.
Other additions included a range of 'finer' foods, a gluten-free range, Alex Clark cards and gifts, a bean to cup coffee machine and an extra chiller for sandwiches and food to go "for those who don't want to wait to have them freshly-made".
"A lot of decisions were made on the basis of 'everything was working very well before the floods, so let's look at each area and see how we can make it bigger and better'. Local suppliers have played a big part in that," says Daphne.
"We have four ceiling-to-floor shelf units which are about a metre wide each and are full of what we call fancy foods, so Cottage Delight jams and chutneys and products from Taste Traders we couldn't get before. We have made an upmarket part of the shop.
"We have finer foods on one end and the usual cash and carry items – where we tend to have pricemarked well-known brands for just about everything and the cheaper own brand fitted inbetween – on the other end, with a cake cabinet inbetween."
Daphne has also extended the store's opening hours from 8am to 5.30pm before the flooding to 8am to 7pm seven days a week, with the closing time extended to 9pm during peak season from May to September.
"We have worked hard at promoting the shop and have taken on extra staff. Sales have increased and average basket spend is much higher. We're up about 30% overall."
For Daphne, the local community remained a key focus throughout the project. With that in mind, the store has tables and chairs for customers to sit outside and offers a delivery service for everything from groceries and hot food to logs for the fire and prescriptions from a surgery three miles away.
"During the floods the role of the store became ever more clear. Since reopening, support for the shop has been even greater than before," says Daphne. "Locals understand what they stand to lose if there was no shop."
Visit my store