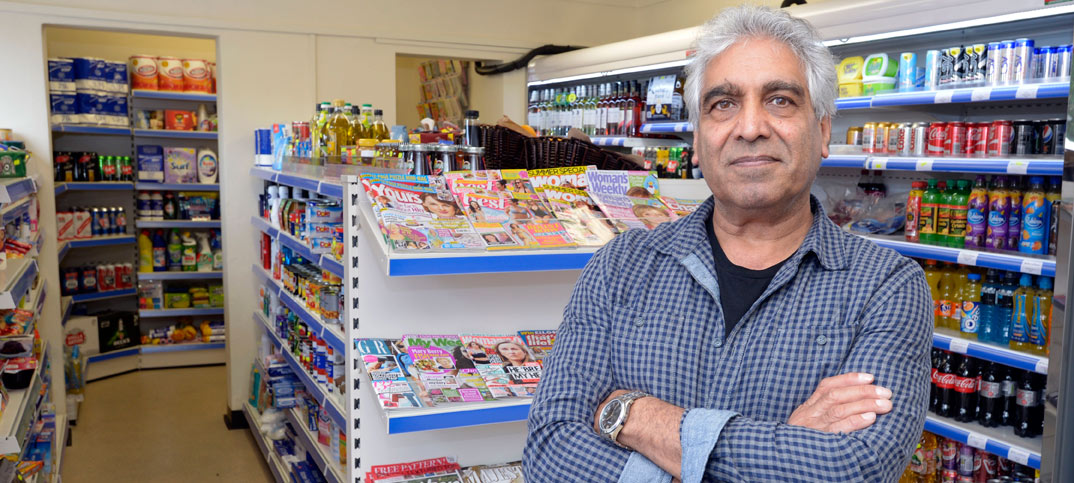 S
erving up pizzas and selling groceries may appear like two completely different jobs on paper, but not to Myjinder Braich.
Having traded in his Pizza Hut franchise to take on his first convenience store in May, Myjinder says the lessons and skills he learned in his previous job have helped him make a winning start in his new career in independent retailing.
He says: "I'm from a corporate background so I am conscious of brand, presentation, consistency of service and adhering to a model when running a business. These are all the things I have tried to bring to the shop and it has been working well so far."
Following a suggestion from his business partner to take on his own shop, Myjinder signed up with the Lifestyle Express symbol to set up Fairfield General Stores, located in the Worcestershire village of the same name.
Working alongside his son, Harpreet, Myjinder says everything about the 750sq ft business is geared around catering to the local community, consisting primarily of families and "mature" residents, as Myjinder puts it.
"With the customers we have, we've been conscious about the type of products we stock. For example, we stock half loaves and offer single bananas for older customers who don't always want to buy larger items.
"We also make sure we stock essential products such as bread and milk at height level because older people don't want to keep bending down to pick these up. It's little details like this that make the difference."
To build an early rapport with shoppers, Myjinder had the novel idea of keeping some of his shelves completely bare, and encouraged his shoppers to choose their own products to put on them.
"Customers asked why we hadn't finished and we said we wanted them to tell us what we should be putting there. This way they know that this truly is their shop. We put a piece of paper by the till for people to leave their suggestions and if we had enough requests for something, I went and bought it.
"For example, we had a mother who wanted a particular type of sterilised milk, which we now stock. We filled the shelves up within 10 days of opening."
Despite only being in business for two months, Myjinder has also moved quickly to get involved in a number of local incentives, including supplying fresh samosas in a fund-raising drive at the local school and making donations to the church.
He adds: "We're now looking to hold a fun day, maybe around September time, where we will invite the whole community to come and meet and take part in some games.
"That to me makes more sense than chopping down trees and making posters for us to send out."
I'm from a corporate background so I am conscious of brand, presentation, consistency of service and adhering to a model when running a business
In regards to future plans, Myjinder says he will put up pictures of how the shop used to look like to celebrate its heritage and "pay homage" to its previous owners.
He is also looking to add more groceries and introduce fresh flowers outside the store to give the business a more "village store feel".
And he adds that he is already looking to take on extra staff members at the store over the next two to three months, and has even set his sights on a second store in a similar village location.
He says: "With my Pizza Hut business, I used to have a great relationship with customers, but that changed as things became more automated and we started getting more online orders.
"Part of the reason I took on this new challenge was because I wanted to be more involved with the community again. Now, I've really caught a bug for this sector and want to do even more."
Visit my Store
[googlemaps https://www.google.com/maps/embed?pb=!1m18!1m12!1m3!1d2435.7702133583216!2d-2.0784864!3d52.3745865!2m3!1f0!2f0!3f0!3m2!1i1024!2i768!4f13.1!3m3!1m2!1s0x487093632e303f03%3A0xb7202debe8437a9!2sFairfield+Post+Office!5e0!3m2!1sen!2suk!4v1438174672631&w=600&h=450]