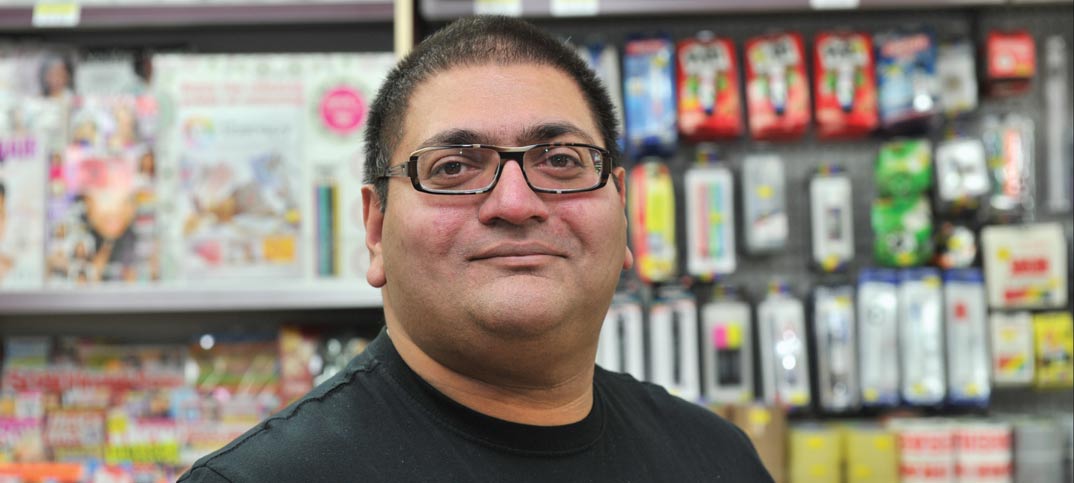 With a steady stream of customers coming into his high street store, Amit Patel focuses on impulse purchases and services to cater for their busy lifestyles. However, he also differentiates himself with nostalgic confectionery and a printer ink cartridge counter. Steven Lambert reports
In the hustle and bustle of Stratford high street you'll find Amit Patel's Stratford Post Office, a business tailored around the busy lifestyles of the many commuters, students and office workers living in the area.
With his shop located a stone's throw from two large shopping centres, the Olympic Park and Stratford tube station, Amit and his team face a constant challenge to accommodate a steady stream of passing and local trade.
To tackle this, Amit has split his 2,300 sq ft shop into three distinct areas – a shop specialising in fast-selling impulse lines; a nine counter post office; and a concession for ink cartridge supplier Cartridge World – which all focus on offering a speedy and efficient service for shoppers.
Amit says: "We're busy in the mornings with people on the way to work, as we're right next to a bus stop and the tube. We also get a lot of people coming to us early in the afternoon to use the post office or pick up a drink or snack.
"People want to get away quickly so the last thing we want are queues in the shop, so I try to make sure that we have at least two members of staff on the till at any one time. We make sure we have eight post office counters manned at all times."
Due to a tenancy agreement, Amit says he is unable to sell products such as sandwiches or hot food to go. Instead, he offers a wide range of chocolates, sweets, crisps and soft drinks, and works closely with a wealth of manufacturers and wholesalers to secure the best deals.
Amit says: "We've worked on projects with Wrigley and JTI and have good relationships with them and other companies like Coca-Cola, who have put their Bev Trak system in our drinks fridge.
The last thing we want are queues in the shop, so I try to make sure
that we have at least two members
of staff on the till at any one time
"We've been able to get some good deals from Coke, such as three cases of Glaceau Smartwater for £12. I bought 60 cases and we've passed the saving onto shoppers.
"We also won some tickets from Coke to take a trip on the London Eye, which we donated to a nearby school which helps get kids back into education."
Other big draws to the business include a varied selection of imported American sweets and the store's own Candy Shop counter, which offers more than 120 varieties of nostalgic sweets all displayed in retro-style jars.
Amit also stands out from his competition with his extensive range of stationery and his position as a Cartridge World retailer, with a separate counter dedicated to selling printer ink and toner cartridges.Amit says: "We offer customers a bag, a small jar or a medium size jar to fill. If customers bring they're jars back, we exclude the weight of them on the scales and just charge them for the weight of the sweets."
He says: "We have people travelling quite some distance to buy cartridges from us.
"We also take back empty cartridges and we have several companies who buy them from us to be reused. Any money raised from these we donate to local charities.
"We also use the service to print our own pricing labels, which we do in larger fonts to help older people see the prices more clearly.
"Also, we only had branding for Coke products in our drinks fridge, so we decided to print out pictures and logos of the other soft drinks and stuck them in there. It now looks a lot better and shoppers are now picking up more drinks as a result."
With sales up "significantly" for the year, Amit is taking advantage of new opportunities for further growth.
This includes becoming one of only ten stores to offer Post Office mortgages, while a newly opened Pakistan visa office is now sending applicants to his store to get passport photos.
Amit says: "There's a lot of construction taking place and we're getting more people coming in from new businesses. But we've still got to offer good products and services if we want to make good profits."
Visit my Store