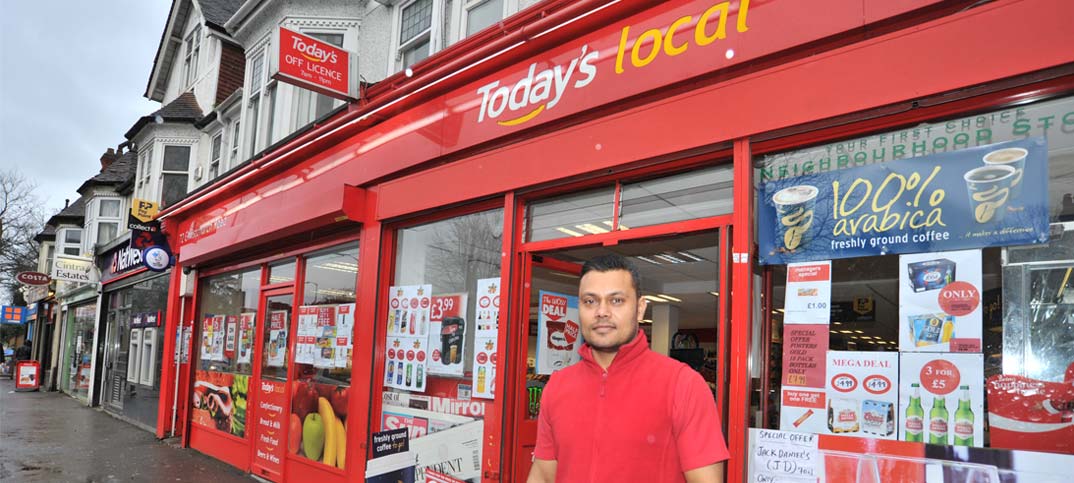 By focusing on great customer service and providing top-quality fresh produce, Amardeep Singh has secured a large and loyal customer base. Add to this an extensive world foods range, and it is little wonder he is doing so well. Steven Lambert reports
Taking his expertise of managing a café to running a convenience store, Amardeep Singh has spent the past eight years turning Today's Local in Reading into an "open and friendly" business where residents can pick up all their daily essentials.
Since taking over in 2008, Amardeep has managed to grow turnover by 45% thanks to a combination of wise investment and giving his customers the best possible shopping experience he and his eight members of staff can offer at their 3,000sq ft store.
"Since we got the bigger display a few years ago, we've been able to put up more Today's promotions in the front window while also keeping it clear for passing trade to look inside."
He says: "We utilise the space as best we can. We have wide aisles that we keep clear of clutter so we can have four or five shoppers passing through at any one time.
"It means the shop feels more open and we get more people coming in to do a big shop."
Amardeep says trade has also been boosted since the store was extended into an empty unit next door, allowing him to have a double-fronted window display to attract shoppers.
Other big changes inside the shop have also helped Amardeep to attract a wealth of new shoppers to his store. This includes the introduction of a separate chilled section for cooked Polish meats and dairy products and a huge 15 metres of shelf space dedicated to Oriental foods and cooking ingredients.
He says: "We have a large Polish population nearby but we have also had other shoppers buying from our Polish section as well.
"We also have a lot of east Asian customers, so we have increased our section to include more products such as instant noodles, sushi rice, tofu and cooking sauces."
Students also make up a large part of Amardeep's customer base, a group he caters for with a number of eye-catching lunchtime and evening meal deals. These include an offer consisting of a pizza, garlic bread and soft drink for £4.99, as well as a meal bag for two containing a bottle of house wine for £9.99.
In addition, Amardeep says extending his chilled range and a switch to picking up fresh fruit and veg from a local market has helped him attract more trade from families and elderly shoppers.
"We go down to the market on average two times a week to pick up fruit and veg, and this can even be three times if we're busy or during the summer when produce goes out of date quicker.
"It means our fruit and veg is fresher and when you see more elderly shoppers coming here to pick it up, you know you've made the right choice.
"We also now have a total of 20 metres of chiller space to include more products such as ready meals, cooked meats and fresh pasta, so people don't have to shop elsewhere to find these."
Amardeep says future plans include the possible opening of a standalone business nearby for his Oriental food range, which he says would give him more space to grow other profitable product categories in the main store.
"We already do things like croissants and such, but we want to extend this into hot pies and snacks, which I think would complement the Tchibo coffee machine we installed in November. We got the idea of getting in a Tchibo coffee machine after reading an article in Retail Newsagent. We're now looking to tie this in with a new in-store bakery to help us grow sales."
"We'd also increase our frozen range. We currently have four two metre fridges but I think we would be able to add an extra 10 metres and introduce more upright fridges."
"Whatever happens, we'll continue doing our best to offer the best customer service we can to our customers.
Visit my shop