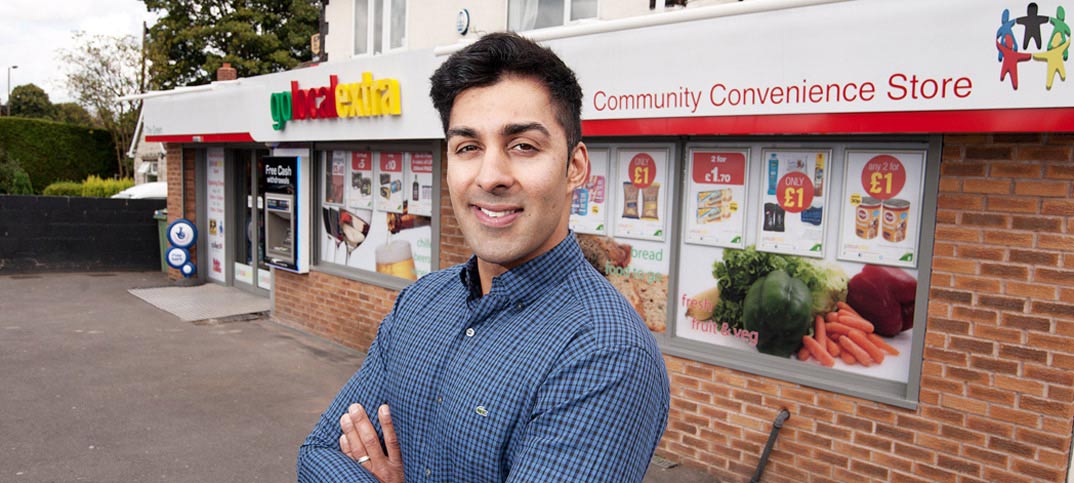 Nicknamed after the hard-hitting on-screen boxer, Ama
rdeep 'Rocky' Sandhu knows building a suc
cessful retail business means sometimes you have to roll with the punches to come out triumphant in the end. Steven Lambert reports
To his family and friends, he is Amardeep Sandhu, owner of the Go Local Extra store in Chesterfield. But to his customers, he is more affectionately known as 'Rocky', a retailer who delivers knockout customer service and heavyweight promotions.
Asked about the origin of his unusual nickname, Amardeep says: "I was given it when I was a youngster. I've always been fairly active and focused on fitness. And when our customers heard about it, it just kind of stuck."
The retailer has certainly been boxing clever at his business, which has expanded rapidly from an underperforming 900sq ft newsagents to a 1,700sq ft modern convenience store over the past eight years.
With a close-knit community and his store sitting on the town green, Amardeep says three quarters of his trade is made up of repeat shoppers. Because of this, he places a great emphasis on providing excellent customer service to maintain loyalty.
"I would say it's one of our biggest strengths," says Amardeep. "We have a great team here and we're always smiling and interacting with our customers.
"I have a communications book which everyone works from, which contains a list of tasks for the day and also gives staff the opportunity to write down suggestions.
"We also have two trainees at the moment, and I'm constantly reviewing their work and setting new targets. If they hit them, their wages go up – I think it's good to have something to aim for."
Similarly, Amardeep has catered his services and product range to best meet the needs of local residents.
This includes investing in his food to go section, something that he says has really taken off in the past year. "Before, we were only turning over about £350 a week on hot and cold food to go. I've always followed the mantra given by a retailer friend of ours, who said that when given a set of options to improve your business, go for the most expensive one as you'll get the best investment out of it.
"So I spent about £8,000 on food to go, adding new LED lighting and a new preparation area, and now we're taking between £1,500 and £1,800 from it every week.
"We have one member of staff, Karen, who mans the section, and we regularly come up with new ideas. We recently trialled some chicken and avocado sandwiches and sold out within an hour of putting them out."
Beers, wines and spirits are also a big draw to the store, thanks in part to a large open chiller dedicated to alcohol.
"Recently we spent £7,000 on wine and we're already putting another order in a week later. We have a Co-op a short walk from us so we are competitive on promotions, and run a lot of two for £8 and three for £10 deals on wine."
[pull_quote_right]We have a great team here and we're always smiling and interacting with our customers[/pull_quote_right]
Fresh fruit and veg is another winner with shoppers and, Amardeep says, his most recent addition to the business, a state of the art cash machine, will also drive extra footfall to the store.
"They have a cash machine at the Co-op but it is always breaking down and it takes time to get up and running again because engineers have to fix it from an external point. With our new machine, everything is dealt with internally, it's free to use and it gives out £5 notes, which a lot of people have been pleased about."
With Collect+ and National Lottery services as well, Amardeep feels he has the complete package to satisfy any customer request.
He says: "We've grown a lot over the past few years. We want to work more closely with local suppliers and businesses and get more involved in the community to show people we're there for them."
Visit my store