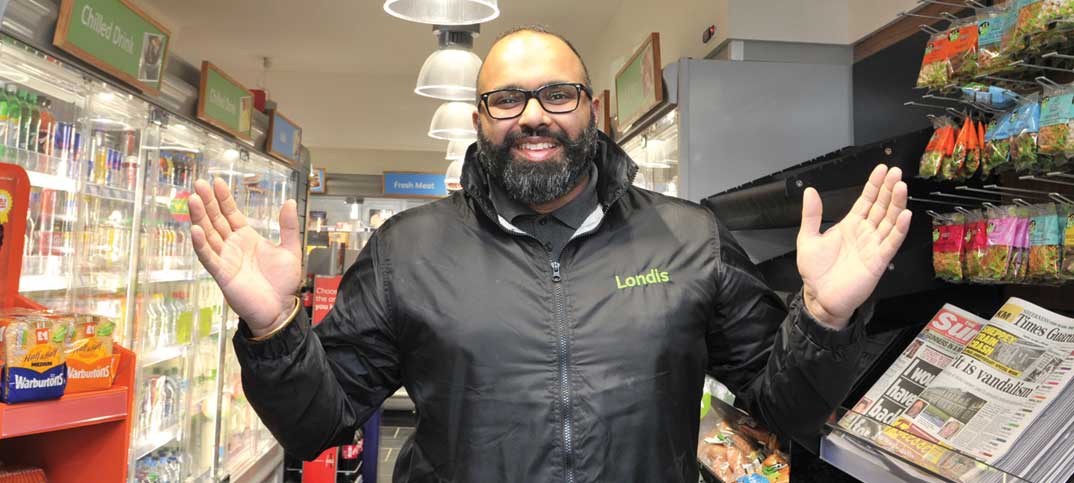 W
hen Booker chief executive Charles Wilson paid a visit to Jatinder Sahota's Londis store last month, he set straight to work quizzing customers on their opinions of the shop.
"He asked them 'Why do you come here?'. They said because my wife, Randip, and I are so welcoming, because this is a long-standing community store, and because our shelves are always full," says Jatinder.
The Sahota family has owned the 1,200sq ft store since 1989. Jatinder and Randip took over the business after his parents passed away, and with two major refits in the
past six years alone, they have poured investment into it to cater for the needs of elderly customers, young families, and, lately the local commuters they are trying to attract.
Food to go, fresh produce and chilled food have been central to growing customer numbers. A full aisle at the front, fitted with chiller equipment which controls temperatures for individual categories, is dedicated to these products and here, Jatinder is keen to point out one of his recent profitable additions – Booker's Farm Fresh range.
"I've got fruit, vegetables, cheese, sandwich fillings and a good range of bagged salads and they're already going really well. Fresh food is massive for us," he says, explaining that benefits of Booker's takeover of Musgrave include access to a wider product range and a 2% increase in overall margins reaped from lower cost prices.
The range sits next to another popular new addition which is driving sales in more traditional categories – a newspaper stand supplied by News UK where papers can be dual-sited with snacks and confectionery to drive cross-category sales.
We serve a lot of white van men who are in a hurry so we've made things as easy as possible for them by putting everything together in
one area
"Some people say newspaper sales are dying but mine are growing. It's about putting them in a good location. I'm selling 20 more copies of the Sun a day, 10-15 more copies of the Mail, and The Times and Telegraph are selling better too."
This increase in newspaper sales has coincided with a growth in food to go, says Jatinder, who has grouped papers, hot food, fresh coffee, cold drinks and cold snacks to cater for the morning rush hour.
"We serve a lot of white van men who are in a hurry so we've made things as easy as possible for them by putting everything together in one area."
To build on this, he now plans to add bakery products such as croissants to the mix to attract more sales from female customers. And at Charles Wilson's suggestion, he is also planning to offer porridge-to-go by allowing customers to make hot breakfasts with hot water from the coffee machine.
"It's about the little things that can enhance your offer," he explains.
Elsewhere in the store, Jatinder's four promotional bays are also proving popular. One is dedicated to the Euro Shopper range he is busy introducing, while others are set up for Mother's Day and Easter.
Jatinder has a full bay of eggs on prominent display, such as large Cadbury Dairy Milk ones for £7.99.
He also points out his large selection of alcohol, where sales are growing since he decided to remove single cans and focus on premium brands and multipacks.
Services such as a free ATM and My Hermes parcel returns are likewise contributing to a growth in profits, which Jatinder says is helping offset other rising costs.
"Parcel returns are a great footfall driver. The National Living Wage will cost us an extra £11,000, but because we process nearly 40 parcels a day, making 40p on each, that could actually cover a good chunk of one person's wages."
Success in a challenging market, he says, is not about reacting to change but actively searching for ways to grow.
"It was great having Charles Wilson visit. We get a lot of support because when symbol groups see progressive retailers they want to work with them. If you love what you do, it's reflected in your offer."
Visit my Store