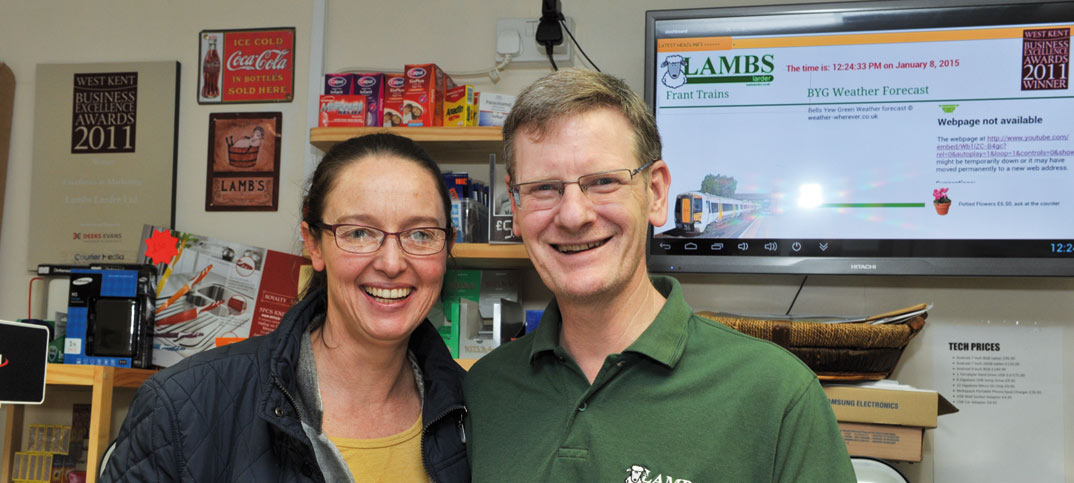 With its live departure board for trains, two coffee machines and extensive selection of food to go, Lambs Larder is a perfect example of how retailers can make the most of local opportunities. Steven Lambert talks to owner Peter Lamb
If you've ever been waiting 15 minutes for a train from the railway station in Frant, East Sussex, you've more than likely paid a visit to Lambs Larder.
The convenience store and farm shop, run by Peter and Megan Lamb since 2010, has become a haven for busy commuters searching for a hot drink and quick bite to eat, as well offering an excellent range of local products and services for nearby residents.
"We do some things differently to other shops," says Peter. "For instance, we don't have prices on any of our products other than on a couple of lines and pricemarked goods.
"It may sound weird, and I can't see something like this working in Lewisham, for example, but we never have people questioning it when they come to the till. I think a lot of that comes down to the trust we've instilled in customers and knowing exactly what they want."
Paying close attention to shoppers' needs has enabled Peter and Megan to fine-tune their business and focus more on fast-selling profitable products and services.
This includes the store's two self-service coffee machines, which are frequently used by workers travelling to and from London and other locales.
"We have a live departure board for the trains in the shop, and we were finding that people would often stop in to pick up a few things," Peter says.
"This led us to install a coffee machine but it became so popular that we had to add a second machine. We're now selling an average of 120 cups a day.
"We also offer a loyalty scheme like Costa, where shoppers can get their cards stamped and claim a free coffee. We have customers who pay £20 online for a pre-paid card, which means they can get cups of tea and coffee here for just £1."
Peter says he now hopes to grow this area of the business further by opening up into the garage at the back of the shop and creating a seating area for customers to enjoy a drink.
He adds that this would fit in perfectly with the store's free wi-fi access and large selection of food to go items.
"We get through so much food to go, everything from sausage rolls to pies, and we sell 50 to 60 sandwiches every day."
And Lambs Larder is also well-renowned as an excellent choice for locally-sourced products, working with more than 30 suppliers including Taywell Ice Cream and Korkers Sausages.
Peter says he has worked hard over the past few years to grow the profile of the store through radio advertising and social media.
One of the most important things you can do as an independent retailer is listen to what your customers want
"About a year and a half ago, we spent £2,000 on a year's worth of radio advertising on KMFM. I was a bit dubious at first but soon after, our weekly take went up £2,000 and we had lots of customers coming in saying they had heard the ad. It's something we've continued ever since.
"We also have our own website and we're really active on social media. We have around 900 Facebook followers and 680 Twitter followers.
"Both pages are linked together, so any promotions or news we put on one will appear on the other."
Peter and Megan are also looking ahead and have just agreed a deal with Bells Yew Green cricket club to open a satellite shop at their ground to serve players and fans over the summer.
Peter says they are also looking into acquiring a second store. "It's still early days but, if we did get a second store, the three main things we would like to replicate there would be coffee, ready meals and local produce.
"One of the most important things you can do as an independent retailer is listen to what your customers want. In the early days, we made the mistake of stocking products that we thought shoppers wanted, but we quickly learned that's not the way to go."
Visit my store