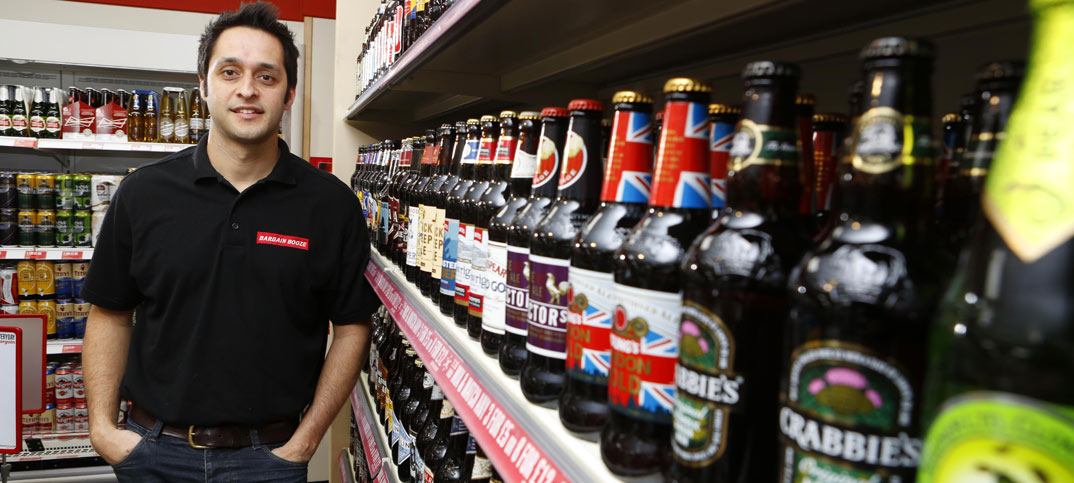 When he's not driving a high-powered sports car around race tracks, Alex Kapadia is busy coming up with great ideas and promotions to drive sales at his Dunstable Bargain Booze store.

Steven Lambert reports

To say that Alex Kapadia is not your typical independent retailer is a bit of an understatement.

For the owner of two Bargain Booze franchises in Dunstable, Bedfordshire splits his time between driving sales and driving high-powered sports cars in the adrenaline-fuelled world of professional racing.
For Alex, who takes part in high octane events such as the European Le Mans Series and Radical Sportscars races, the competition he faces on the race track is similar in some aspects to what he faces on the high street. For him, it's about recognising your rivals' weaknesses and playing to your own strengths.
Explaining how he got started in independent retailing, Alex says: "About 12 years ago, I was looking to run my own business and, originally, I was thinking about opening a bar. But after some searching online, I came across the Bargain Booze franchise.
"At the time, the average weekly turnover for a Bargain Booze store was about £17,000. I thought, 'I can do that'."
This led to Alex taking on his first Bargain Booze store in Dunstable in January 2003, which was quickly followed by a second store in December of the same year.
And last year he added three Wine Rack stores in Guildford, Weybridge and Farnham, following the acquisition of the franchise by Bargain Booze operator Conviviality Retail.
With his businesses surrounded by all the major supermarkets, many would think it unwise for an independent business to try to compete on price. But that's exactly what Alex does – and with great success.
He says: "When you go into somewhere like Tesco, you may get a great deal but then it's gone in a few weeks, which can be frustrating for shoppers.
"Here, we have the buying power of Bargain Booze behind us and we're consistently cheaper than the supermarkets. We also have more constant deals. For instance, we have a three for £10 on premium wines and three for £5 on premium ales, which are really popular and keep people coming back to us.
"In fact, Bargain Booze did a price comparison with supermarkets around the area in 2013 and we were found to be up to 13% cheaper on our alcohol prices."
Alex says he places a big emphasis on presentation, using PoS material, floor display units and secondary sites to highlight promotions and special offers
Additionally, seasonal events also present him with further opportunities to promote eye-catching deals to shoppers.
"At Christmas, we were doing Foster's and Carling 15-packs for £7.99, which were cheaper than the supermarkets. We used leaflet drops and promoted this on our Twitter page and our sales went up by 4%.
"Valentine's is another big day for us, and we've just had great deals on things like Prosecco. We also offer a professional gift wrapping service, something which a lot of supermarkets don't do, so it's an extra margin opportunity for us."
Alex says average weekly turnover at his Bargain Booze stores has grown over the past year and now sits between £24,000 and £27,000, while weekly turnover at his Wine Rack stores ranges between £15,000 and £20,000.
When you go into somewhere like Tesco, you may get a great deal but then it's gone in a few weeks, which can be frustrating for shoppers
He says he is now looking to develop other profitable parts of his business, including his e-cigarettes range.
"I've become something of an expert on e-cigarettes after doing a lot of research and we're trying to work with as many different companies as we can," says Alex.
"There's a lot of information about the different types of e-cigarettes and e-liquids on the market that customers don't know or are unsure about, so we try to cut through the jargon and find the right products for them."
Much like his aspiring racing career, Alex's determination to get the best performance out of his businesses means he now sits in pole position in the eyes of his customers.
Visit my Store