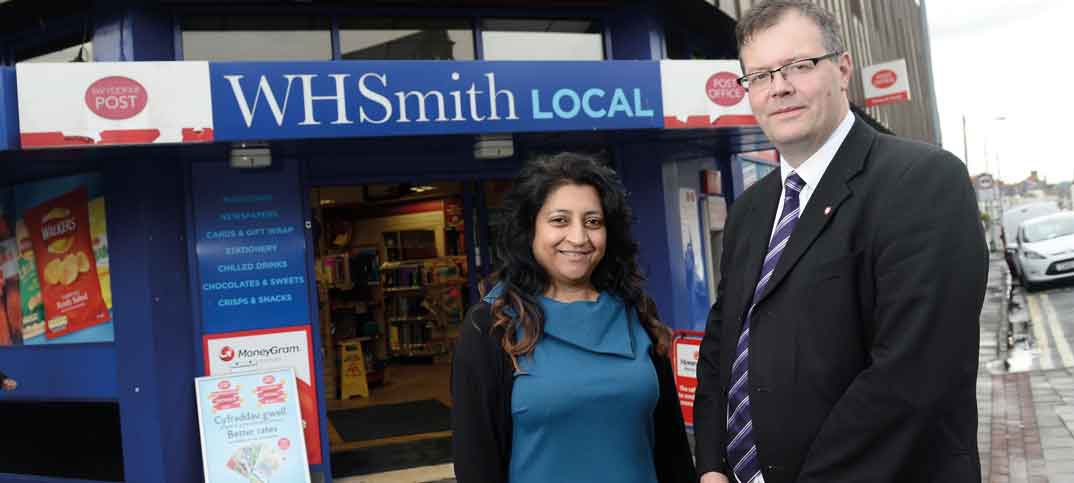 32 Albany Road, Cardiff, South Glamorgan, CF24 3RS
Readers travel across Wales to visit Mark Dudden's extensive magazines range. Despite taking the tough decision to shut his newsagents business, joining forces with another top store owner, Dee Goberdhan, means Mark is ready to face the future. Jennifer Hardwick reports
Eighteen months ago, Mark Dudden made the big decision to close his family's newsagent after 52 years and move his extensive magazine and newspaper range into a post office on the same street.
Luckily, as a fourth-generation newsagent – his parents retired when Albany News closed last year, but at one point owned nine stores together – he had a long-established reputation as a magazine specialist, with enthusiasts travelling from more than 50 miles away to visit.
Even though the shop he moved to – Albany Road Post Office, a WHSmith Local owned by Dee Goberdhan – is only 300ft away from his old store, Mark had to work to retain his customers. He had started offering HND just six months before and found the move gave customers an excuse to try and end their contracts.
"As soon as I said I was moving, half of my HND customers said they were going to switch to buying their newspapers from the Tesco Metro," he says.
"I made the decision to offer free delivery to businesses only, because those customers pay the bill on time every Monday morning. So it's worth it even if I deliver for free. In the end, I managed to retain 100% of my business customers."
Mark currently has 50 HND customers after losing a handful in the move, but is launching a leaflet drop in the next few weeks to find new business.
"Leafleting is the best way to find new customers. Sometimes you do have to wait, maybe up to three months or so, for everyone to respond, and you might only get one or two customers from 100 leaflets. But if they're interested, they will get in touch," he says.
I check RN every week to see if there's any new magazine I should be stocking or promotions I didn't know about
HND aside, Mark knew it was important to make it clear to all his customers that his well-known magazine business lived on. Moving from a 500sq ft store to 38ft of shelving in a 3,000sq ft store meant cutting his range from 1,400 titles to 1,200, but he says he now feels confident he is making the most of the space and says the key is specialisation.
"I think the range is right now, I just cut a few titles from a few different categories rather than cutting anything all together," he says, adding that his top three categories are quality woman's magazines such as independent title Oh Comely, American car magazines and military history titles.
"The top 100 is in every store. We stock magazines which no other shop in Wales stocks. Last month I sold more copies of Vogue Collections than I did of regular Vogue – it's priced at £22.50 and I sold three."
His arrival in the store has increased sales on the newspaper and magazine category by 225%, with the weekly news bill going from £400 to £1,300.
"The collaboration is valuable, the knowledge Mark has brought is something you can't put a price on," says Dee.
"We have been looking to expand the magazine range anyway; we used to just have the run of the mill titles. We created an extra 2m of magazine space by moving our greeting cards to the front and we've grown sales of those as well so it's been a win-win."
The top-selling category in the store is stationery, with its mixed demographic of customers including a large student population from nearby Cardiff University. Mark plans to increase profits further more by offering a more luxury range, introducing a range of coloured card that sells for 75p at a 500% mark up.
But it's in the magazines trade where Dee's new signing will have the most major effect – and Mark knows how valuable his salesmanship will be.
"It's important that I am present in the store because what my customers want is my knowledge and that's what they come in for."
Visit my store