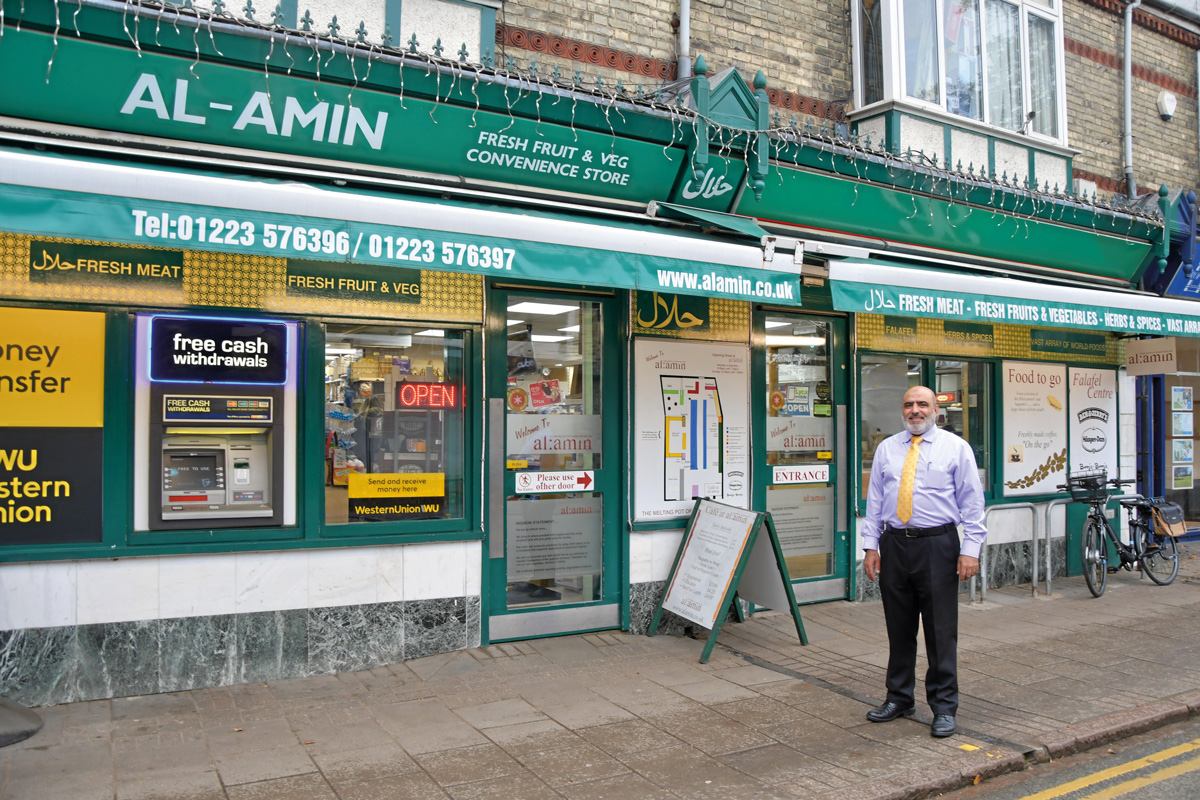 100a-102A Mill Road, Cambridge, CB1 2BD
Community spirit

Located in the heart of a university city, Al-Amin Cambridge serves a diverse, international community of customers, and retailer Abdul Arain relishes the challenge of stocking a range that meets their needs.
"We've been in business for 25 years, so we've made inroads with a lot of suppliers," he explains. "We deal with importers and suppliers from all walks of life."
Working with an international mix of suppliers to secure products that range from sauerkraut to biscuits and coffee from the Balkans, Abdul also prioritises dealing with local suppliers where he can.
"It's good to be able to support local businesses, and grow together," he explains. "It means we know the suppliers, and know that they run good, ethical establishments. On top of that, we know the quality of the products is excellent."
Having a strong range is all well and good, but it's pointless if it's not being promoted and made accessible to the community. This is one area where Abdul is looking to get his store ahead of the curve by partnering with JustEat on a home delivery service, as well as building an ordering app for the store.
Gravelle's Budgens adds that welcoming touch
"The Al-Amin App offers food to go, as well as items from the butchery," explains Abdul. "Customers can order a product and then come and pick it up from the store.
"People's expectations are changing, and they expect everything to be at the touch of a button. If convenience stores are going to meet the demands of the future, this is the space we need to be occupying."
Abdul himself is heavily involved in a number of community events and groups, including an association for local businesses, and the store strives to only use ethical suppliers.
"It's important that anything we do benefits our community," explains Abdul. "We understand that we benefit from being in the community, so it's important to us that we give something back."
What I do well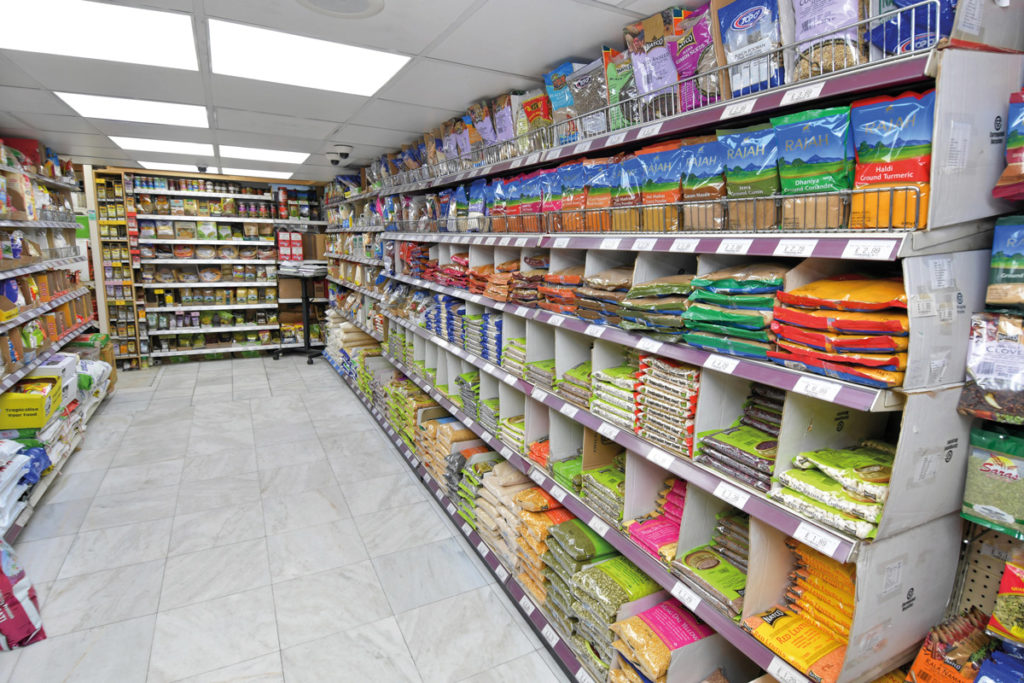 Al-Amin Stores' range covers a huge variety of food from around the world, reflecting the diverse mix of customers the store has.
"At any time, I'd say 5% of our range is new products we're trying out," says Abdul. "We're constantly evaluating, delisting and adding new things to the shelves to get new ideas of what works.
"We do camel milk, for instance, which has been selling really well lately," he explains. "A lot of people use it for ailments and skin allergies. It seems to work for them.
"Preserved lemons are another line doing well at the moment, I think because there have been recipes using them in the newspapers."
The store aims to find the balance between the normal and the unusual. "In our freezers we have more traditional things like chips and Yorkshire puddings, along with products that are a little out of the ordinary, like hash browns made from cauliflower."
How I stay competitive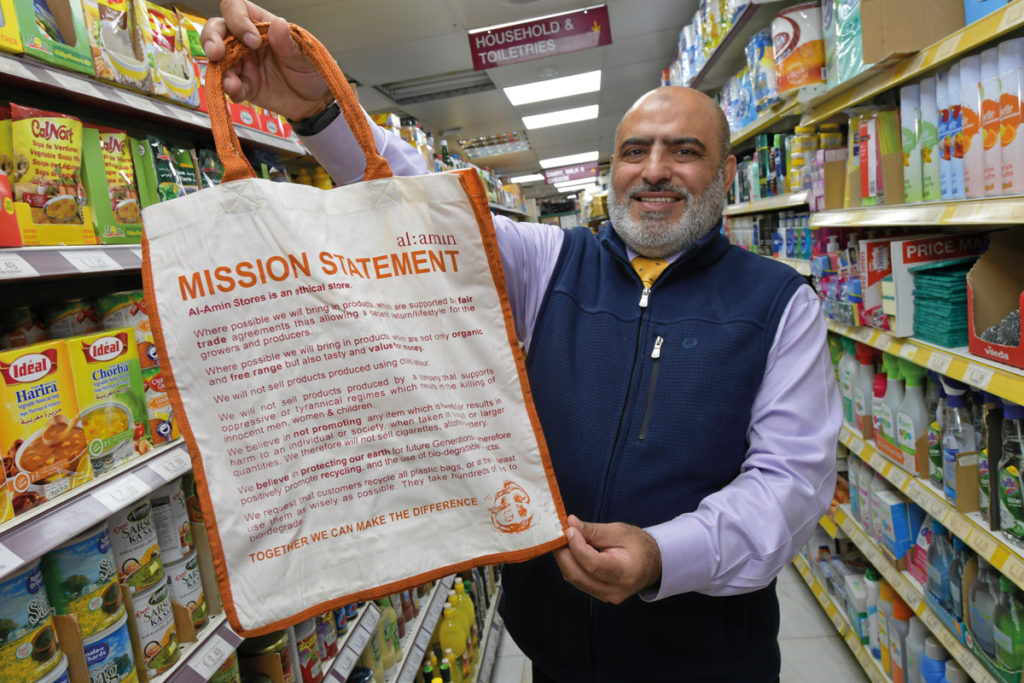 Abdul is keen to stress that he doesn't see the other independent businesses on Cambridge's Mill Road as competition. "My attitude is that it's better for all of us if we all do well," he explains. Nevertheless, the shop has a number of clear points of difference to keep customers coming in.
Alongside the extensive international range, Al-Amin Stores has its own branding on a number of products. "We do our own brand of chutneys, pickles and jams," says Abdul. "We also have our own brand on some of the products in the café area, and on the shopping bags we sell."
Another major point of difference for Al-Amin Stores is its ethical focus. The store refuses to stock any products that it views as harmful to communities, meaning no tobacco, no gambling and no alcohol. In addition, the store aims to only work with suppliers who have a good record on the environment and human rights.
What I'm working on now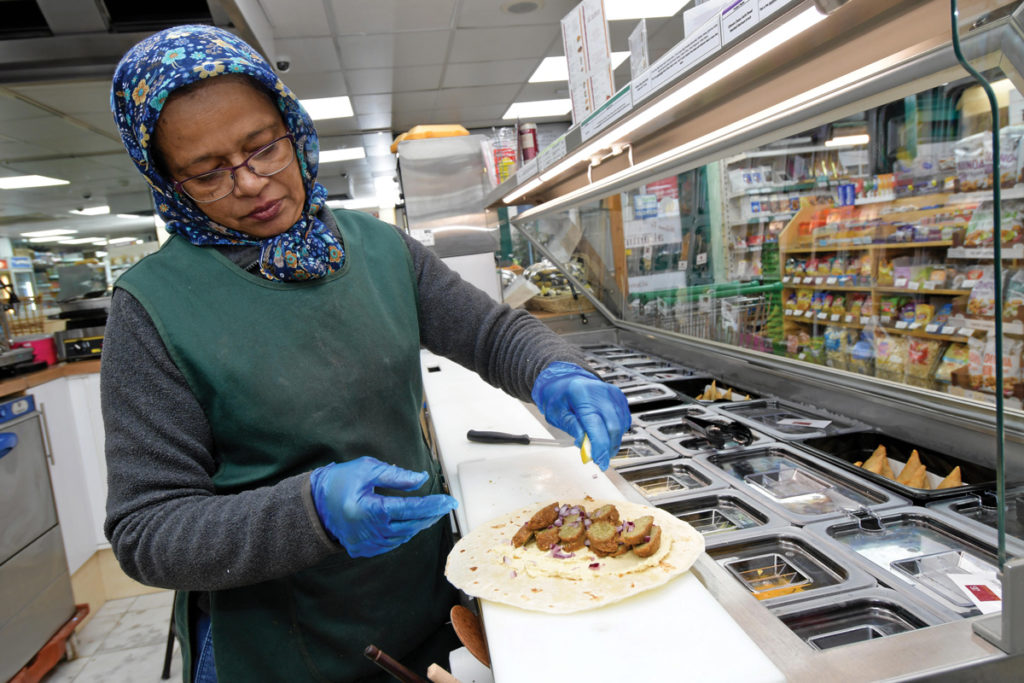 Food is at the heart of everything Al-Amin Cambridge does, and while the shop already had a butchery, deli section and sandwich bar, the next step was to add a seating area in store so customers could eat on the premises. 
"The café area is the newest addition to our store. We have a seating area by the window, and customers can move the chairs around depending on how they want to use the area," says Abdul.
As with the rest of the store, the focus of the section is meeting a variety of needs, ethically.
"We make falafel wraps and paninis, things like that," says Adbul. "Everything we do is made with ingredients from local suppliers, and prepared on site. This lets us make certain guarantees. For instance, all of our falafel is gluten-free and vegan, as are our onion bhajis. We also make soup and our own chai, which is one of our biggest points of difference, alongside teas and coffee."
---
HOW Al-Amin Cambridge… created an app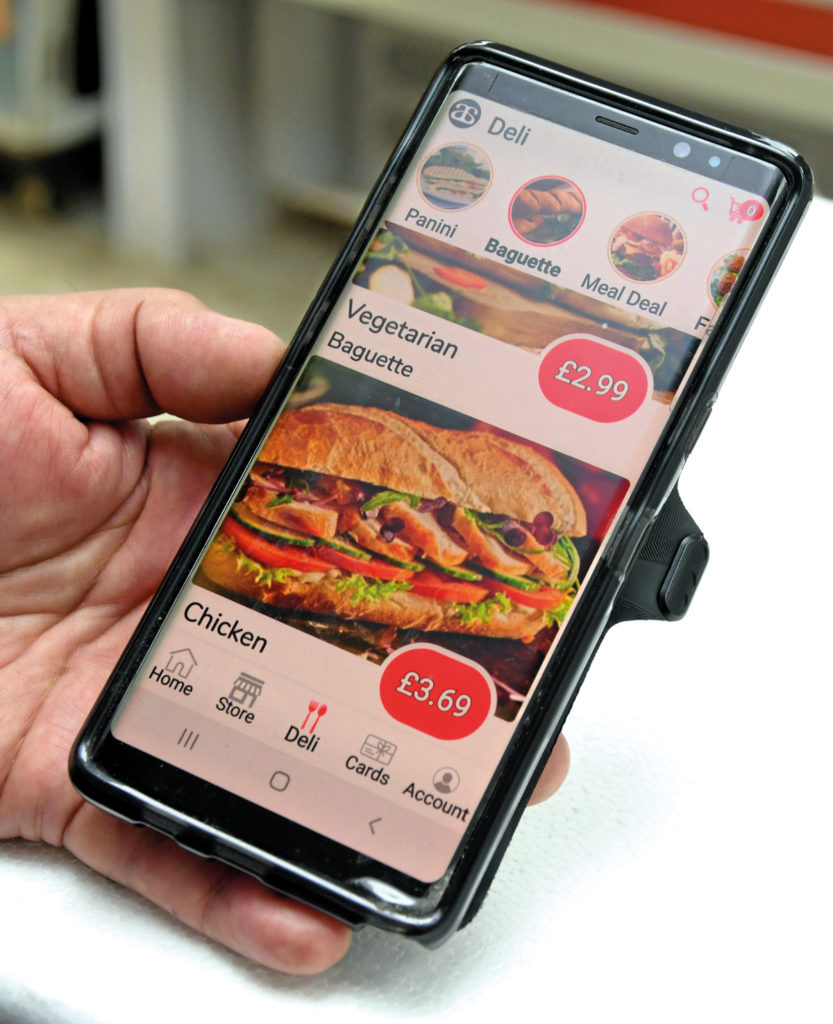 Take your time
"The app has only just gone live," says Abdul. "We spent six months working with the designers on the app, ironing out any possible flaws or glitches. There's nothing worse than someone making an order and not getting their food."
Start small
"With the app we've started with a small selection of essential products, and then we'll build on that. We don't want to do too much and then not be able to do it successfully."
Reward loyal customers
"We've also launched something called the advantage reward scheme, which has both a physical and software card. Every time a customer comes in, they'll accumulate loyalty points, and earn a reward. We also have incentives to encourage customers to join the scheme."
Go digital with food to go
"Customers can go on the app and look at our range, from wraps and paninis to soups. They can look at what they want to buy and make their selection. They can then either come into the shop and collect their order, or get it delivered to their address."
Team work
"We worked with Perks to help us develop the app. They are a company that's focused on working with independent businesses, which is really helpful for us. Meanwhile, we've teamed up with JustEat for the home delivery service."
---
Find Al-Amin Cambridge
---
Explore Al-Amin Cambridge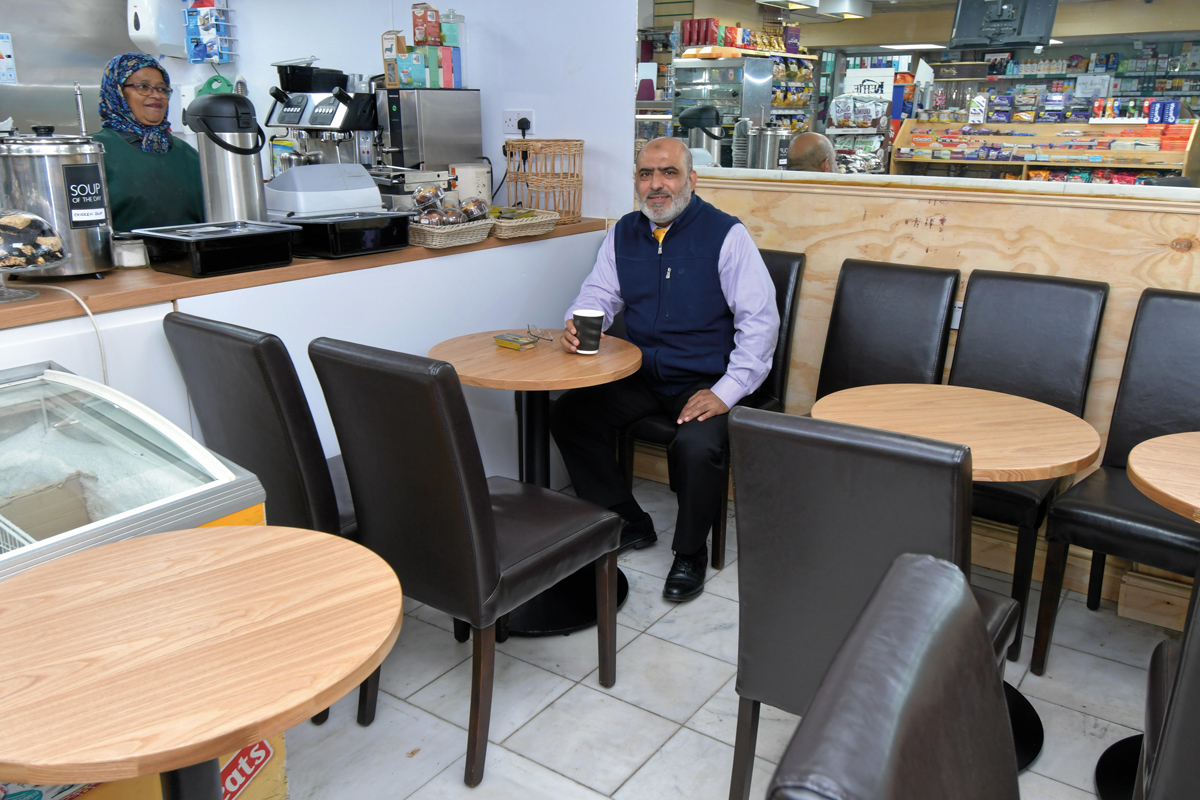 Read more Store Profiles: Nisa High Heath in Walsall shines as overall best shop