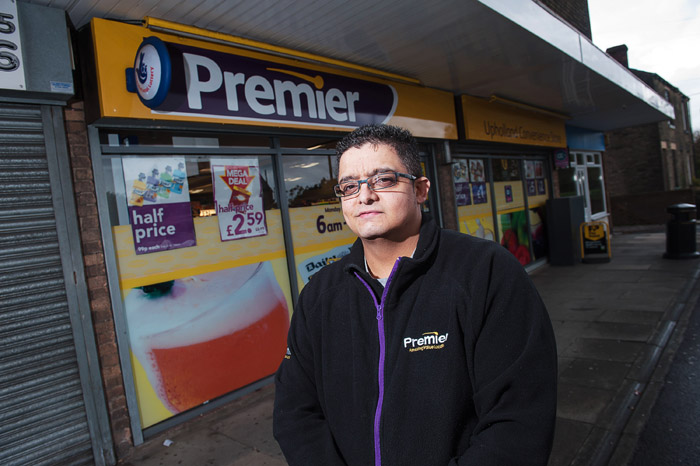 Suresh Patel has secured a strong customer base by putting himself at the heart of his community through various projects and local activities. He's also been fighting to beat the bad weather and expanding along the way. Steven Lambert reports
Come rain or shine (or even freak snowstorms), Suresh Patel goes out of his way to keep his customers happy.
As it turns out, not even unexpected blizzards can deter the owner of Premier Upholland Convenience Store in Skelmersdale, Lancashire.
He says: "I'd only been open a few months in 2010 when we had all that snow come down in December. A lot of businesses had shut down because of it and I was going to do the same, but I saw it as a bit of test of what we could do.
"By 9am we were completely full, because we were the only shop in the area that had bread and milk in at the time, and people remembered us because of it."
Perseverance and going the extra mile for shoppers are traits Suresh and his wife, Prem, apply to every aspect of their business.
The couple had originally intended to operate out of a 500sq ft retail unit, but things quickly changed when they learned the owner of the carpet shop next door was looking to sell up.
Suresh says: "We hadn't planned on expanding so quickly but there were a lot of offers coming in for the unit next to us, and I thought it would be better for us if we bought it."
The move allowed Suresh to double his floor space to 1,000sq ft. At the same time, he also signed up to Booker's Premier fascia.
He says: "From day one, Premier has been good to us. They stored our products when we closed briefly for the refit and then got their merchandising team to put them back and help with the layout. We've also taken advantage of their promotions and leaflets to encourage people to shop with us."
While the extra floor space and refit have helped attract customers, Suresh says convincing "lifelong" supermarket and multiple convenience shoppers to trade with him has been challenging, especially with a Co-op on his doorstep.
[pull_quote_right]We hadn't planned on expanding so quickly but there were a lot of offers coming in for the unit next to us, and I thought it would be better for us if we bought it[/pull_quote_right]
To combat this, he says he has focused on his strengths of superior customer service and working closely with his community to build shopper loyalty.
"A year after we reopened, we started sponsoring the local football team and started raising money for local charities.
"On one day, we started speaking with a customer who organises the breakfast club at the primary school nearby.
"They told us that Asda had been supplying goods for the club but kept letting them down with deliveries, so we offered to do it instead. Now we make two deliveries a week to them.
"We also have a lot of elderly people in the area, so we offer free deliveries to those who struggle to get here."
Suresh says he is also quick to embrace new products, taking advantage of manufacturer point of sale to promote product launches on his front counter and secondary sites around his shop.
He adds that he prides himself on category management, and is not afraid to delist or replace slow-selling products: "For example, we recently changed the range of cooked meats we offer and are now working with a new supplier.
"We've now got six products in, including roast beef and ham, and they're flying out the door."
Upholland Convenience Store has also recently joined the world of social media, with Suresh trialling a Facebook page for the shop over the past month.
"We've had 70 likes already," he says. "We're mostly using it to post promotions but we'll be looking to develop it a bit more over the next few months."
And while he has a number of plans in the pipeline, Suresh says he is most proud about the relationships he has built up with locals over the past four years.
"Interacting with customers is the best thing about being an independent retailer – we're here for the people more than the profit. I'm always chatting to shoppers and I
encourage my staff to do the same. It's about reminding people that we're not just a shop, we're here for the community as well."
Visit my store