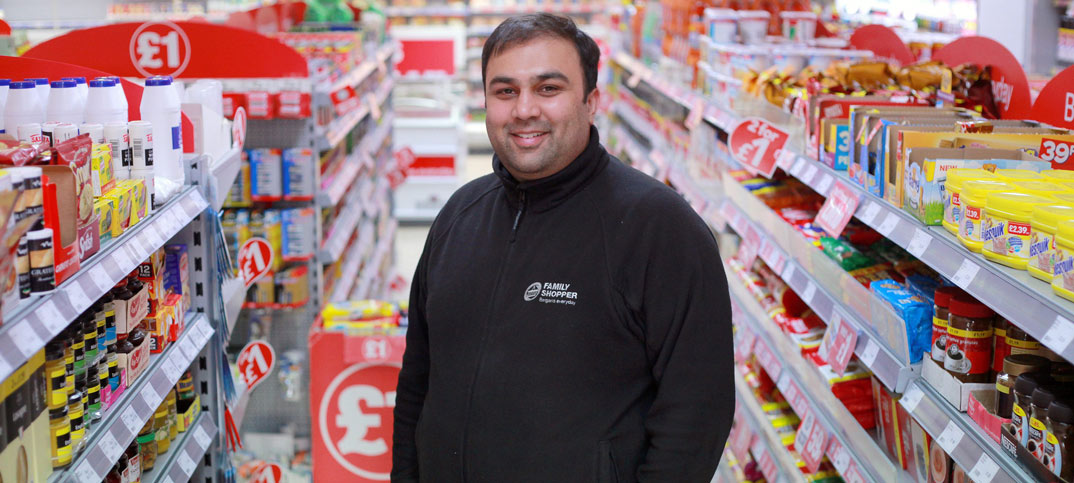 Adeil, Akeil and Haseeb Hussain do much more than just run a friendly, great value local c-store. As
Steven Lambert
discovers, they also provide practical support to their local community
Having lived and worked in and around Motherwell all his life, Adeil Hussain knows full well about the importance of looking after local shoppers.
Starting out in retail at age 14 by working at the store owned by his dad, Shafqat, Adeil then took on a number of jobs at companies including HSBC and Cadbury before returning to run the family's latest business, a Family Shopper store, which opened its doors at the end of 2013.
Managing the store with his brothers Akeil and Haseeb, Retail Newsagent reader Adeil has endeavoured to place his customers at the heart of every business decision.
"I've spent most of my life round here and we know pretty much everyone that comes through the door," says Adeil.
"Where we are located is not the most affluent area in the world, which partly influenced our decision to go with Family Shopper. With them, we can offer really good deals to our customers while also maintaining decent margins."
Adeil says having eye-catching promotions from the very start has been instrumental in growing early interest from shoppers.
He says: "For example, Irn Bru two litres is the best-selling soft drink in Scotland, and it normally retails at £1.49, but we had it for 74p for the first two months. Likewise, we were doing 70cl bottles of Glen's vodka, which normally retail at £11.99, for £8.79.
"When we first opened, we also sent out 15,000 leaflets with £2 off vouchers attached to be spent in the store, which also encouraged people to come to the shop."
With 2,500sq ft of retail floor space to play with, Adeil has also focused on his bargain non-food section. Goods provided by value-for-money supplier OTL, for example, have been a hit with shoppers.
"We have things that we thought nobody would buy, like egg timers and latex gloves for £1, but you'd be amazed at how many people pick up these sorts of products. And we get margins of up to 50% on them too."
But Adeil's commitment to helping his community goes far beyond low prices. He is also a passionate supporter of local incentives and charities, including a nearby food bank.
"We've been supporting the Basics Food Bank in Motherwell since last August, and have a collection bin for shoppers to donate tins and packs of food. We also recently donated £900 worth of stock from the store to them. We also sponsor an adult football team, as well a youth team aimed at 12 to 15-year-olds who come from more impoverished backgrounds.
"In our position as an independent retailer, I think it's vitally important we give back to local shoppers who support our business."
Adeil is also looking to take this generosity one step further with plans to help less fortunate shoppers out with gas and electric payments. "We have people in the area who often struggle to heat and light their homes. So we've been talking with a charity group called Loaves and Fishes to see if we can set up an independent fund that people could donate to.
In our position as an independent retailer, I think it's vitally important we give back to local shoppers who support our business
"With the funding, we would then help people who are struggling by getting them to come to the store and give us a voucher, and then we could use a pre-paid card on our payment terminal to give them a top-up on their gas and electricity. I'm hopeful we can get it up and running this year."
This hard work has not gone unnoticed by Adeil's customers, who have given back by helping him to grow average weekly turnover at the business from £12,000 to £34,000. And with an additional 4,500sq ft of untouched space left in the store, he is already planning his next move.
"I'm looking into introducing hot food to go and potentially getting a franchise in," says Adeil. "I was thinking about Subway but thought it may not be right for the area, so I'm looking into other options."
Visit our store
What do you do to support your community? Share your ideas in the comments section.