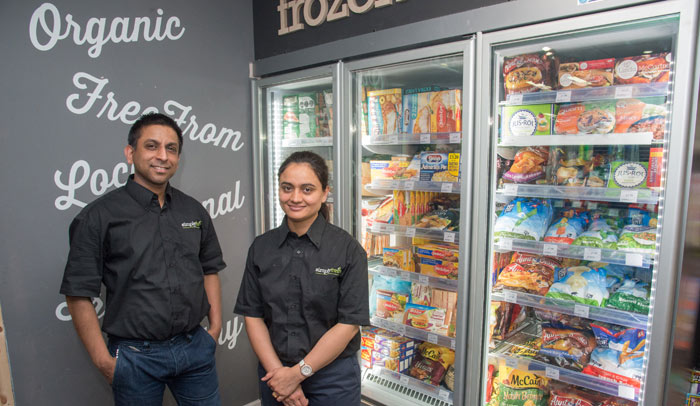 In every issue of Retail Newsagent this year, a retailer has told us an inspiring story of how they have grown a successful independent store for our Retailer Profile series.
As many of these store owners are up-and-coming faces in the industry, here, we take a look back at 12 of the best new faces to Retail Newsagent in 2015 and the business ideas they shared.
January
Factory workers can't get enough of our £1.40 homemade soups. We sell 30 a day, then tempt them at dinnertime with our homemade curries too.
Lifestyle Express Newhouse Mini Market, Kilbirnie, North Ayrshire
February
My store was nearly a Network Transformation casualty but my community fought back. I've rebuilt my business by doubling my store size, adding local ales, running my own great deals and offering a book loan service.
Londis Broadoak & Post Office, Ashton-Under-Lyne, Greater Manchester
March
We outgunned the supermarkets by investing £750,000 to build a 3,000sq ft modern convenience store. With our fruit, veg, chilled, frozen and alcohol range, our basket spend has grown to an average £8.
Chellow Heights Service Station & Spar, Queensbury, Bradford
April
None of my many competitors stock more than 100 local ales or order cider by the barrel and bottle it. By specialising my alcohol range and deals, my turnover has trebled in 11 years.
Chalbury Food & Wine, Weymouth, Dorset
May
I sell 110 cups of coffee a week and my food to go sales are up 20% because customers love buying local food to go with them. I sell out of my 400 shop-made sandwiches every day too.
Spar Crescent Stores, Witney, Oxfordshire
June
We knew fresh and chilled was the future for our business and built our store around it. Our foodservice counter, fresh fruit and veg, local cakes and huge chilled range help us make over £25,000 a week.
Sukhi's Simply Fresh, Kenilworth, Warwickshire
July
We bought our first store at 18 and have built a £3.9m business transforming underperforming stores. Pricemarked £1 pies from a nearby firm are just one product that locals love in our Torry store – we sell more than 60 a week.
Icon Stores, Aberdeen
August
Our slush machine is so popular we've launched a loyalty scheme. And fresh coffee, microwavable porridge and £30 Chateauneuf-du-Pape bottles have all helped us grow turnover to £1m a year.
Nisa Local, Crich, Derbyshire
September
If a customer wants a specialist wine or cider, I'll get it for them and deliver it too. They buy them by the case, and my weekly turnover is growing £500 a week as a result.
Bargain Booze, Bermondsey, London
October
I've done food to go since 1984 and make 600 rolls a day. But by focusing on grocery categories this year, I've also grown fruit and veg and alcohol sales by 43% and 10%.
Spar London Road Bakery, Boston, Lincolnshire
November
We are Simply Fresh's first small format store and we've built a great business by working with 30 local suppliers and offering high-end lunch options from attract the Pret crowd.
Gavin Mahal, Jasvinder Randhawa & Vimesh Patel,
Simply Fresh, St James Park, London

December
We become a bit of a Christmas shop in winter and customers travel for miles to buy our quality decorations, boxed cards and paper. And beating WHSmiths' prices by 10% keeps them shopping here all year round.
Pete & Clare Hart, Chapmans of Southwold Suffolk