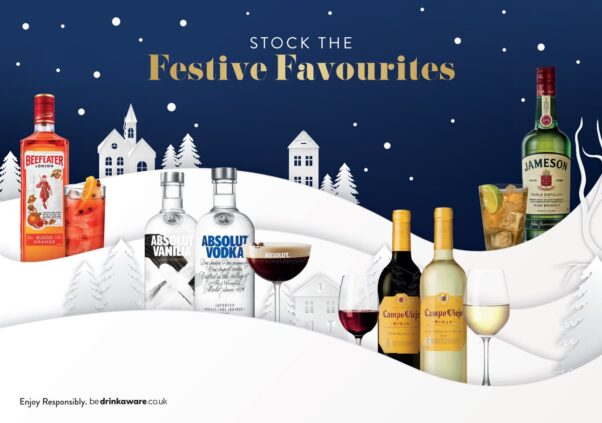 Convenience retailers could profit from an additional £2,792 per store this Christmas by stocking a broad selection of premium spirits and wines during the 12 weeks leading up to Christmas day.
This is according to Pernod Ricard UK, who said convenience stores are best for facilitating two missions in the alcohol category: grabbing a bottle on the way to a house party or gathering, and picking up a bottle to host family and friends at home.
A study commissioned by the supplier found independent stores were useful to shoppers when picking up spirits before heading out, with 87% of shoppers buying spirits at convenience stores to consume at their destination. 31% of these missions were spontaneous.
With the closing of pubs and restaurants, there are now more online shoppers and a broader demographic of people shopping locally due to a sustained increase of people working from home.
Pernod Ricard backs new Beefeater bottle design with campaign
The supplier added there has equally been an increase in people buying premium spirits, with its value growing twice as fast as the spirits category in total.
When it comes to people trying something new, it now takes two more spirits sub-sectors to make up 95% of impulse value sales than it did a year ago.
This means instead of making all your sales through one type of spirit, such as vodka or gin, you now must invest in a broader range of categories to hit the same level of sales.
For these reasons, it said retailers must be able to cater for a wider variety of tastes and occasions than in the past with premium options that will "make visibly generous and special party contributions".
Pernod Ricard UK new Argentinian wine now available to indies
Luckily for retailers, Chris Shead, off-trade channel director at Pernod Ricard UK, said the off-trade is likely to retain an inflated share of the total beer, wines and spirits market this year.
"It's important not only to stock the familiar core lines of premium spirits and wines shoppers will expect to see but something new and exciting from those brands, due to the increased knowledge of spirits and wines shoppers have acquired in lockdown.
"This year, more than ever, it's about breadth of range. Last minute purchases are crucial to getting it right this Christmas. Grabbing a bottle on the way to either hosting or being hosted has grown in importance as people celebrate the moments they can share together, so having an enticing range is hugely important," he added.
Pernod Ricard UK's what to stock Christmas spirits list

Stocking each of these lines throughout the 12 weeks of Christmas could generate £2,792 per retailer:

1. Jameson Irish Whiskey
2. Jameson Orange
3. Havana Club 7
4. Havana Club Cuban Spiced
5. Absolut
6. Beefeater London Dry Gin
7. Malfy con Arancia and Malfy gin Rosa
8. Campo Viejo Tempranillo
9. Campo Viejo Reserva
10. Campo Viejo Winemakers' Blend
11. JC Reserves
12. Rutas de Cafayate Malbec
Read more about Christmas products and seasonal advice