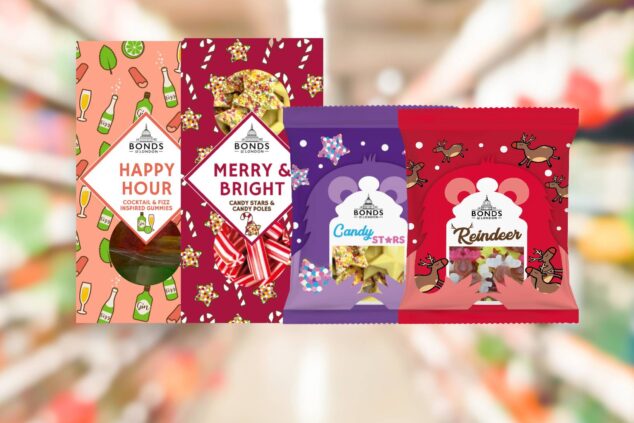 Bonds has launched their 2021 Christmas range including festive Pun Boxes and Shaker Cups.
The Merry & Bright Pun Box consists of Christmas candy poles and stars, while the Happy Hour Pun Box includes a mix of cocktail and fizz inspired flavoured gummies. Flavours in the Happy Hour Pun Box ranges from Mojito to Rhubarb Gin and Classic Fizz.
Bonds have also released Toffee Snowballs and Christmas Fudge Sharing bags that customers can share with family and friends.
The upgraded Bonds Six Sweet Sprinkles includes Mini Melon Slices, Snowies, Dolly Mixture, Bananas, Pink & Blue Bottles and Ice Cream which can be used on desserts.
The confectionery supplier also offers a range of Christmas Gift Boxes, such as Turkish Delight, Orange and Lemon Slices, Traditional Crème's and Fruit Jellies.
Hancocks unveils 2021 Christmas confectionery range
Christmas Tree Mallows, Candy Stars, and Christmas Candy Canes are among the seasonal Pick & Mix in the Festive Mix Shaker Cup.
Other sugar novelty sweets include white chocolate flavoured Candy Stars, cola flavoured Reindeer Gummies, Christmas Mallow Pops, Jelly pops and Mallow Skewers.
The new Solid Milk Chocolate Reindeer Noses will accompany the Milk Chocolate Creme Fill Santa's nets.
The last new addition to the festive range is flavoured lollipops shaped as seasonal characters. These include strawberry flavoured Santas, Apple flavoured elves and cola flavoured gingerbread men.
KP Snacks unveils limited-edition Christmas packaging across Tyrrells crisps
Chris Smith, from Bonds Confectionery, said: "We're very excited about the Bonds of London Christmas range, it will give retailers the opportunity to provide their customers with fun festive treats for the holiday period.
"Products like the award winning pun boxes will be hugely popular for gifting to family and friends and the new vegan chocolates ensure inclusivity so everyone can enjoy something sweet from Bonds this Christmas.
"The range is really exciting because there really is something for everyone, from children's festive lollipops to tasty mojito flavoured gummies! We're really excited at Bonds to see just how much everyone will love these products".
Read more about Christmas products and seasonal advice