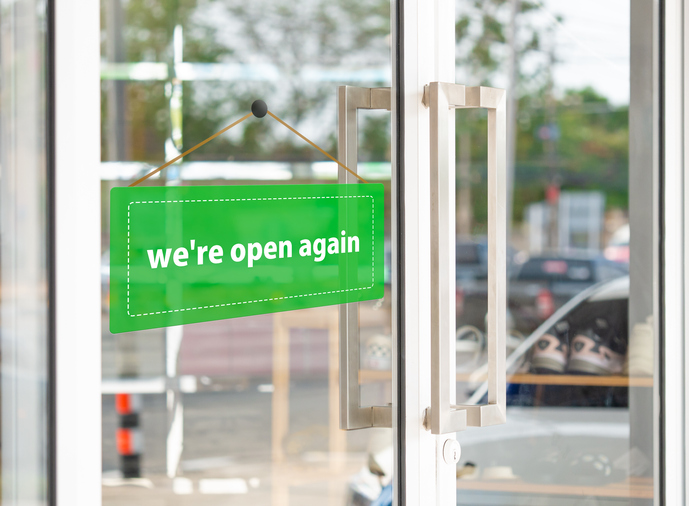 Retailers forced to close during the Covid-19 pandemic have shared their experiences of reopening to help other shop owners looking to do the same.
An estimated 1,514 news-selling stores closed as of 16 April 2021, based on data from news wholesalers, with experts predicting many may never reopen.
Describing the challenges he faced in opening the shutters again, Dipil Patel, owner of RM Terry's Newsagents in Amersham, Buckinghamshire, told betterRetailing: "I would say at least 50% of our products were written off. We had a lot of empty shelves after losing so much stock."
Shop forced to close over Covid-19 safety breaches
The store owner said he focused on restocking quick-moving confectionery lines in order to build back cash flow and sales once the site reopened.
Patel also handed out leaflets and used posters in his windows so that customers were aware that his store was back in business.
Manish Mehta, owner of William's News in Streatham, London, had to close his store after catching Covid-19. While he survived, his brother did not. Two months later, his shop reopened, but he reported problems in encouraging customers back into the store.
He said: "When I re-opened my store it was difficult to get customers to return. I think the customers knew that I had previously had Covid-19, so they were anxious about returning to shop at my store.
"However, to reassure them I decided to be stricter with following in-store restrictions, making sure everyone who came into my store had a mask. If they didn't have one, I would give a free one for them to use, rather than arguing with them."
Wholesalers commit to Covid-19 rapid testing
Ravi Raveendran, owner of Colombo Mini-Mart in Hounslow, London, also closed his shop after contracting the virus. "I had concerns over whether my loyal customers would return once I had reopened, because I was closed for three months.
"My store will be opening next week, so I am a bit worried about whether they will return." Raveendran added that he had used the time to make improvements to his store.
Despite the challenges, store owners reported that support from their community helped their return to the counter.
Mehta said: "My lovely customers decided to go on social media and share that I was reopening, which I really appreciate."
Raveendran added: "A lot of my customers knew I had just recovered from Covid-19, during the months my store was closed. I received a lot of messages from customers asking me if I was okay."
NFRN members forced to close can contact the federation to apply for free grant funding to support them and their business.
More than £100,000 of the NFRN Hardship Fund remains available.
Find out more on our coronavirus information hub for retailers