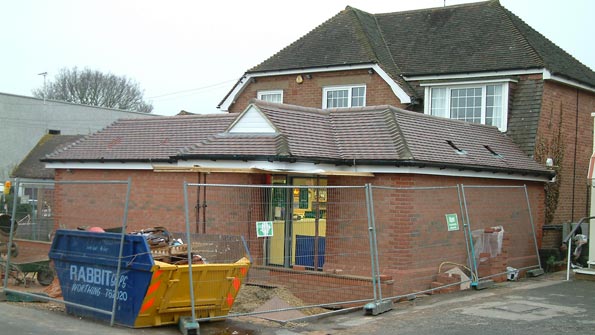 At the end of 2003 we finalised our purchase of our village Post Office. Being unable to come to terms with the previous sub Postmaster's landlord we needed to move the PO branch in to our own shop. This meant that the Post Office had to be closed for over three months.
After undergoing a minor refit to make space for a single position counter and strong room we opened at the end of February 2004. Our community was delighted to get their Post Office back.
The key reason for the delay was down to us needing to obtain planning permission for our extension. Once we had opened up our Post Office and become comfortable with its management it was down to organising the development. There was the finance to raise, the builder to select and a new shop floor layout to design.
We started the build at the beginning of January 2004. The builders were with us until the end of April and the build went almost without a hitch. The only challenge our builder had to over come was to provide an open space without columns. This was overcome with the help of a neighbour who worked for the timber frame company our builder was using on our project. Amazing!
Once we had settled on a sales floor layout with a significant input from our Londis business development manager & his colleagues, we then agreed the schedule with their store development partner. We had to organise Post Office Ltd's part of the development as we went to a two-position retail, two-position PO combi-counter in the new layout.
With everything organised the fit out of the new space happened over three days in mid March. It was very intense with many different tradesmen on site during these days, which was a real health and safety challenge.
Even though from the outside our shop was still a building site we had achieved a completely new look inside. The reaction from one of our first customers said it all, Wow.
Throughout the development our customers came into our shop by way of a temporary door to the side our premises. When the builders completed their work at end of April customers were able to use the new front entrance for the first time. We had been trading for six weeks and our customers liked it.
In the next part we move onto putting the business up for sale.
[jj-ngg-jquery-slider gallery="61″ html_id="sms-slider" width="595″ height="335″ controlnav="false" order="sortorder" effect="fade" pausetime="2500″]