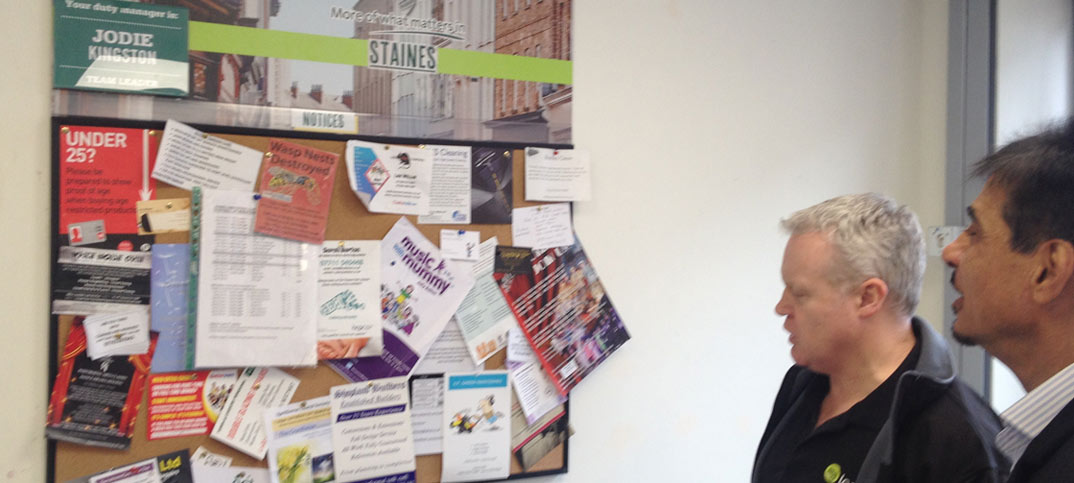 Mike Greene has set five principles that describe the My Local mission; Fresh, Full, Fair Price, Fast and Friendly. Mike has worked in the convenience channel for more than 30 years and each of these principles has been developed during this time.
The Friendly element has its heritage in how companies as diverse in size as EH Booth and McDonalds behave. Mike says that Edwin Booth wanted to develop stores that people would want to live next to, and McDonalds are famous for keeping the 100 yards around their restaurants clear of litter.
On our Thames Valley road trip, Mike explains that being a good neighbour is about organising the aspects of operating every store so they don't adversely harm the quality of the lives of the people that live nearby.
So deliveries don't arrive too early or too late, external lighting is thoughtfully located, noise from fridges is minimised and waste from the store is properly managed.
Mike added that knowledge of each store's catchment population is known and has been fully analysed. This has been a paper exercise using demographic data available on who lives within a mile of each store. He then added that the store managers and their teams can colour in the local knowledge that isn't available from the data.
They know who actually shops in their stores. As with all great local stores, the people who work in My Local stores are encouraged to get to know their regular customers by name.
Every neighbourhood store should choose, engage with and support at least one local charity and My Local is no exception. Every My Local store has a charity to support that is based within a mile of its location chosen by the store team. Collection boxes were in evidence at each of the four stores which Ramesh Shingadia and I visited with Mike.
Every My Local store holds Fun Days and these are an opportunity for the supported charities to be seen at the store and to gain from the exposure, as well as supporting the store.
"I hate waste so every My Local store has been asked to build a relationship with their local homeless shelter and arrange to give it's unsold out of date produce and stock to them," says Mike.
"It is the right thing to do for the community rather than put this still edible food in the bin as some other retailers do."
The Five Fs, Fresh, Full, Fair Price, Fast and Friendly are not just slogans for Mike and his team. They are the key principles for making My Local a successful business built on the lessons he has learnt during his career in retail. Being friends with your community is a no-brainer if you want to succeed in neighbourhood retailing, and Mike has found a way for the 140 My Local stores to engage with their customers and beyond.