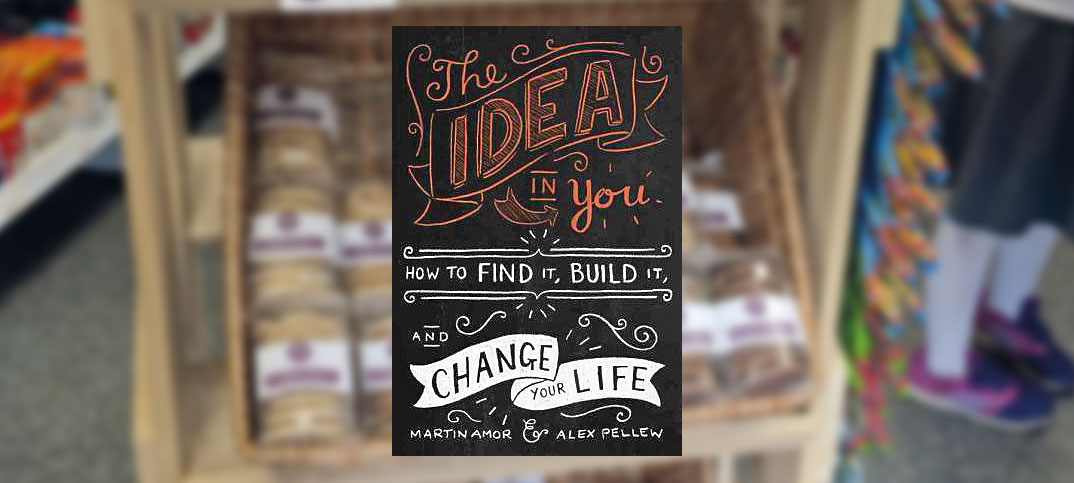 The target reader for The Idea in You are those people in Britain with ideas who talk about them at the dinner table and down the pub while their friends and family look down at their phones.
Ordinary people who may simply want to become a wildflower florist or to open a restaurant specialising in Yorkshire puddings.
I know this because the authors, Martin Amor and Alex Pellew, took the time to write me a note when they sent the book for review and that is what they said.
"How to find it, build it and change your life" it says on the front cover of the beautiful edition I was sent. "Take your passion and make it happen" it says on the back cover.
I know what you are thinking: you are an independent retailer who has already got up from the sofa and invested your own money (and your family's money) in making your idea happen. There is nothing you can learn from a couple of trendy consultants who have been helping PepsiCo and Unilever and others change the world.
But I think you would be wrong. Today's successful local retailers are constantly reinventing what they do, the services they offer and the products that they sell. The processes that the authors describe in the book will help with this.
For example, in the third chapter on Landing Your Idea they recommend that you commit an idea to words on paper to stop your ideas moving around. The other benefit of this is you "gain access to its working parts too, so you can start to decide on how to make it succeed".
An idea is "something you can do" and by writing it down you "impose some clarity on it. It's a critical act because it removes doubt."
From my experience, most independent retailers make changes to their businesses without ever writing down what they are going to do. They add on new products and services but forget to squeeze out the old. They underestimate the obstacles to making their new vision a success and, as they hit the obstacles, the original idea gets watered down and compromised.
Before you even get to the challenge of writing down your idea, the authors will have challenged you to control your "thoughts". One of their bright ideas is to rewire some of the ideas from Napoleon Hill's Think and Grow Rich, a classic but difficult to read book.
For example, you will be encouraged to use "towards" thinking where you "focus on what you want rather than what you fear. It's another important method of getting your head straight."
Chapter six is about staying free. The rules are: reduce your personal costs, celebrate small, interpret "investment" in the broadest possible sense, spend late, wait until you know how your idea makes money before you borrow any, and do things yourself.
Money is a "primer" and the more you are spending on your idea, the more that deadlines will tighten and you will lose freedom to explore, they say.
Amor and Pellew's ideas are supported by some great case studies from unusual businesses that will inspire you. They have also a great resources section at the end. You need to do something different in order to change your world. Change the way you drive to work or the TV shows that you watch.
Reading The Idea in You is likely to help.