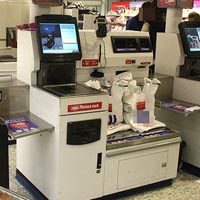 You'll have personally heard many, many times – and doubtless you will again – that customers tire of the rise of self-service machines in supermarkets, and long for that human touch that smaller, community-focused convenience stores can often provide.
A recent article in the Independent talks about the march of the machines – 15,000 of the automated tills will be in use by the end of 2011, double what was on show two years ago.
The key points from the article aside from the depressing inevitability of it all, are the seeming hypocrisy of the general public – while a third of people presented with the machines will use them, a survey showed that 73 per cent said that self-service tills were the worst thing about supermarkets – and the fact that although they may appear to be quicker, they might not actually be so.
The concept of 'wait-warping' proposed by Lee Holman of IHL refers to the fact that because the customers are involved through the entire process, it feels like it takes less time.
Customers want to be involved in the purchasing process. They want to do more than simply showing you the goods, handing over a fiver, collecting their change and walking out.
While an advocate of technology on the whole for smaller stores – I wouldn't be posting on a website like this were I not – I think there's one area that even the most advanced of smaller retailers can win by not investing in new machinery.
You can attract people back to your store by being something different. Talk to your customers. Be cheery. Help them with their queries. Be more than just a glorified machine.