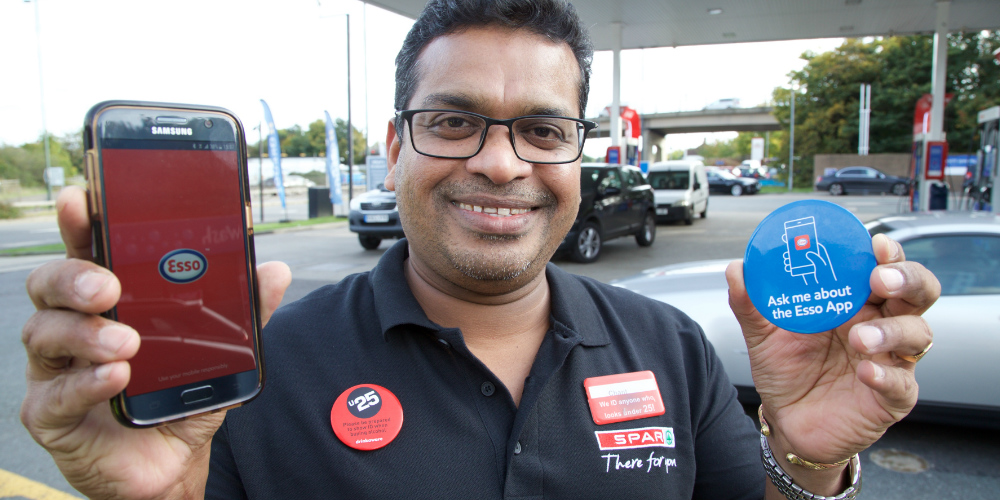 Esso is rolling out a mobile payments Esso App that allows drivers to pay for their fuel without getting out of their car.
Both dealer groups and independent traders have been involved in the trial which began in September 2016. The system is now at 70 Esso-branded sites in the UK, with users simply driving up to pumps, turning on the Esso App, filling up and driving off.
The company is currently rolling out 20 sites a week and hopes to have more than 250 stations using the system by the end of 2017.
The technology works through the existing EPoS system, and Esso says it is supporting traders in part funding the £1,000 cost of installing the system. Working in partnership with PayPal and Apple Pay, the technology is "significantly cheaper" than pay at pump terminals, which cost approximately £10,000 per pump.
Despite the lower footfall likely to occur as a result of the app, Esso believes the system is good news for forecourt retailer store sales and impulse purchasing.
Esso's mobile payment & loyalty manager Christopher Smith told Retail Express: "We expect the impact on in store purchasing to be positive for two reasons. Firstly it de-bottlenecks the queue inside the shop, people that are always going to just buy fuel can do so at pump and that is more efficient for shop customers. The second is that customers that want to browse, chat or grab a coffee feel awkward about both leaving the car at a pump and pulling away from the pump without paying, the app removes this barrier."
The Esso App also allows forecourt traders to send tailored promotions to app users on their phones while they fill up.
Currently the scheme is rolling out with forecourt groups such as Eurogarages and MRH, and independent traders. Smith said Tesco forecourts will be joining the scheme in 2018, and expects 10% of all Esso forecourt transactions to take place via mobile payments by 2020.
MRH strategy, fuel supply and SSHE manager David Wilson said the app is reducing queues, increasing dwell time in store, alleviating congestion at the pumps and importantly for retailers, increasing the amount of club card associated fuel payments.
Asked how independent forecourt retailers can join the payments system at their pumps, Smith said: "We have a programme for involving individual dealers as fast as we can, if they are interested they should talk to their territory managers."
A similar programme by Shell – Fill up and Go is already live with more than 1,000 sites in the UK. Both Sainsbury's and Tesco are also expanding their own mobile payments systems.