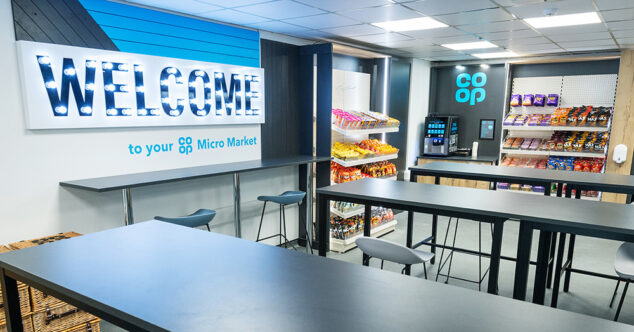 Co-op has launched a smaller-format shop, targeted at offices and train stations where it is unable to set up a traditional convenience store.
The multiple's first 'micro market' site opened in Somerset at the head office of Numatic – the manufacturer of Henry the Hoover. The format is self-service and takes no cash. It also requires no staff to run it.
Co-op sales and service improvement manager Leigh Cobden said the model was developed in partnership with independent retailers as part of the firm's franchise proposition.
Co-op rolls out one-touch cash handling tech to every store
"As a convenience retailer, we need to continue to adapt and find new ways to reach our customers – and that's even more important in the wake of the pandemic, which has changed how people shop and eat.
"So we're really proud to launch our new mini Co-op offer, our 'micro markets', as an exciting way to reach our customers. The micro market will help us to have a Co-op presence in locations that aren't suitable for our traditional stores and offer our customers new, convenient ways to shop with us.
"It's a fantastic way to work with other like-minded businesses to get closer to where our customers are – helping our fantastic quality Co-op branded food and drinks to reach more customers in more places than ever before."
Read more Co-op news