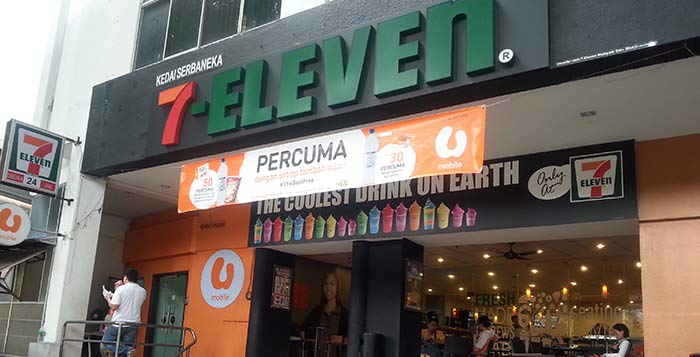 "One family habit when on holiday abroad is to buy a bottle of gin in duty free and to have "happy hour" on the hotel balcony, which requires sourcing tonic water and salty snacks in all parts of the globe.
The only place I have been where this strategy singularly failed was St Lucia, where the shops were piled high with Gatorade and other beverages that were poor company for gin.
However, my recent trip to Malaysia, when we took a 1,000 kilometre road trip from Batu Ferengghi on the west coast, through Ipoh, Tanah Rata, Gua Musang, Merang, Cherating and finally ending up in Kuala Lumpar provided an interesting analysis of tonic water availability and convenience store standards.
Batu Ferengghi is a beach resort and was well provided with convenience stores that sold a wide range of snacks, soft drinks and alcohol. On the same road side-by-side were local chains like 24 Express and tatty shops. The main difference was the "professional" c-stores had glass windows and doors to the street and air conditioning and staff. The local shops were darker and their chillers less alluring and sometimes were cheaper.
Lays crisps, imported and expensive, competed with local snacks and Pringles, which were value engineered in smaller tubes. Tonic water, both Schweppes and a local competitor, were chilled and widely available.
On the east coast, less travelled by tourists, the situation was very different. 7-eleven, which is Malaysia's largest c-store chain competed everywhere with local stores. It's major competitors in terms of air conditioning came from the forecourt stores. Nowhere sold tonic water. Talking to one shopkeeper, he said that it would only be available in upmarket restaurants.
Mind you, the east coast of Malaysia is dry, with very little alcohol consumption.
Finally, in Kuala Lumpur after taking a can from the minibar we went in search of a replacement. The flagship 7-eleven stores were very impressive. While in the country they did little to separate themselves from the local stores, in the capital they were clean, very well merchandised, full of food to go and meal for tonight solutions, came with coffee shops and free wi-fi. Not a can of tonic water to be found.
The local stores were the same until we found a small Chinese-run c-store that literally stocked everything. He laughed at the prices the hotel would charge and the fact that instead of 330ml on the hotel can it said at least 325ml, which I thought was its way to stop people refilling the mini bar from the street. (They did not check but I confessed!)
But the important lesson I learned is that what retailers sell depends on the strength of the distribution channel behind them. Red Bull was in almost every store and came complete with innovative displays. On national brands, the small local shops generally had the same range as the bigger convenience chains.
Fresh fruit and vegetables were often sold at roadside stalls and you would drive past 20 stalls all selling the same two or three products then a kilometre further on another 20 stalls selling something different.
Getting the customer-facing part of retail correct takes time and good processes. Here there is a wide differential from one retailer to the next. But when it comes to building a range, then retailers tend to converge on the same narrow repertoire. Is this where opportunity lies to beat your competition? And is this were opportunity lies for wholesale buyers to help independents distinguish themselves?