IAA #CommunityStars is a virtual event aimed to help independent retailers tackle new challenges day-to-day, like retail crime, ongoing availability issues, rising costs and changing consumer demand. #CommunityStars also helps retailers develop their business and provide for their customers.
Samantha Gunston, head of events at Newtrade Media joined Arjan Singh, owner of Premier Morley in Leeds to find out how he's tackled these issues.
"We've been a family run store for about 35 years now and I officially took over around three years ago," says Arjan. "We started to innovate the store two years ago and we've not looked back. We've completely changed the whole store and it's now become a destination."
The store is a Finalist in this year's IAA for Innovation and Marketing to Customers. Arjan was named as the IAA 2020-21 Rising Star and the store was also recognised as the IAA 2020-21 Category Star for Innovation in July 2021.
Arjan and his team stood out after launching a delivery service on multiple platforms, expanding their reach and opening a whole new market. Customers can order from Just Eat, Food Hub and Morley Eats. The retailer also imported two electric delivery vehicles from Norway in a bid to be environmentally sustainable. Finally, Arjan trained to be a mixologist and launched a cocktail bar to further increase his point of difference.
Here are 10 ways Arjan is improving his business that retailers can learn from.
How we're battling rising costs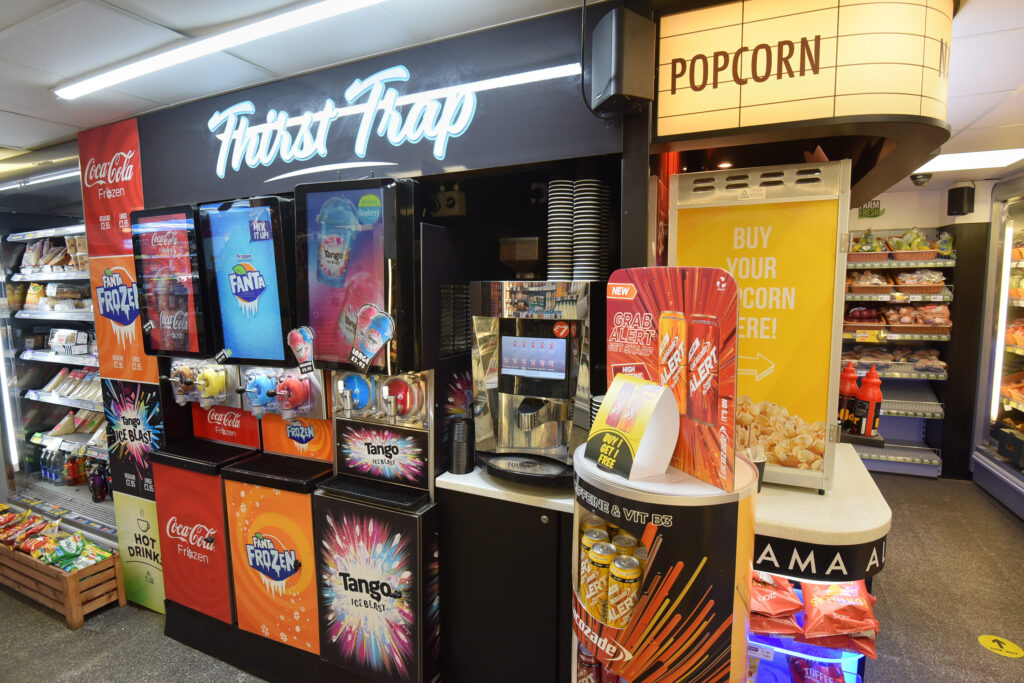 "Customers want something different, which gave us the drive to launch the cocktail bar and the big night in area," Arjan says. "We have noticed customers are feeling the pinch more with rising costs, though.
"We treat the business as two separate things: in-store and delivery. We've noticed people aren't spending as much as they might want to – they aren't treating themselves as much," Arjan adds.
The retailer has updated his delivery service strategy by switching to electric vehicles. This has helped to reduce overhead costs, allowing Arjan's prices to stay competitive, too.
"Costs are rising, including fuel so we partnered with Booker and Mercedes Benz to buy a new electric van."
The rising costs have also provided an opportunity for Arjan's delivery service, however, as shoppers aren't driving as much as they were before.
"Shoppers want to save money, especially with fuel costs going up, so they aren't driving around as much, so we said we can deliver to you instead and as a result, we've reduced carbon emissions and it means they can save fuel money and spend more with us," Arjan adds.
Improve your sustainability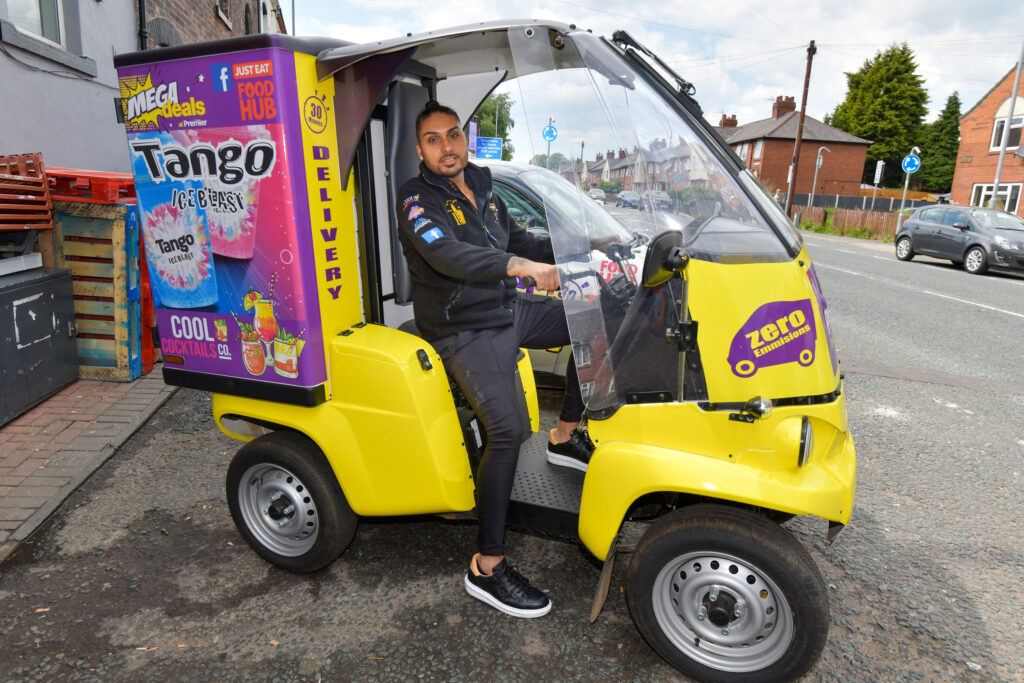 "We invested in an electric van not to just help us with deliveries, but our cash & carry runs, too," Arjan says. "It will assist us in picking up stock and we want to ensure we're making use of all our electric vehicles for delivering to our customers."
Arjan and his team deliver to a wide range of care homes, assisted living communities and customers who are unable to reach to the store. "Because they live so far away or aren't able to reach us, they tend to order more so the electric vehicles mean we aren't overusing fuel and being as environmentally friendly as possible.
"We've started doing breakfast deliveries, which is another thing that's changed in our service, so the van will really come in handy."
Arjan also works closely with local businesses to keep food miles down and works closely with Too Good to Go to reduce waste.
"The goal for any retailer, large or small, is to make as much money as possible," says Arjan. "And to do this, you need to expand, which means having a delivery service if you don't already have one."
Arjan says the market has changed and convenience goes beyond a store's four walls. "Retailers can still be innovative in store and can make themselves a destination. But also improve your sustainability, have a delivery service – customers appreciate it, too, especially if you're being sustainable."
Create a point of difference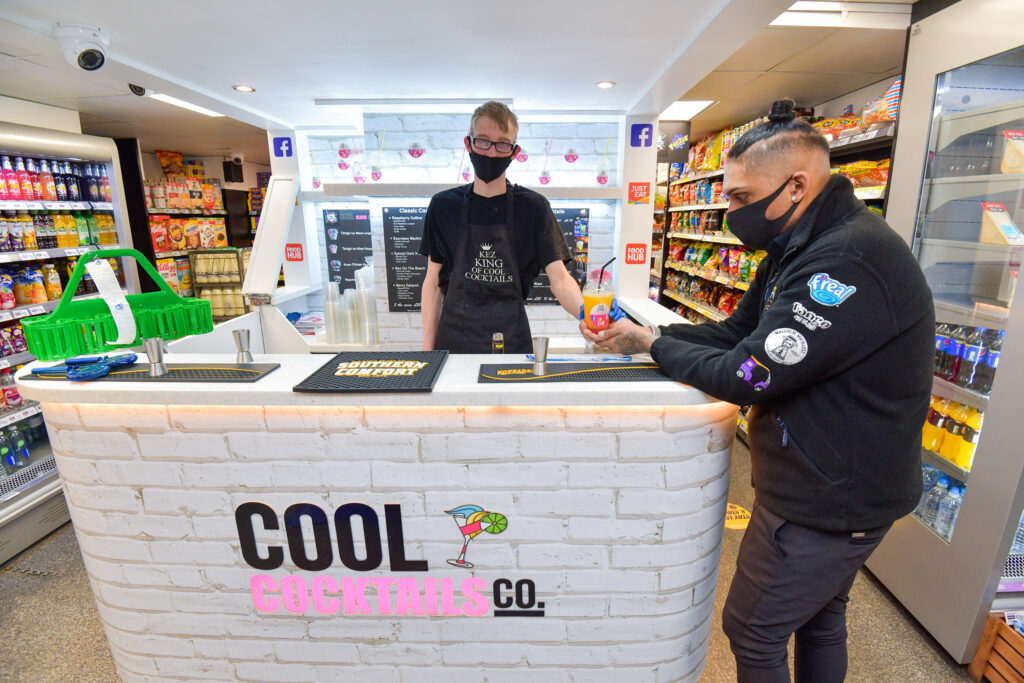 In 2020, Arjan and his team launched an industry first cocktail bar and a big night in section, which includes sharing formats of crisps, snacks and drinks, too.
"We come across these ideas through social media, specifically TikTok," he says. "I could look on there for hours, but it's really helped us find out our next venture. I get an idea and I just run with it.
"I've never been one to procrastinate and yes, some constraints can hold you back from investing, but I say if you feel like it will work, you've just got to go for it."
Arjan's dad, for example, initially had reservations about the store's cocktail bar and said it was the wrong time to launch following constant lockdowns and uncertainty.
"I launched it anyway during the pandemic and it proved to be a big hit. With the big night in, it took customers time to adjust as they didn't really know what it was, but once they understood the concept and what you can get for the price we offer, customers really appreciated it," Arjan says.
"Our dessert and cocktail bar has thrived on delivery, with us generating approximately £5,000 a week on desserts. It shows people are ordering."
Sales from the cocktail bar did decline following the end of Covid-19 restrictions, however, but Arjan has reported a rise in sales as the novelty of going to bars and clubs has started to die down. He says: "Shoppers are coming back to us, especially as costs have gone up and they can't afford to go out every week. It's an added cost, whereas our cocktails can be delivered, saving money for the customer.
"It's always been busy at the weekend, but what we're noticing now is it's picking back up during the week, too."
The retailer's next venture is installing street food. "We've noticed that while customers are feeling the pinch cost-wise, they still have to eat and drink no matter what – and they want something different."
Expanding that point of difference
"Our street offering will have a limited menu, but we'll be working with local street food vendors and offer something different every month," Arjan says. "This is to keep it fresh and then we'll tie it in with our delivery menu, too."
It was important to Arjan and his team they use local businesses to help them recover from the pandemic. "People have been trading for a long time & we found most of them on social media.
"We always put new ventures on there to find new businesses. It also helps us get more involved within the community, too."
Arjan's mum is also getting involved in the new venture by making a selection of Indian food products. "It's all tying up well and will compliment our cocktails, helping to increase our basket spend," Arjan adds.
The street food venture is due to launch in the middle of summer, with Arjan finalising the last few details. He says: "We're looking at how it will work in store, if it will be outside, etc. Space is limited for us, so we need be creative."
Arjan has carried out surveys for his customers to understand why they shop or order from them. "Most of those who request delivery say it's because they don't live in the area," he says. "Our market reach is phenomenal and we're delivering to customers who might not be able to get out or are too busy to visit the store."
All the new ventures Arjan implements in store are to attract millennials, as they tend to spend more. "We've really had to step it up for them, especially our American range. Some customers were spending up to £50 a time on American products."
The retailer installed a Jolly Rancher and a Hershey's machine following the success of his American confectionery range, sending his basket spend up and up, and works with Booker and Country Choice to ensure his food to go offering is compliant with Natasha's Law.
"When you think of ideas, you might think it's too crazy, but it's offering something different. That's what we're hoping with the street food, that it will be a massive success."
Invest in your team
Arjan has invested in his team, training them across the store and rewards them with meals out and an employee of the week programme.
"Every square metre has to make us money, and staff help us with that. I've made sure all our staff are trained on our American lines, our vape section, our cocktail bar and our entire range."
Arjan's family also works in the store and they are also included in the employee of the week initiative to ensure they don't feel left out.
"We want to ensure staff want to be here and want to work here," Arjan says. "We don't want people to think 'oh, I've got to go to work' and be blasé about it because suddenly the standards you've set begin to slip. I don't want that to happen."
Launching a vape brand
Arjan installed a display unit in front of but separate from the till area to give prominence to the category, resulting in his vape sales rising to up to £6,000 a week.
"The unit looks like the Tardis from Dr Who and customers opening the drawer and seeing the stock we have made them want to buy more products.
"We were running strong deals on our 120ml vapes and then we continued to add to our online range, too."
Following the rise in demand for disposables in America, Arjan decided to get ahead of the curve by launching his own brand. "We worked with a manufacturer and initially had 47 flavours, which was then reduced to 37 flavours.
"We've been generating sales of disposables of up to £10,000 a week," Arjan says. "We launched the brand as we wanted to get to market quickly.
"It's important to have a pick and mix of flavours," Arjan says. "We run a four-for-£10 deal and customers are picking up eight or 12 vapes at a time. Some are buying 20 packs in a single purchase, too.
"There's so many different flavours, so we've really narrowed it down using sales reports and speaking with our manufacturers and with our wholesale listings, too."
If you're just starting out with vapes, Arjan recommends looking at what's selling on the market, as well as your competitors and online.
"Vape is a go hard or go home category. There's so much potential with vapes and there's huge profits to be made from the category, with disposables especially," Arjan says.
"When you look at it from a sales point of view, it's almost harder to sell cigarettes now. You don't really have the option to start out small. You have to almost put it directly in the customers face to show them what you offer."
The biggest lesson we've learnt
"Tailor what you're doing to your customers. Have the basic standards, but make sure you have an effective range, you're marketing to customers and then just be free flowing with new things," Arjan says when asked what's the biggest lesson he's learned as a retailer.
Arjan also says if you have a new idea and you think it might work, to take the risk and go for it. "Do some research and have a look in the area if there's something similar," Arjan says. "Also, ask a few customers – then go for it.
"From the investment side, it might hurt your profits to start with, but the return on investment could be threefold sometimes."
What being an IAA finalist means to us
"Being recognised has put our store in the retail world and makes you see you're doing something right," Arjan explains when asked about being recognised as a semi-finalist for Marketing to Customers and Innovation.
"I always make sure the team are aware their hard work is paying off. I also alert the customers because that's what we're here for – to serve customers."
Being involved with the IAA has further helped Arjan create a point of difference for his store. "Being different and innovative is essential, especially in this current climate. It sets your apart from other stores and brings customers to you."
How the IAA changed our thinking
Arjan and his dad got involved with the IAA after participating in an Academy in Action visit in 2019 for Service to the Community.
"When we first got involved with the IAA, we got a bit of a shock," explains Arjan. "We realised we weren't doing a lot of things we should have been doing. It gave us some perspective on how to improve.
"With the IAA, you have the benchmarking tool to boost your business, know your strategies and grow the store."
When asked about why retailers should take part in the IAA, Arjan says: "If you aren't taking part in the IAA, then you have no-one to uphold your standards. By benchmarking, your business will grow," Arjan says.
"Everyone wants their business to flourish, but by not taking part, you're missing out on that. It's a no brainer for us – why would you not want that for your business?"