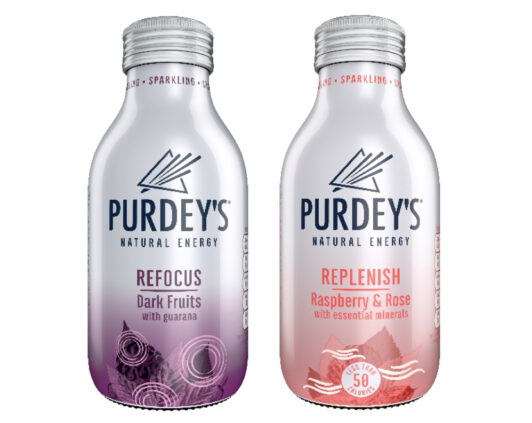 There is a growing desire to look and feel good, and as a result, wellness is one of the latest soft drink segments to come under the spotlight, with 31% of shoppers interested in premium soft drinks that contain additional functional benefits[1]. More people are looking for benefits above and beyond their standard diets, such as boosting energy levels, maintaining a healthy heart and encouraging strong brain function[2]. As a result, wellness drinks are now more prevalent than ever. The offering of 'added benefit' products, that contain naturally sourced ingredients, fruit juice and provide added health benefits, is also on the rise.
Purdey's, the sparkling vitality drinks brand, delivers the important benefits customers look for in functional soft drinks – taste, wellness and energy. Containing energising B-Vitamins, botanicals, and real fruit juice, as well as only naturally occurring sugars, Purdey's gives consumers a refreshingly energising lift. Purdey's has grown by +67.7% in the past 4 years[3], adding +£3.5m of incremental value to the soft drinks category[4]. Purdey's is expecting to continue this growth in 2021, refreshing its range and adding exciting new products, which will appeal to customers who want additional wellness benefits from their soft drink choices.
NEW FROM PURDEY'S
Purdey's is igniting its natural energy range this Spring by adding two new products to the wellness segment – Refocus and Replenish. Both additions will expand this growth by offering shoppers an even wider range of benefits to meet the different energy needs throughout the day and week. The brand is also undergoing a complete redesign with the functional benefits and great flavour further highlighted to help make wellness more accessible for consumers.
Over the last year, the pandemic has accelerated health trends, creating opportunities for wellness brands such as Purdey's. One in five people have been taking vitamins during lockdown, while 47% agree they will eat more foods to support their immune system[5]. Refocus and Replenish are ideally positioned to meet these growing consumer needs, by offering multiple benefits for those seeking energy but looking for a more 'natural' lift:
Refocus is a blend of dark fruits, naturally caffeinated and contains guarana and b-vitamins – inspired by people wanting to stay mentally sharp 
Replenish is a lighter blend of sparkling raspberry juice with rose extract. It is under 50 calories per bottle, enriched with b-vitamins and magnesium to help restore natural balance
Phil Sanders, out of home commercial director at Britvic, comments: "Consumers are looking for functional energy drink options that will also benefit their overall wellbeing, with over half trying to eat healthily most of the time while keeping up with the pressures of modern-day life[6]. At twice the average price per litre, the wellness segment – in which Purdey's sits – is key to growth[7] for retailers within their soft drinks range.
"Purdey's is available to convenience retailers in a number of different formats to suit their store and their customers' needs, for example, cans play a huge role in on-the-go purchases in this market at a lower entry price. We are confident that our new pack design will also help to drive sales, with increased stand-out on shelf, while communicating the key functional attributes and great taste to ensure consumers clearly understand the benefits available to them."
The full range now includes three flavours. Existing grape and apple blend, Rejuvenate has also been reformulated as part of the brand update to ensure the whole range is HFSS compliant.
Purdey's flavours available are:
Replenish (Raspberry & Rose)
Glass bottle (330ml; RRP: £1.59)
Refocus (Dark Fruits)
Can (250ml; RRP: £1.29)
Glass bottle (330ml; RRP: £1.59)
Rejuvenate (Grape & Apple)
Can (250ml; RRP: £1.29)
Glass bottle (330ml; RRP: £1.59)
Glass bottle multipack (4 x bottles; RRP: £4.49)
---
[1] Mintel – Attitudes towards Premium Soft Drinks: Inc Impact of COVID-19 – UK – April 2020
[2] IGD ShopperVista – Health Shopper Priorities and Changing Attitudes to Health – July 2019
[3] Nielsen Total Coverage, Value Growth Actual, 52we to 19.12.20 vs 24.12.2016
[4] Kantar Worldpanel, Total Take Home Soft Drinks, 52w data to 27.12.2020
[5] IGD ShopperVista, Has COVID Kick-Started new health trends? 10.09.2020
[6] Mintel – Attitudes Towards Healthy Eating – UK February 2020 (53%)
[7] Nielsen RMS – Total Coverage – Britvic Functional Drinks "Wellness" Segmentation and Total Soft Drinks – Value and Volume data – PPL – 52we to 28.03.20 vs previous years
Comments
This article doesn't have any comments yet, be the first!
Become a Member to comment
Register to comment and get exclusive content and subscribe to the online and print versions of Retail News.
Become a member