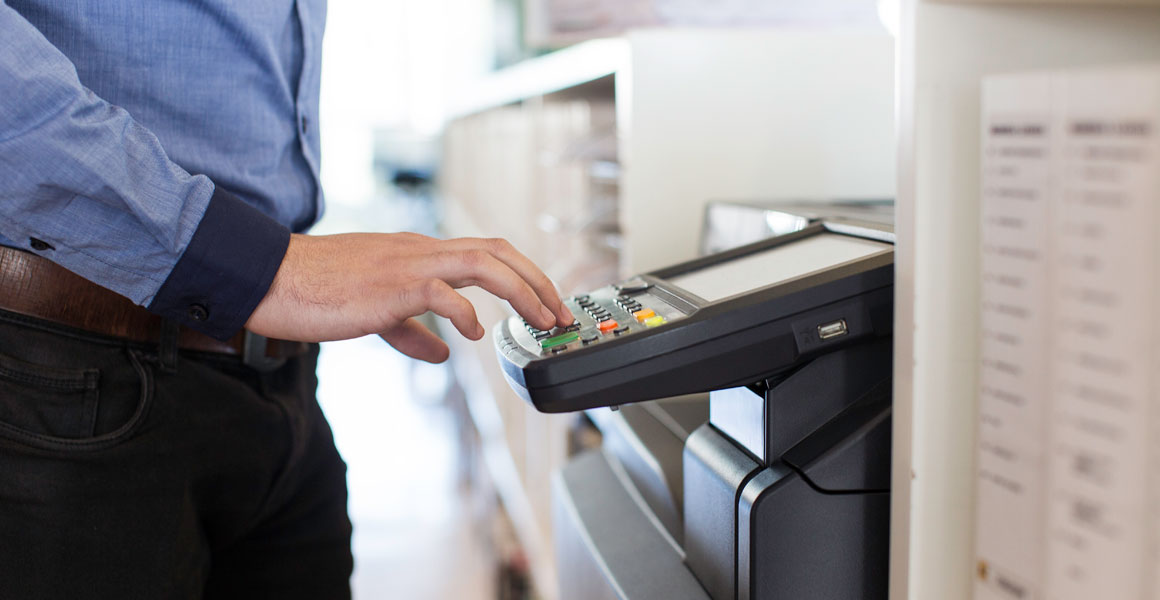 Retailers have stepped up action against a company they claim has misled them over a contract to supply photocopy and passport photography services, leaving many out of pocket.
More than 30 shop owners are now sharing information on social media about the company Ezeecopy, who they say mis-sold a deal that locks them into an unprofitable agreement with termination fees that can exceed £5,000 if they try to exit.
Several retailers have told RN they are pursuing or considering court action against the company, which promises no minimum or fixed charges, and a 50/50 split on photocopies, with Ezeecopy supplying the photocopier, ink and paper.
Gurdeep Khaneja, of CJ Stores in High Wycombe, said: "Ezeecopy told me there was demand in my area for the service, even though I have a print shop next to me. They said they had surveyed the area. If there was demand, I wanted to give it a go. However, I am doing two copies a day maximum."
Mr Khaneja added that after three months, he started receiving a bill of £80 per month after failing to meet the minimum quota for photocopies. When he tried to cancel the contract, he was billed for the remainder of a five-year contract and faces a charge of £5,000 to terminate it.
Donna Jones, who took over Royston Post Office in Barnsley in 2017, said she signed a new contract to retain the Ezeecopy services first added by the store's previous owner, although she never met with the company.
She continued with the photocopying service but also began promoting the passport photograph service.
"We decided to promote the service but found we had lots of rejections because Ezeecopy's siting of the photography equipment in the only space available for it meant it was not fit for purpose," she said, adding the camera's positioning had proved inadequate to take properly-lit photos deemed acceptable by the Passport Office.
Mrs Jones installed her own PhotoMe booth, and Ezeecopy therefore sought costs for breach of contract, which currently stand at almost £11,000.
Meanwhile, Farid Umar, who runs U Stores News in Bolton, told RN he is pursuing court action against the company, saying he is being billed £85 per month despite claiming he was offered a 50/50 split on sales with no costs.
In a statement to RN, Ezeecopy said: "Ezeecopy strenuously deny any allegation of mis-selling of their products and openly provide a copy of the Agreements to the retailer in advance of them signing up with Ezeecopy. All customers questions are answered orally and then contemporaneous notes of the discussions are placed on our database prior to the paperwork being sent out in the post.
Gurdeep Khaneja claims he was mis-sold a contract by Ezeecopy but has failed to detail in what context he feels he was mis-represented by Ezeecopy. Ezeecopy sent Gurdeep Khaneja a flyer advising there was demand for copying in his area which is confirmed in his own admission that there is a print shop nearby to his store otherwise that print shop would not exist. Gurdeep Khaneja also had the Agreement in his possession for over 3 weeks prior to installation, he had been told the key points of agreement including the agreement length and monthly charge over the telephone by the Ezeecopy representative and was under no obligation to return the Agreement if he did not wish to take up the offer. Gurdeep Khaneja has terminated his agreement prematurely and the early termination fee therefore stands at £4,017.
With regards to Farid Umar proceedings are well under way with this case and a mediation for the small claims is scheduled and although we are unable to comment any further as the mediation process is private and confidential we categorically deny his claims.
In the case of Donna Jones she took over a Post Office that already had the Ezeecopy Passport and Photocopy service installed. Prior to this Ezeecopy had been supplying equipment to the store for over 13 years with no complaints from the previous owner who recommended us to her following their success with profits from the equipment. Furthermore Donna Jones was under no obligation to continue with the Ezeecopy equipment, she chose to take over the equipment when she could have had Ezeecopy collect it at no cost to her.
The Passport equipment remained in exactly the same location within the store as it was with the previous owner and Ezeecopy agreed to supply all the equipment and all the elements associated to run the service such as the consumables, service, onsite training, all free of charge. There is no rental or minimum monthly charges with the agreement Donna Jones literally earned a commission for the copies and photos she sold, all the risk and cost lay with Ezeecopy.
Ezeecopy had no passport rejections from the previous owner and the credits returned early when Donna Jones took over the store were user error and not caused by any fault with the Ezeecopy equipment. Ezeecopy attended to train the staff at no cost to Donna Jones and from this visit onwards no further credits were reported by the store.
Ezeecopy noticed a sudden drop in sales and when asked for the reason for the drop in print volume in a telephone conversation on 25th August 2017 at 10:03am Donna Jones confirmed that the equipment had no issues and suggested the drop in numbers was due to lack of demand for the service. Donna Jones failed to mention that she had in fact installed a photo booth leaving Ezeecopy no means of an income to recover the costs invested in her store as was proven by a visit by an Independent Mystery Shopper from JKS Mystery Shopping & Training Ltd on 2nd September 2017.
Ezeecopy gave Donna Jones the opportunity to remove the photo booth from the store in order to continue with her Ezeecopy Agreement which was at no cost to her which she declined to do leaving no income stream from the equipment supplied. Donna Jones left Ezeecopy no option but to terminate the Agreement that she was in breach of her obligations under and in attempt to resolve matters have offered a settlement of £7,265.
We currently have over 2000 pieces of equipment installed nationwide the majority of which are independent stores. The vast majority of our customers are happy and some have been customers for over 15 years. We have been operating for over 20 years and for most of that period regularly advertised in the Retail Express and Retail News promoting the Agreement taken up by many satisfied retailers.
Retailers like the Ezeecopy concept because we take all the hassle away from them by supplying all the consumables; including all inks and paper, and provide full service; including parts, labour and technical support over the telephone, allowing the retailer the time to focus their attention on running their busy shops not to mention the profit from spin-off sales brought on from customers buying other products while in the shop.
Our passport service is a quality product designed with your retailers in mind. It is an alternative to the conventional photo booths seen in the larger super markets and is more cost effective for the retailer than a booth as it attracts a wider public audience enabling local shops to compete with the larger supermarkets.
We are recognised as offering the highest standards of digital photo printers and service in the UK. We understand space is key in terms of profitability for your retailers and that's why we supply compact photo printers that are user friendly for ease of use but we do not compromise on quality and that is why our machines are manufactured by well recognised and trusted brands (HP and Brother) in order to ensure that our service complies with the standards required by passport agencies such as HM Passport Office in the UK."