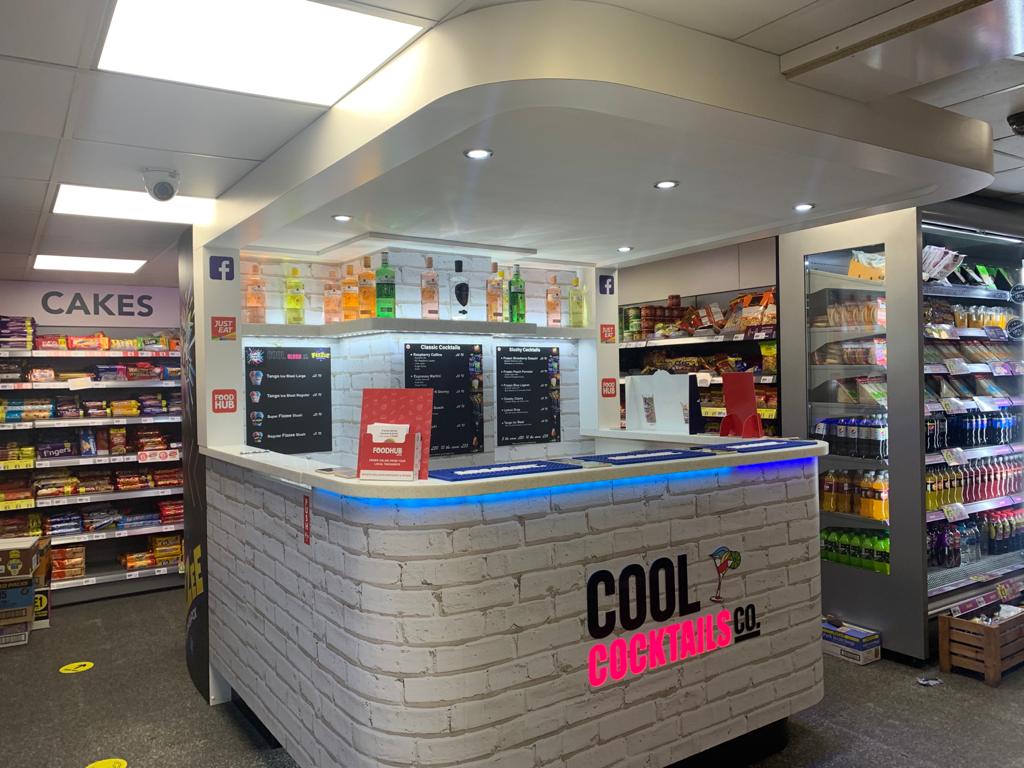 Booker and Parfetts have lent support to symbol group retailers in developing new store concepts designed to cater to lockdown shopping trends.
This month, Premier and Go Local retailers launched first-of-their-kind alcohol and food-to-go elements in response to pandemic-driven changing shopper demands.
Cool Cocktails Co
Arjan Singh Rhoud, of Premier Morley Convenience Store in Leeds, said his Cool Cocktails Co concept, a standalone cocktail bar in the middle of the store, was the first in the UK and sold 100 cocktails on launch day last week.
The bar offers a range of £4.95 cocktails as well as alcoholic slushies backed by five-for-£20 and 10-for-£35 promotions. Rhoud told betterRetailing: "I'd always wanted to own my own bar, and the reception we had during the launch was nuts.
Simply Fresh begins Sainsbury's supply rollout
"We're making between 60% and 70% profit on each individual cocktail sold, and they're also available for home delivery. However, we want to be responsible as retailers and we're stressing that they cannot be consumed on premises."
Rhoud praised Booker for their support for the concept. A Booker spokesperson told betterRetailing: "Our entrepreneurial Premier retailers are always innovating and looking at ways to better serve their local markets."
While the branding is a Booker trademark, the spokesperson for the wholesaler explained: "This is Arjan's initiative and we look forward to seeing how it evolves."
EXCLUSIVE: Co-op confirms 'Honest Value' own label brand launch in November
Food on the go
Similarly, Parfetts assisted Sasi Patel in becoming the first Go Local symbol group member to develop and launch a branded 'Food on the go' concept.
Describing the element located in his third store in Ashton, Manchester, Patel told betterRetailing: "The concept is basically freshly prepared food such as burgers, pizzas, waffles and smoothies, and will operate like a takeaway. We've got a lot of passing trade.
Nisa targets 1,000sq ft and under stores with new Nisa Express fascia launch
"Food to go has been a concept in retail for a long time, but the 'Food on the go' concept is the first of its type for the Go Local symbol group. I've taken the marketing analogy that McDonald's has and there'll be screens with interactive menus. I've spent £4,000 to £5,000 on the kitchen."
Parfetts retail director Guy Swindell said the wholesaler had assisted with brand, marketing and layout advice for the concept. "Like any concept we work with our retailers on, we will use the lessons and look to pass them on."
Read more symbol group news