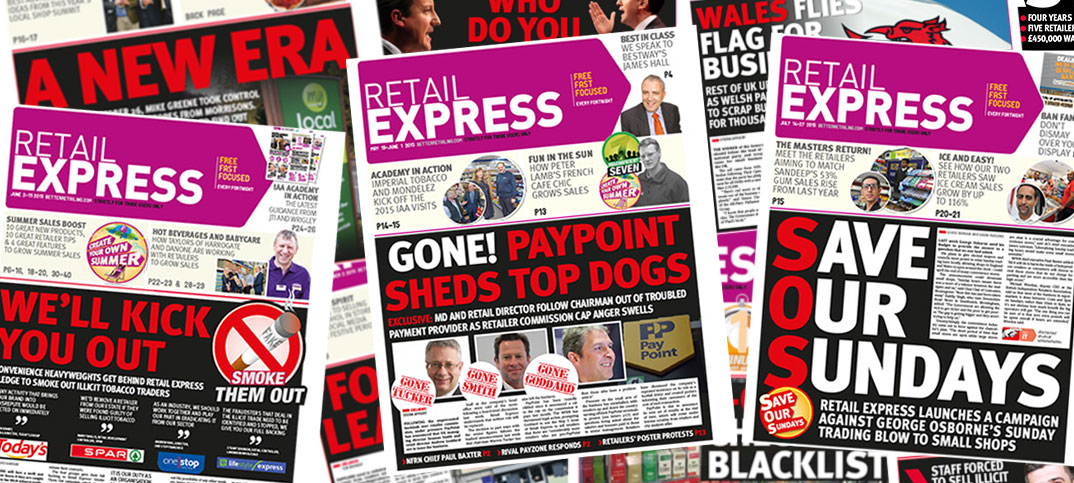 As 2015 draws to a close, we look at the biggest headlines in Retail Express this year.
January
The year kicked off with a harrowing report from Kent as Retail Express visited one of the areas hit hardest by the illicit tobacco trade. Batley's Gillingham told Retail Express that cigarette sales at the depot showed huge growth illicit trade in the area.
February
Ahead of the General Election, MPs and Industry bodies urged the Election winner to follow the lead of the Welsh national party, Plaid Cymru, in scrapping business rates for small businesses.
March
As George Osborne announced his final Budget of the Parliament we looked at the plans to review business rates. Osborne promised a 'radical' review, which has now been pushed back to March instead of the end of 2015, as promised in the Tory manifesto.
April
Following a report by the Royal Society for Public Health that called for e-cigarettes to be banned from checkouts, retailers and suppliers blasted the proposals, calling it 'unfair'. There were also concerns that shoplifting would become a bigger issue if the products had to be moved.
May
Amid the outcry against PayPoint over retailer commission, managing director Seamus Smith and retail director Andrew Goddard followed chairman Warren Tucker out the door. The payment provider had faced weeks of anger from retailers since it announced a cut to its commission cap.
June
Retail Express took the anonymous reports we had heard through our Smoke Them Out campaign to symbol groups to gain their backing. Today's Group, Spar, One Stop and Lifestyle Express said that they would kick any retailer out of the fascia if they were found guilty of selling illicit tobacco.
July
As George Osborne announced plans to allow elected mayors and councils to relax Sunday trading laws, allowing major supermarkets to open all week, we call on the Government to Save Our Sundays. It looks as if the poorly-thought-through plans have now been shelved, but it gave the industry a nasty fright this summer.
August
As Wales prepares to introduce a tobacco register for retailers we look at whether the Scottish register was worth it. Only five retailers caught in four years with £450,000 spent on it – not the best case study on how to effectively tackle illicit trading.
September
Retail Express spends a day in court looking at the case of Kaiwan Poore, a retailer who failed 18 test purchases in 12 months, had £7,600 of illegal goods found at his premises and is still trading. Despite forcing his staff to sell illicit tobacco, Poore received just 120 hours community service and a £5,400 fine.
October
Bestway sent a clear message to other suppliers and urged them to follow its lead as it removed a retailer from its membership after he was convicted of selling illicit tobacco. Amani News in Manchester previously had regular deliveries from the wholesaler, but Bestway is ceasing any supply. It also had its gantry ripped out by JTI. Good job.
November
We gain exclusive access to the new kid on the convenience block. Mike Greene took control of 140 M Local convenience stores on October 26 and rebranded them as My Local, backed by Nisa and his bright ideas for the channel.
December
We end the year with sugar tax back on the agenda, as a report by MPs calls for a 20% tax on sugary drinks. Independent retailers hit out at the Government, calling a sugar tax "pointless" and voicing concerns that the measures would reduce retailers' margins.