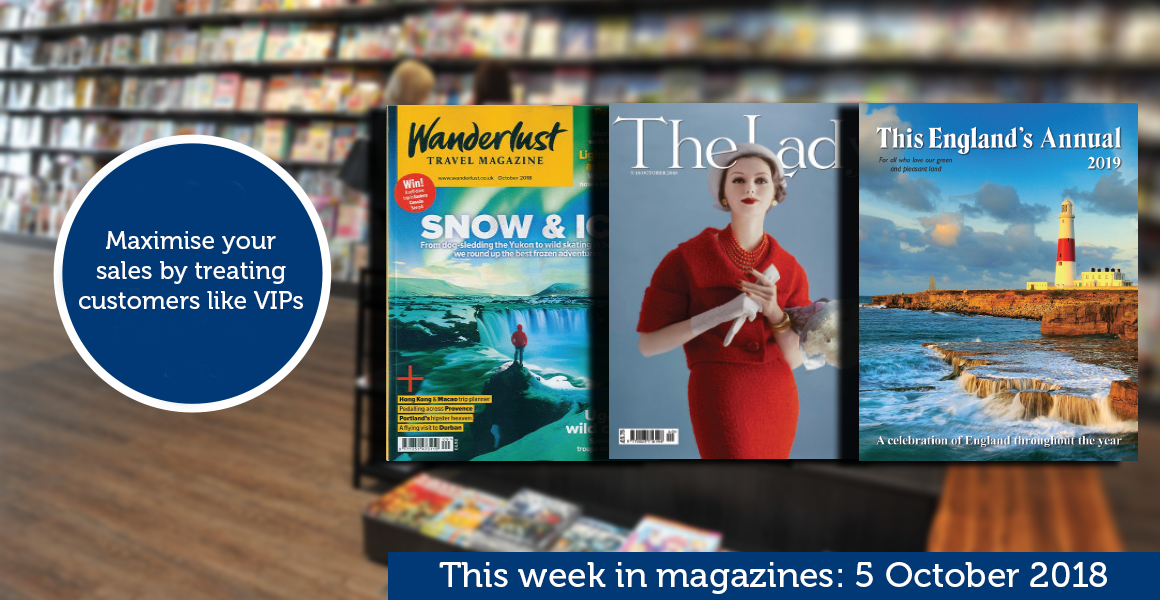 Launch of the week
The centenary of the end of the First World War is looming, causing unprecedented interest in the conflict. Key Publishing is launching a one-off magazine to mark this global milestone
Armistice 1918
On sale 11 October
Frequency one-shot
Price £6.99
Distributor Seymour
Display with BBC History, Britain at War
This holiday magazine is aimed at adventurous travellers and is packed full of information about where to go, what to visit and how to get there.
Wanderlust is 25 years old in October and this issue includes in-depth guides about the world's best snowy routes, from Sweden to The Yukon.
British Homing World
On sale out now
Frequency weekly
Price £1.15
Distributor Intermedia
Display with The Racing Pigeon, Practical Poultry
The official magazine of the Royal Pigeon Racing Association carries weekly listings of pigeon race results, alongside news and features.
This issue includes reviews of the Wentworth Lofts and Penzance races.
The Lady
On sale out now
Frequency fortnightly
Price £5.75
Distributor Seymour
Display with Country Life, Good Housekeeping
This women's weekly is the oldest running magazine of its genre in the UK, and has been offering advice on health, fashion, and lifestyle since 1885.
From 5 October, the magazine will have an increased pagination of 116 pages and be published twice a month, with a new cover price of £5.75.
Trail
On sale out now
Frequency monthly
Price £4.60
Distributor Frontline
Display with Trail Running, Country Walking
A magazine for walking enthusiasts, Trail features gear reviews alongside news and profiles of several noteworthy trails across the country.
November's edition comes with a 24-page additional magazine focused on mountain trails, from the Scottish Hebrides to Himalayan peaks.
Just Add Colour 5
On sale out now
Frequency one shot
Price £5.99
Distributor Frontline
Display with Girl Talk, Girl Talk Art, Hatchimals
From the creative team behind Girl Talk, this children's bookazine is full of activities such as colouring pages, bullet journals, weekly planners and mood trackers.
It comes with an art set that includes six gel pens, pencils, a toy and holographic stickers.
Fast Ford
On sale out now
Frequency monthly
Price £5.99
Distributor Seymour
Display with Fast Car, Performance BMW
This motoring magazine has all the latest news, guides and features about Ford's fastest sports cars.
November's issue includes a 32-page tuning guide and a free copy of Stuff magazine.
This England's Annual 2019
On sale out now
Frequency annual
Price £6.99
Distributor Marketforce
---
Specialist choice
Mike Brown,
Brown's Newsagent, Stokesley
Who buys it?
It appeals mainly to older men in their 50s and 60s who either like country walking or are very patriotic.
How do you display it?
In a plastic display by the magazine shelves, as that draws attention to it.
My week in magazines
It always pays to make customers feel special
This week, TI Media published a customer study entitled 'Divided Britain', which examined the public's opinion of the high street, Christmas, Brexit and living standards. The report analysed how brands and retailers need to find new ways to engage consumers, to get extra value out of their daily lives.
The study found 69% of consumers thought the economy was in a poor state, with 58% expecting it to get worse. This makes people spend less, which directly affects spending on amenities and hobbies, such as magazines.
In market terms, this means middle-priced titles suffer. People are still willingto spend a couple of pounds on OK! and splurge on premium titles such as National Geographic, but those that fall in between have seen their sales plummet.
It's more important than ever to offer customers value for money. For retailers, this means offering audiences the right product and treating them like special customers. People are always more willing to come back to spend money in a place that treats them well; good service is an essential tool in the belt of any modern newsagent.
Opportunity: Value for money
Knowing customers allows retailers to understand their preferences and make them feel valued. This generates loyalty and pushes the boundaries of how much they will spend, leading to higher basket spends and repeated sales.