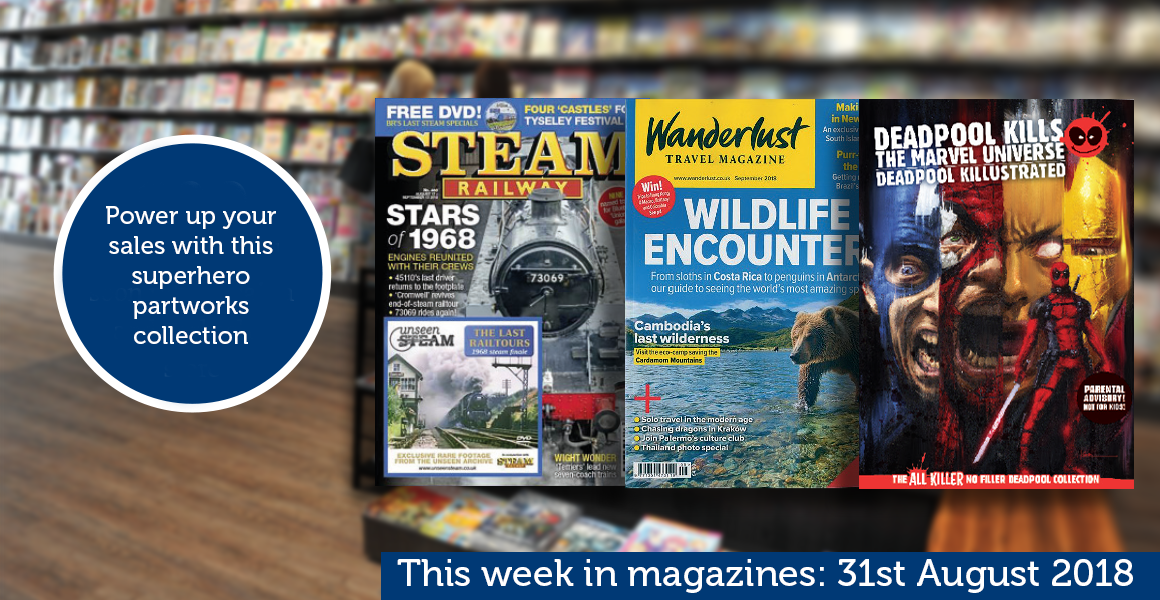 Launch of the week
The Deadpool movies were a huge success, making Marvel's rudest, goriest 'antihero' a firm favourite worldwide. Capitalise on this with Hachette's new hardback graphic novel partwork
All Killer No Filler Deadpool Collection
On sale out now
Frequency fortnightly
Price £1.99 (1st issue), £6.99 (2nd issue), £9.99 (subsequent issues)
Distributor Marketforce
Display with Warhammer 40,000: Legends Coll'n, Marvel Universe Figurine Coll'n
---
Superheroes are bigger than ever, thanks to multiple hit movies over the past decade, which have brought them to the attention of mainstream audiences. One of those was the comedy franchise Deadpool, which is about an eponymous superpowered mercenary played by Ryan Reynolds. The film earned £1.19bn in cinemas.
To capitalise on this popularity, Hachette Partworks and Marvel are releasing a Deadpool graphic novel collection, a partwork of 80 issues aimed at adult readers and comprised of the most relevant stories of the character. In total, the collection will cost £788.20, so make sure to grab loyal readers with this opportunity.
Sharks & Co.
On sale out now
Frequency n/a
Price £3.50 per pack
Distributor Marketforce
Display with Magiki Unicorns, Transformers: The Definitive G1 Coll'n, Marvel Universe Figures Coll'n
This new collection is composed of 16 miniature sharks, alongside two limited-edition ones that glow in the dark and three that change colour in water.
DeAgostini recommends retailers display this alongside other collectables, such as football cards and stickers, in a prominent position or at the till point.
In The Moment
On sale out now
Frequency monthly
Price £5.99
Distributor Frontline
Display with Yours, Breathe, The Simple Things
This mindfulness magazine features interviews, health and beauty tips, and diet and exercise suggestions.
September's issue comes with a special 52-page book entitled Your Little Book of Mindfulness, alongside an extra 16-page mini-mag featuring a short story.
Hey Duggee Sticker Magazine
On sale out now
Frequency monthly
Price £3.99
Distributor Frontline
Display with Fun To Learn, Fun To Learn Peppa Pig, Paw Patrol
This relaunch of Hey Duggee sees it reinvented as a sticker magazine, with five sticker sheets in a foil pack mounted on the front cover.
It also includes sticker activities and stories, and a reward chart with Hey Duggee badges to earn by completing activities.
Wanderlust
On sale 6 September
Frequency 10 a year
Price £4.50
Distributor Intermedia
Display with Lonely Planet, Condé Nast Traveller, National Geographic Traveller
This travel-based magazine is full of suggestions of locations to visit across the globe.
September's issue is focused on nature and wildlife, from walking through tracks in New Zealand and visiting sloths in Costa Rica to watching penguins in the Antarctic.
SuperZings Series 2
On sale out now
Frequency n/a
Price £5 (Starter and Mega packs), £6 (Cyber Squad Tin), £7 (Blister Pack)
Distributor Seymour
Display with Zomlings, Star Monsters
This collectable's second season uses the same 'hero vs villain' format as the first.
SuperZings Series 2 is made up of 80 characters in special 'hideout' boxes, customised with special stickers.
Magiki Unicorns
On sale out now
Frequency n/a
Price £2.99 per pack
Distributor Marketforce
Display with SuperZings, Star Monsters, Zomlings
This unicorn-themed collectable series is made up of 12 unique Magiki Unicorns that change colour when immersed in hot or cold water.
Retailers are advised to display this collection alongside other collectables in a prominent position or at the till point.
Steam Railway
On sale out now
Frequency monthly
Price £4.40
Distributor Frontline
Display with Rail, Railway Magazine, Heritage Railway
A magazine for train enthusiasts, Steam Railway includes features, articles and analysis about the steam locomotives of old.
This issue comes with a free DVD that takes a look at 15 different trains, including their features, routes and engines.
Weight Watchers
On sale 5 September
Frequency monthly
Price £2.99
Distributor Marketforce
---
Specialist choice
Graham Doubleday
Newsmarket, Ashton-under-Lyne
Who buys it?
I don't have any male clients that buy it, only women. They tend to be of all ages, but the main age range is 30 and over.
How do you display it?
In the culinary section, alongside other titles about food and health
My week in magazines
Pre-school titles provide the profits
Last week's ABCs showed unusual results, with the once-popular heavy hitters, including TV guides and home interest titles, taking a plunge in circulation. Pre-school was the only category that performed consistently – a good sign by itself, but made even better when compared to the number of new magazines in the segment.
Publications such as Peppa Pig and Fun To Learn have dominated the ABCs for years, and continue to do so despite the market's volatility. However, they now share the space with emerging titles such as Paw Patrol and Pokémon.
I spoke to Redan's managing director, Julie Jones, about how its pre-school titles continue to outperform the sector, and she said it comes down to offering magazines that are attractive to children at a price that's fair for parents. "We believe the unique mix of characters, combined with high-quality editorial and excellent value for money, keeps them at the top," she said.
This is pre-school in a nutshell: children don't care about the writing as much as they do the covergifts, whereas parents care more about what the magazine may add to their children's lives – and this is what they are willing to pay for. With that in mind, retailers should analyse their area and audience and decide which are the best titles for increasing their revenue.