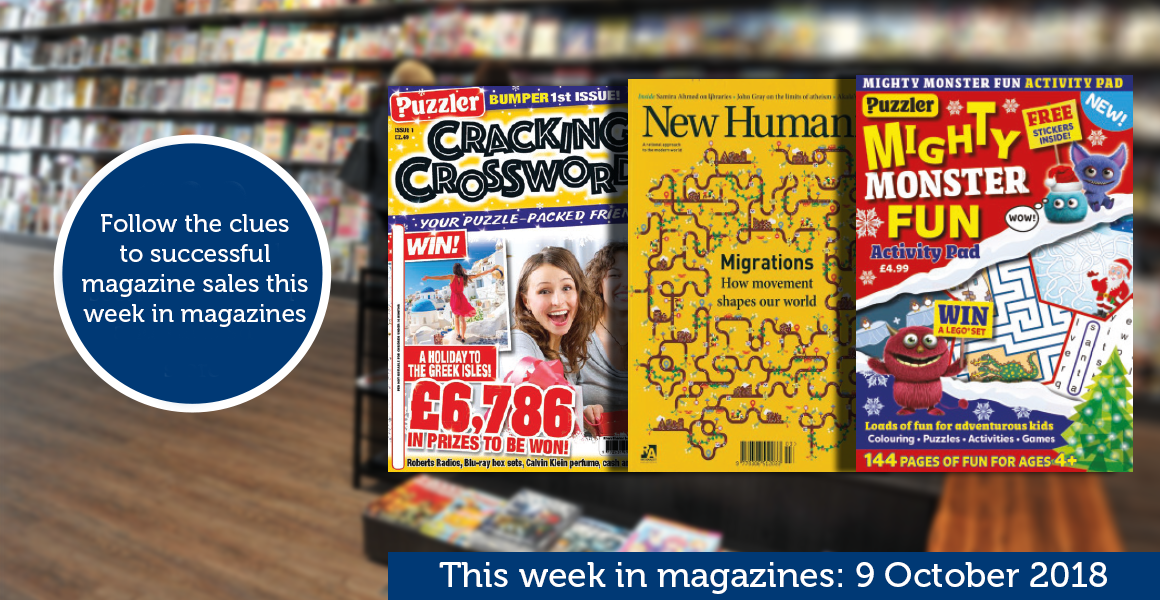 Launch of the week
The nights are drawing in and consumers are looking for ways to keep themselves and their families entertained. Puzzler Media's new crossword magazine is packed full of cruciverbalist fun
Puzzler Cracking Crosswords
On sale 14 November
Frequency monthly
Price £2.49
Distributor Marketforce
Display with Q Coffee-Break Crosswords, Take a Crossword
---
Few publishers know more about the profitability of puzzles than Puzzler Media. Its new title, Cracking Crosswords, which arrives as the year ends, is full of crosswords of every variety, shape and size.
This family-orientated magazine features 100 colourful puzzles and themed teasers, plus a free cover-mounted pen.
According to Puzzler's promotion and innovation manager, Shameem Begg, the title is very important because it "fills the gap for a mixed-prize title left
by Chat Crosswords. Crossword fans will desperately be looking for a magazine to fill the void."
Your Horse
On sale 15 November
Frequency monthly
Price £4.25
Distributor Frontline
Display with Horse, Pony, Local Rider, Equestrian Life
Aimed at horse enthusiasts, Your Horse features interviews, articles and advice for horse fans old and new.
This issue celebrates 35 years of the magazine, and includes a 2019 wall calendar and an exclusive winter feed guide for horses.
MG Enthusiast
On sale out now
Frequency monthly
Price £5.99
Distributor Seymour
Display with Jaguar World, Mini World, Performance BMW
This motoring magazine is dedicated to the British car maker MG and contains news, features and test drives of the brand's petite sports cars.
The Christmas issue comes with a 32-page gift guide and a 2019 classic car calendar.
Puzzler Mighty Monster Fun
On sale 14 November
Frequency bimonthly
Price £4.99
Distributor Marketforce
Display with Rail, Quiz Kids, Junior Puzzles
This new puzzle magazine for children includes dot-to-dot, mazes, i-spy, word searches, spot the difference and colour by numbers.
The launch issue includes 144 pages of puzzles and activities, alongside free monster stickers and the chance to win a 900-piece Lego set.
Performance BMW
On sale out now
Frequency monthly
Price £5.99
Distributor Marketforce
Display with Jaguar World, Mini World, MG Enthusiast
This car magazine includes reviews, test drives and tuning guides for fans of the luxury German manufacturer.
December's issue comes with a 32-page gift guide and a 2019 classic car calendar.
Mollie Makes
On sale out now
Frequency monthly
Price £5.99
Distributor Frontline
Display with Love Crochet, Make Special Cards
Mollie Makes is a craft and lifestyle magazine full of original ideas and guides for experienced and novice hobbyists.
December's edition features a redesigned magazine, with new layouts, typography and a wider range of projects.
New Humanist
On sale 15 November
Frequency quarterly
Price £4.95
Distributor Intermedia
Display with Prospect, Philosophy Now
The only regular title devoted to humanism covers complicated and controversial topics on religion and science.
This issue analyses the effect of migration on the modern world, alongside essays on the value of libraries and the limits of atheist thinking.
Railway Modeller
On sale out now
Frequency monthly
Price £4.60
Distributor Marketforce
---
Specialist choice
Paul Bridgewater,
The Cabin, Isle of Wight
Who buys it?
Mainly older males, but a good number of youngsters are taking up this indoor hobby as winter approaches.
How do you promote it?
In front of the top shelf, as men can often reach up and grab them there – I save the middle shelf for women and the lower one for children.
My week in magazines
Help yourself to a slice of Raspberry Pi
As the saying goes, when one door closes, another door opens. Last week, we reported that Future Publishing had ordered the closure of GamesMaster and GamesTM, two of several videogame magazines in its portfolio.
This week, however, the technology-focused charity and publisher Raspberry Pi has surprised us with the launch of its own video gaming magazine, Wireframe.
You can read more about it on page 10, but what's particularly interesting is the message this sends to the rest of the market. A digital-focused company has launched a new print title amid a testing time for the newstrade, after one of the biggest international publishers axed two of its own titles. Raspberry Pi's move is definitely a bold one.
GamesMaster and GamesTM had respective circulation drops of 41% and 26.5% between September 2017 and August 2018, but sold nearly 70,000 copies and generated a combined yearly revenue of nearly £362,000. While the hope is that readers may move to other Future heavy-hitters – such as PC Gamer or the official PlayStation and Xbox magazines – there is the chance many will switch to another publisher's titles.
Raspberry Pi has the advantage that it doesn't carry Future's reputation for closing magazines, which may help attract some GamesMaster/GamesTM readers, as well as give Wireframe the extra boost it requires to find a place on the shelves.
Retailers should jump on the opportunity presented by this launch and build a loyal reader base for the title, guaranteeing return sales for as long as the publication runs.