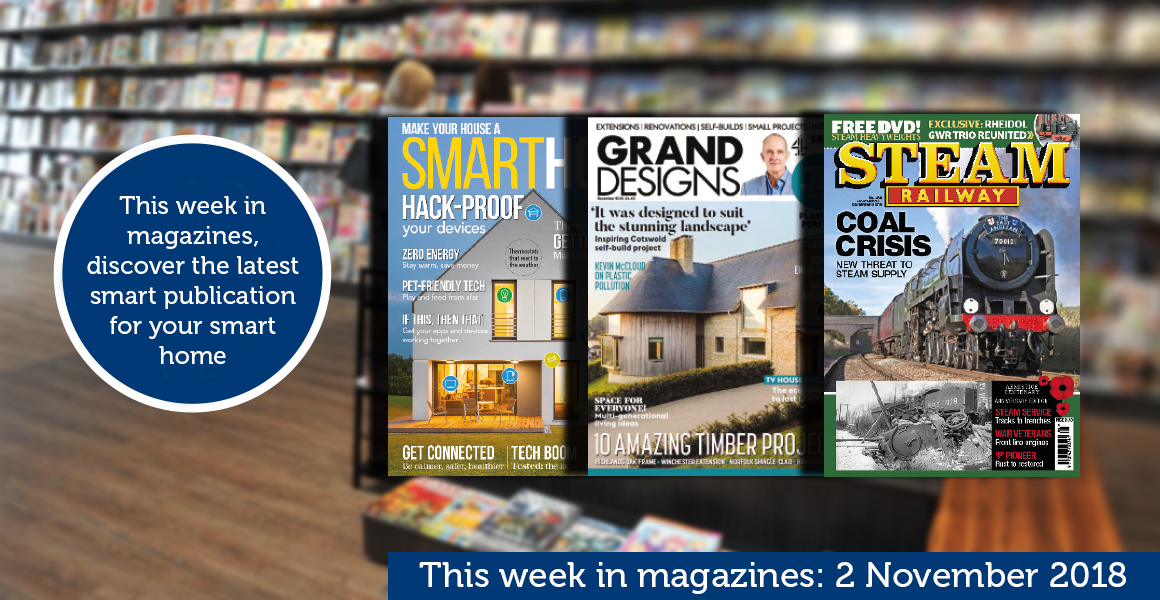 Launch of the week
A new technology one-shot features reviews, guides and buying advice covering the latest gadgets consumers can buy to turn the homes of today into the homes of tomorrow
Smart Home
On sale 8 November
Frequency one shot
Price £7.99
Distributor Seymour
Display with Ideal Home, Country Living, Your Home
---
Amazon Alexa and Google Home Google Home are becoming more ubiquitous, so many people are wondering what the deal is with 'smart homes' – what they are, what they can do and how much it costs to turn your house into one are all constant questions.
GMC Media's latest magazine is here to help. Smart Home is the newest technology one-shot and focuses on the latest advancements in home gadgets. It features reviews, guides and buying advice covering everything from electronic thermostats and smart light bulbs to personal assistants, as well as hack-proofing your Wi-Fi devices.
Grand Designs
On sale 7 November
Frequency monthly
Price £4.40
Distributor Marketforce
Display with Homebuilding & Renovating, Self Build and Design, Build It
Focused on extension, renovations and self-builds, Grand Designs features style guides and product reviews for indoor and outdoor projects.
December's edition includes timber builds and kitchen projects, alongside a preview of the Riba House of the Year awards.
You & Your Wedding
On sale out now
Frequency bimonthly
Price £5.50
Distributor Frontline
Display with Brides, Perfect Wedding, Wedding Ideas
This wedding magazine has advice, ideas and articles about all aspects of wedding ceremonies, including locations, dresses and food.
The last issue of 2018 doubles as the first issue of 2019, and comes with a free 60-page venue guide of the most beautiful places to get married in the UK
Steam Railway
On sale 9 November
Frequency monthly
Price £4.40
Distributor Frontline
Display with Rail, Railway Magazine, Heritage Railway
---
A magazine for train enthusiasts, Steam Railway includes features and articles on and analysis of steam locomotives.
This issue comes with a free DVD that takes an in-depth look at 15 heavyweight trains, including their features, routes and engines.
This Is Slime Squad
On sale out now
Frequency monthly
Price £3.99
Distributor Marketforce
Display with Animals and You, Unicorn Universe
Aimed at seven- to 10-year-olds, this kids' magazine focuses on DIY projects using slime.
This issue includes a 'slime and sparkle' sleepover guide, a slime design kit and a competition to win a slime bundle worth more than £250.
Puzzle Annual Christmas Special 2018
On sale 5 November
Frequency annual
Price £3.99
Distributor Seymour
Display with Puzzler Collection, Take a Puzzle
This Christmas staple is back with a selection of puzzles for all ages.
The 2018 edition includes a covermounted free pen and a £2,500 prize competition.
Jaguar World
On sale out now
Frequency monthly
Price £4.99
Distributor Seymour
Display with Mercedes Enthusiast, Classic Ford
This motoring magazine has features, test drives and the latest news on cars from the UK car manufacturer.
December's edition includes 32 pages of Christmas gift ideas and a restoration guide.
Hello!
On sale out now
Frequency weekly
Price £2.20
Distributor Marketforce
---
Specialist Choice
Eugene Diamond,
Diamond Newsagents, Ballymena
Who buys it?
Women of all ages, from 20 to 70 years old.
How do you promote it?
I display it on the front of the shelf, as it is bound to attract customers with every new issue.
My week in magazines
A dedicated area can bring real Christmas cheer
We're less than two months away from Christmas, officially kicking off the season as far as the magazine industry is concerned.
Last week, we ran a feature on the best titles to stock in the run-up to Christmas, giving you a heads-up on the biggest trends for the end of the year. However, there is one way to boost sales that does not rely on publishers: Christmas sections.
Many established independents are aware of the value of a dedicated Christmas section, taking a whole part of the store and converting it into a one-stop shop for seasonal products. By stocking cards, toys and stationery alongside special Christmas titles, you can boost the sales of multiple categories.
In addition, Christmas sections not only allow customers to find all related products in a single area and increase basket spend, they also incentivise impulse purchases.
As the festivities begin, you should ensure you have a Christmas section in your shop, refresh its stock regularly, and continue to display all your products tidily and attractively. By taking advantage of this annual opportunity, you can increase all your sales, not just those of magazines.