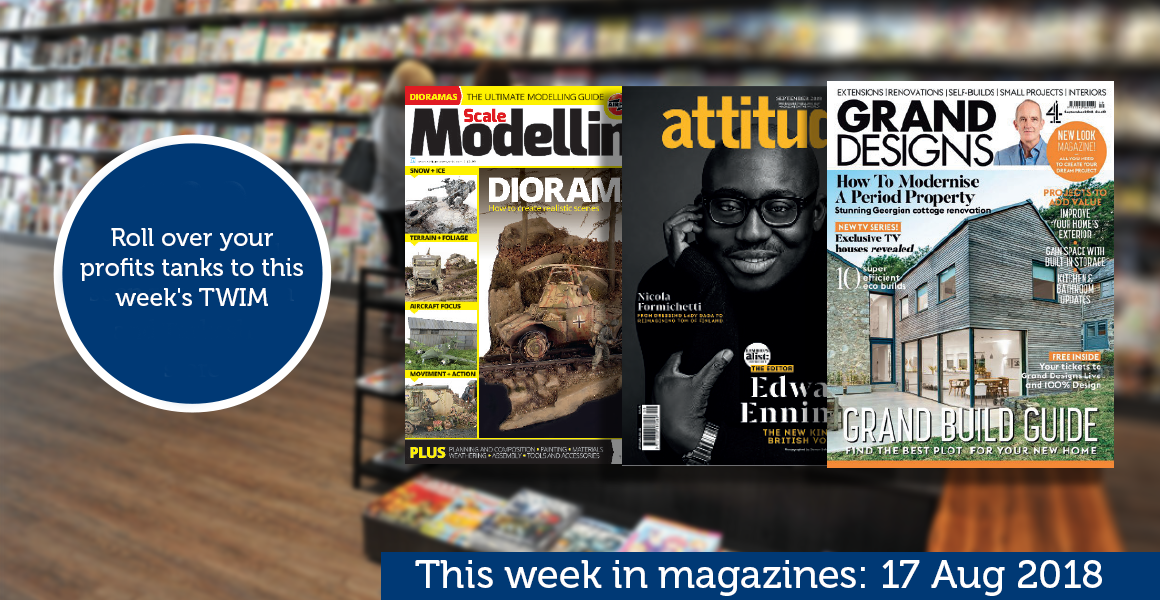 Launch of the week
Key Publishing's new bookazine, focusing on scenic modelling and dioramas, is a great way to capitalise on a hobby which generated more than £5.2m in magazine revenue last year
---
Scale Modelling: Dioramas
On sale out now
Frequency one shot
Price £5.99
Distributor Seymour
Display with Scale Aircraft Modelling, Model Engineers' Workshop, Military Modelling
---
Miniatures are a profitable hobby, full of expensive products and dedicated fans – between March 2017 and February 2018, modelling magazines sold 1.2 million copies and generated more than £5.2m in revenue.
With that in mind, Key Publishing is launching a new bookazine focused on scenic modelling and dioramas. A special instalment of the Airfix Model World series, Scale Modelling: Dioramas includes features about products and the techniques needed to produce your own dioramas.
The bookazine is aimed at fans of railway and gaming sectors as well as modellers, so be aware of extra potential sales outside the more obvious audiences.
Country Walking
On sale out now
Frequency monthly
Price £4.50
Distributor Frontline
Display with Trail, The Great Outdoors, Bushcraft & Survival Skills
This guide to walking the British countryside has competitions, gear reviews and features about the UK's best hiking spots.
Aimed at collectors, this special A to Z of Country Walking edition has 27 route suggestions appealing to both newcomers and enthusiasts.
Grand Designs
On sale out now
Frequency monthly
Price £4.40
Distributor Marketforce
Display with Homebuilding & Renovating, Build It, Self Build & Design
An architectural magazine about extensions and renovations, Grand Designs is full of ideas, guides and analysis of the latest trends.
September's issue debuts the magazine's new design, and features articles about how to conceptualise and build your own home.
Vive Le Rock
On sale 22 August
Frequency monthly
Price £5.25
Distributor Seymour
Display with Mojo, Classic Rock, Uncut
This rock magazine includes features and interviews about the world's most famous and promising rock bands.
This month's issue includes a free seven-inch flexi disc record by Vive Le Rock's award nominees Bar Stool Preachers.
Puzzler Travel Special
On sale out now
Frequency monthly
Price £3.70
Distributor Marketforce
Display with Puzzler Collection, Jumbo Collection, Take a Break's Take a Crossword
This themed puzzle magazine offers more than 200 puzzles of over 40 types, including acrostic, crossword, codeword, kriss kross, outsider, pieceword, sudoku, suguru and wordsearch.
This special travel issue has puzzles of varying difficulties for the whole family, and includes a free pen and a competition to win £4,999.
Car
On sale out now
Frequency monthly
Price £4.80
Distributor Frontline
Display with Autocar, Auto Express, Classic & Sports Car
Covering everything from hatchbacks to sports cars, this motoring magazine includes features, reviews and news about every aspect of the automotive world.
The September issue reviews the best hatchbacks of 2018, test drives a £50,000 Toyota Supra and comes with a special 40-page BMW supplement.
Attitude
On sale out now
Frequency four-weekly
Price £4.95
Distributor Intermedia
Display with Gay Times, DNA, Out, Pride Life
This gay men's lifestyle and fashion magazine has interviews and features about music, theatre, entertainment, gadget, cars, sport and health.
Attitude is celebrating 300 issues with a special edition, guest-edited by Edward Enninful, and it includes a 52-page special supplement showing 50 past covers selected by the editorial team.
Take a Break's Take a Crossword
On sale 23 August
Frequency four-weekly
Price £2.50
Distributor Frontline
Display with Puzzler Travel Special, Jumbo Collection, Take a Break's Take a Puzzle
Take a Crossword was launched in 1993 and is solely focused on crossword puzzles.
It offers more than £5,000 in prizes, along-side a £1,550 competition for a two-person trip to Cyprus.
Take a Breaks's Take a Puzzle
On sale 23 August
Frequency four-weekly
Price £2.50
Distributor Frontline
Display with Take a Break's Take a Crossword, Puzzler Travel Special
This mixed puzzle magazine includes crosswords and codebreakers alongside logic and illustrated puzzles.
The latest issue includes several competitions, including £2,500 in cash prizes, £10,000 in products and a trip to Cape Verde worth £3,000.
Courier
On sale out now
Frequency bimonthly
Price £5
Distributor Seymour
---
Specialist Choice
Jeremy Leslie
MagCulture, London
Who buys it?
People of all ages and genders – it's a magazine about business start-ups, so I can't honestly say there is only one specific demographic interested in it.
How do you display it?
We put it front of shelf and on the window display – we reserve the window for magazines we really like, and I think Courier is special.
My week in magazines
Last week, we exclusively reported the May edition of BBC Gardeners' World was the best-selling monthly magazine of the past three years. This is very much welcomed news in a market that has been in decline for quite some time.
However, print is still going strong, with the newspaper market also receiving some great news this week. According to a report by the Advertising Association and ad intelligence agency WARC, print display advertising revenue for national newspapers has grown for the first time since 2010. This shows an interesting uplift in what, so far, has been a constantly losing battle against the digital onslaught.
These small victories are by no way the end of the war, but they do show the sector as a whole is energetically fighting every battle. Aside from BBC Gardeners' World's performance, the magazine industry is also seeing the relaunch of Future's Real Homes this week and the 300th issue of Attitude – the latter of which is about to complete 25 years of existence. Magazines are still going strong, and if the publishers have anything to say about it, they will continue to do so.