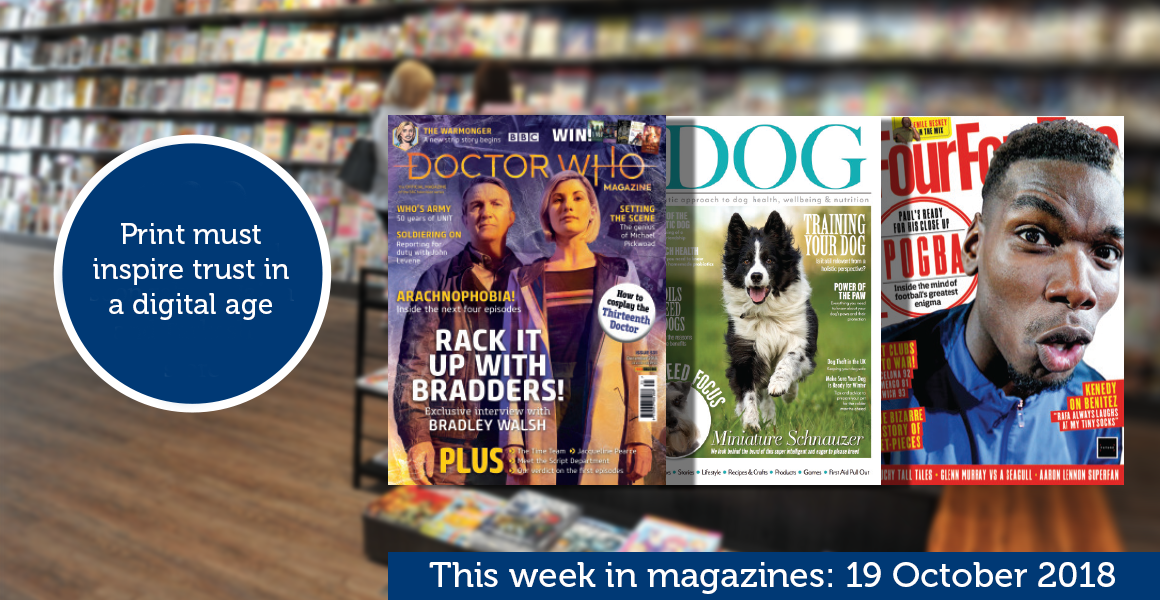 Launch of the week
Warners Group Publications looks to combine the increasing interest in wellbeing with the British public's long-standing love of pets with this holistic guide to canine care
Edition Dog magazine
On sale 25 October
Frequency monthly
Price £4.85
Distributor Warners
Display with Your Dog, Dogs Today, Dogs Monthly
---
Edition Dog magazine is a unique mix of mindfulness and wellbeing magazine, aimed at dog owners looking to make informed choices.
Focused on a holistic approach to dog health, wellbeing and nutrition, this Warners Group Publications title includes advice, recipes, product reviews and a few light-hearted stories to inspire readers into caring for their dogs.
The first issue talks about dogs' emotional intelligence, how to care for a senior dog and the use of acupuncture, so retailers serving many pet owners should stock this title.
BBC Good Food Xmas
On sale 25 October
Frequency monthly
Price £4.60
Distributor Frontline
Display with Delicious, Healthy Food Guide
This is a bumper issue with more than a 100 recipes, cooking advice and awards for the best-tasting supermarket ingredients.
The magazine also comes with a free 2019 calendar and a 12-page how-to guide to Christmas food, including turkey carving.
Breathe Journal
On sale out now
Frequency one shot
Price £9.99
Distributor Seymour
Display with Breathe, Simple Things, Flow
The team behind Breathe magazine are launching the third edition of the Breathe Journal, offering advice for women looking for inspiration, reflection, self-exploration and creativity.
The magazine comes with a 52-week journal to help readers plan their daily lives.
Doctor Who Magazine
On sale out now
Frequency monthly
Price £5.99
Distributor Marketforce
Display with Star Trek Magazine, Radio Times
This sci-fi magazine includes interviews, features and behind-the-scene looks at the production of the 55-year-old BBC series.
December's issue includes a look at the next four episodes of series 11, following the premiere of the franchise's first female Doctor.
Cardmaking & Papercraft
On sale 25 October
Frequency monthly
Price £6.99
Distributor Frontline
Display with Simply Cards & Papercraft
This hobbyist magazine includes instructions, guides and tips to tackle projects big and small.
The November edition focuses on The Snowman's 40th anniversary, and includes instructions on how to make pop-up box cards.
FourFourTwo
On sale out now
Frequency monthly
Price £4.99
Distributor Marketforce
Display with When Saturday Comes, Striker
Aimed at football fans, this sports magazine features news, analysis and match reviews from championships around the world.
This month's issue looks at the club wars of Barcelona, Norwich and Flamengo in the 1980s and 1990s, alongside a history of the best set pieces.
Star Trek Magazine
On sale out now
Frequency bimonthly
Price £4.99
Distributor Marketforce
Display with Star Wars Magazine, Empire
This 14-year-old magazine is dedicated to the 52-year-old sci-fi movie and TV series.
The penultimate issue of the year looks at Sir Patrick Stewart's return to the franchise as Captain Jean-Luc Picard, alongside exclusive interviews with cast members from previous shows.
Courier
On sale out now
Frequency bimonthly
Price £5
Distributor Seymour
Specialist choice
Daniel McCabe,
Magalleria, Bath
---
Who buys it?
This beautifully designed magazine is aimed at under-40s and readers of Monocle who are entrepreneurially minded and interested in modern business culture.
How do you display it?
We display several copies on both the business and the lifestyle shelves
My week in magazines
Trust is print's most vital asset in a digital age
This week, two events involving celebrities threatened to destroy trust in magazines. First, Hollywood actress Drew Barrymore appeared in an allegedly fictional interview in Horus, the in-flight magazine of airline company EgyptAir.
A few days later, the Sunday Times magazine claimed actress and activist Rose McGowan called the #MeToo movement "a lie" during an interview, prompting her to lambast the publication, which led to an apology from it.
While these might seem minor, they have the potential to snowball with devastating
effect. The media is constantly under attack with claims of 'fake news', yet printed titles still enjoy a significant amount of goodwill.
According to a report by research and data insight consultancy Kantar, 65.6% of readers in the UK trust what they read in print magazines, versus 45.1% trust in online outlets and a deservedly abysmal 28.9% confidence in the accuracy of social media. Trust is an integral part of magazines' continued existence and one of their biggest advantages over digital media, and retailers should be well aware of any developments that may increase or lower readers' trust in a specific title.
With titles such as the Guardian Weekly joining the market, trust is an ever-important issue – the Guardian brand was named the most-trusted news brand in the UK in last month's PAMCO report, and that gravitas will translate to magazine sales.
Newsagents can't do a lot to affect readers' views of magazines, but they should still keep track of the most reputable ones – in a world of 'fake news', printed and trustworthy magazines will always have a place.