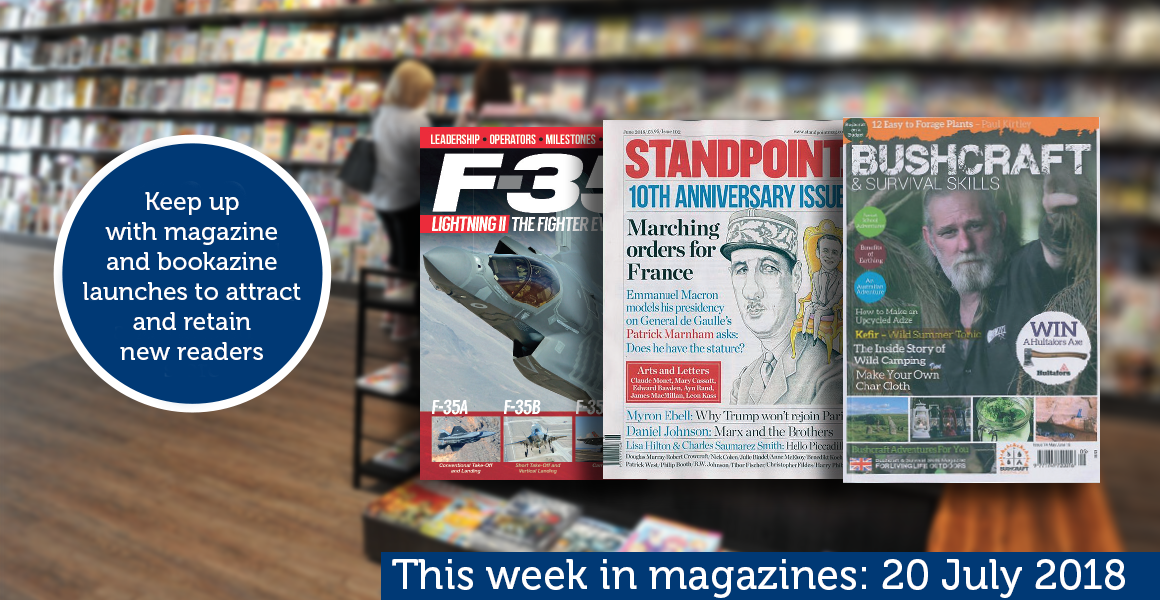 Before joining RN, I worked as a journalist on digital publications, so one of the things that has stood out to me during my two months here is the difference between digital and print audiences, and the power of print to retain loyal readers.
While most internet users prefer quick-and-easy access to free content, the number of readers who appreciate the value of physical magazines and even treat them as collectable items is impressive. I have a 15-year-old cousin who shares my love of aviation, for example, and he visits a newsagent twice a month to stock up on new titles.
With magazines still commanding loyal readerships, the revenue generated by print titles can often be something websites can only dream of, with advertising ebbing and flowing even when reader numbers remain stable.
That's why physical titles still launch nearly every week. In the past month alone, 10 magazines and one-shot bookazines have launched, including Your Crochet & Knitting, Baby and Gridiron – all specialist titles with premium cover prices.
The physicality and ambience of reading a magazine cannot be duplicated in digital form – it's why the magazine market will never die.
Launch of the week
Interest in aviation is at a high this year, so Key Publishing's new 100-page bookazine, which looks in depth at the capabilities of the RAF's latest F-35 stealth fighters, is sure to be a sales hit
F-35 Lightning II: The Fighter Evolution
On sale out now
Frequency one shot
Price £5.99
Distributor Seymour
Display with Airforces Monthly, Combat Aircraft, Pilot
---
A month ago, four F-35 stealth fighters landed on UK soil – the first of 48 new aircraft ordered by the RAF. This, and the RAF's centenary this year, means interest in aviation is at an all-time high in specialist circles. Key Publishing is capitalising on this with its latest bookazine – F-35 Lightning II: The Fighter Evolution.
This 100-page one-shot takes a close look at one of the world's most advanced fighter aircraft, complete with specifications, milestone journeys and comprehensive reviews of the planes already in service with the US Air Force, Marine Corps and Navy.
Reveal
On sale out now
Frequency weekly
Price £1.25
Distributor Frontline
Display with Heat, Closer, OK!
This celebrity magazine is full of gossip, pictures and advice on everything from fashion and beauty to diets and cocktails.
The magazine is capitalising on its key sales season with a price increase from 99p to £1.25, which is expected to generate extra revenue.
Bushcraft & Survival Skills
On sale 28 June
Frequency bi-monthly
Price £4.95
Distributor Intermedia
Display with The Great Outdoors, Trail, Camping, Outside
Dedicated to bushcraft and survival skills, this magazine has articles aimed at teaching and enhancing readers' new skills.
This issue includes product reviews, DIY char cloth instructions and features about wild camping, alongside a competition to win a Hultafors axe.
OKIDO
On sale out now
Frequency monthly
Price £4.50
Distributor Intermedia
Display with Playtime, CBeebies Art
This children's arts and science magazine aims to educate both boys and girls, regardless of age.
The latest issue teaches readers to make a musical automaton and is packed full of stories, activities, games and even a recipe and poem.
US Navy & Marine Corps Air Power Yearbook 2018
On sale out now
Frequency one shot
Price £5.99
Distributor Seymour
Display with History Of War, Navy News, The Armourer
This annual special edition bookazine has features and news about the United States Navy and Marine Corps air power.
The 2018 edition includes interviews with leadership figures, a comprehensive review of aircraft types and order of battle.
Classic Bike
On sale 27 June
Frequency monthly
Price £4.30
Distributor Frontline
Display with Practical Sportsbikes, Built, Classic Racer
This motorcycle-focused magazine has test-drives, features and interviews about the world's most notorious bikes.
The July edition takes a deep look at the Dresda Triton, tells the story of the origin of the Isle of Man TT, and includes an Enfield workshop supplement.
TV Choices Puzzle Pick
On sale out now
Frequency four-weekly
Price £2.10
Distributor Frontline
Display with Take a Crossword, Take a Puzzle
This TV-themed puzzle magazine includes quizzes, crosswords, word searches and more.
This month's issue refreshes editorial content based on feedback and includes a chance to win £3,000 in prizes, including DVD box-sets.
Summer Megapack for Girls
On sale out now
Frequency irregular
Price £3.95
Distributor LCD
Display with Girl Talk, Go Girl
This holiday children's magazine is aimed at four-to-seven-year-old girls, and comes packed with activities, puzzles and posters.
The Summer Megapack is a bumper pack including two magazines and comes with a free bracelet, lipshine and rings.
Standpoint
On sale 28 June
Frequency 10 per year
Price £5.95
Distributor Intermedia
Display with Prospect, The Spectator, New Statesman, The Week
This self-described "highbrow" magazine is designed to celebrate culture and civilisation.
The special 10th anniversary issue looks at the status of Emmanuel Macron's French presidency, the Marx Brothers and Trump's refusal to negotiate on the Paris Agreement.
True Detective
On sale out now
Frequency monthly
Price £3.50
Distributor Marketforce
---
Specialist choice
Graham Doubleday
Newsmarket, Mosley
Who buys it?
All the people who like to read about gory stuff, but mostly females. They like reading detective novels and crime stuff, so they're the main readers for this kind of crime magazine.
How do you display it?
With women's titles – so we have got True Detective, True Crime and Murder Most Foul in the same section.