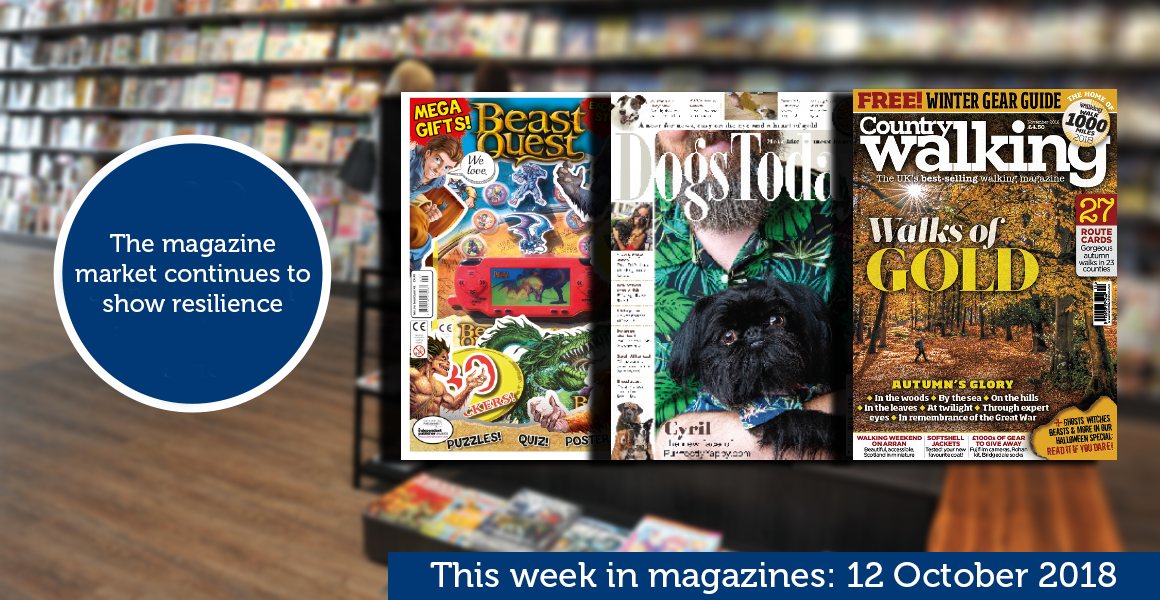 Launch of the week
Make the most of the dependably lucrative children's market with Signature Publishing's new fun-packed publication based on the popular Beast Quest books
We Love Beast Quest
On sale out now
Frequency bimonthly
Price £4.49
Distributor Seymour
Display with Horrible Histories, Lego Ninjago
---
Children's magazines are consistent top performers, typically selling well all the way to December before a sales decrease near the Christmas period. To make the most of that closing window, Signature Publishing is launching another special one-off magazine aimed at children.
We Love Beast Quest is the latest issue in the We Love series, following We Love Kittens, and brings more puzzles, quizzes and stories to entertain children.
Besides posters and a big collection of stickers as gifts, the magazine includes a disc blaster, making it a fine addition to any retailer's stock.
Jaguar World
On sale out now
Frequency monthly
Price £5.99
Distributor Seymour
Display with GT Porsche, Mercedes Enthusiast
This motoring magazine has the latest news, guides and features about the luxury UK car manufacturer.
November's issue comes with a free copy of Stuff magazine, and is expected to sell 20% of its stock through independents.
Country Walking
On sale out now
Frequency monthly
Price £4.50
Distributor Frontline
Display with Trail, Trail Running
This leisure magazine has 140 pages of features, gear reviews and route advice for anyone interested in walking in the countryside.
The autumn edition has a 32-page supplement on the best waterproof and insulating equipment, including boots, rucksacks and trousers.
Monster Megapack
On sale out now
Frequency quarterly
Price £3.99
Distributor Marketforce
Display with So Magical, Beano, Ben 10
This bumper pack includes two children's magazines – Lego Ninjago and Police Force – aimed at six-to-eight-year-olds.
The pack includes free gifts, including a Lego miniature figure, and a toy gun and badge.
Dogs Today
On sale out now
Frequency monthly
Price £3.99
Distributor Marketforce
Display with Our Dogs, Dogs Monthly, Your Dog
A pet magazine solely about canines, Dogs Today has news, features and advice on taking care of your pets.
November's issue is focused on the new ITV series The Big Audition, and features the winner from the show.
In

The Moment
On sale out now
Frequency monthly
Price £5.99
Distributor Frontline
Display with Oxygen, Simple Things
This mindfulness magazine is aimed at women of all ages, and includes tips, guides and advice on how to lead a calmer and more peaceful life.
November's issue comes with a 2019 Calm Moments calendar with illustrations and inspirational quotes, plus tips for improving your sleep.
Radio Times
On sale out now
Frequency weekly
Price £2.80
Distributor Frontline
Display with TV Years, Total TV, Soaplife
Aimed at TV and radio enthusiasts, Radio Times features news, interviews and reviews of every noteworthy entertainment programme.
This special issue celebrates 95 years of Radio Times, and includes a look at classic moments from the magazine's history.
Beneficial shock!
On sale out now
Frequency bi-annual
Price £10
Distributor Central Books
---
Specialist choice
Mark Dudden,
Albany News, Cardiff
Who buys it?
People who like movie magazines. They don't seem to be bothered by the price, so I'll have to order more copies.
How do you display it?
I put it on the shelves near other movie magazines, so fans can get them all together.
My week in magazines
There's nothing quite like a niche magazine
Niche magazines are fascinating. There is something unique about flipping through the pages of a premium title dedicated to a single subject ‒ be it crochet or airsoft ‒ that makes readers want to go back to it again and again.
As we covered in this week's issue, the UK's oldest democratic-socialist political magazine, Tribune, has been relaunched, after spending 10 months off the shelves. Even though it was in dire straits for the past decade and couldn't fulfil its distribution commitments, the magazine engendered such loyalty that people paid for subscriptions for months without receiving a single copy, according to its new publisher, Bhaskar Sunkara.
"In the days since we've relaunched the magazine, we've heard from dozens of former subscribers who paid year after year and received no magazine, despite contact and protestations," he said.
"A 16-year-old got a birthday subscription from his grandparents and received nothing at all. We even had a subscription-paying elderly woman who had read Tribune for 40 years, not receiving a copy for five years."
Meanwhile, this week's specialist newsagent, Mark Dudden, introduced me to a new bi-annual £10 movie magazine called Beneficial Shock!. According to Mark, he ordered half a dozen copies to trial, and was surprised when he sold all of them within days.
Both examples show the resilience of the magazine market, which manages to attract teenagers and elders alike even in this digital age. The loyalty of readers to their niche titles shouldn't be underestimated, and experimenting can reap huge rewards for retailers.