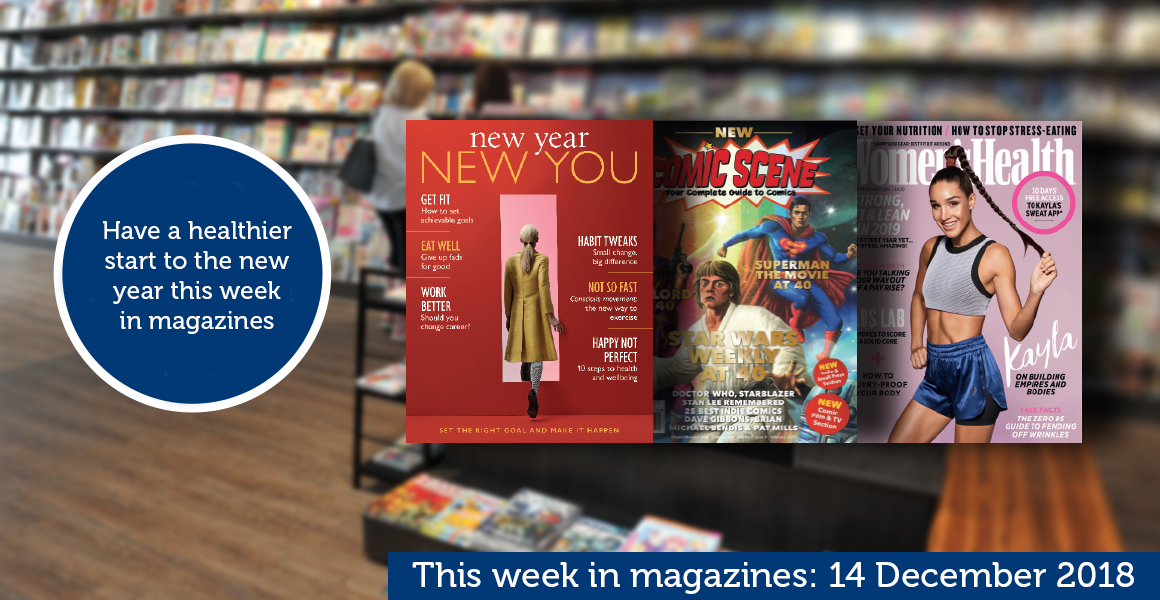 Launch of the week
This one shot welcomes the new year by challenging the reader to become healthier and happier in 2019. Seymour has created a guide to appeal to shoppers in the popular wellbeing category
New year new you
On sale out now Frequency one shot
Price £5.99
Distributor Seymour
Display with Women's Health, Mind Body Spirit, Psychologies
---
This one-off magazine aims to help buyers build a happier, healthier and more fulfilled self. As the end of the year approaches, it offers readers an opportunity to think about where they are in life and how they might shape their future. Inside there are ways to set the right goals to develop long-lasting healthier habits, alongside exercises to rejuvenate the body, calm the mind and restore balance to busy lives.
Super Foods for Mind, Body and Wellbeing
On sale out now
Frequency one shot
Price £5.99
Distributor Seymour
Display with Mind Body Spirit, Psychologies
This one shot looks at the power of 100 superfoods, from dark berries to walnuts to help memory, aid sleep, improve nutrition and health.
This issue details each power food and how they can benefit readers.
Comic Scene
On sale 19 December
Frequency monthly
Price £5.99
Distributor Intermedia
Display with Sci-Fi Now, SFX, Starburst, Infinity
Comic Scene covers the latest news, classic comics and graphic novels, as well as UK fandom and cosplay.
This magazine launch includes a new independent and small press section, alongside a comic film and TV section.
Thomas & Friends
On sale out now
Frequency fortnightly
Price £6.99
Distributor Seymour
Display with Paw Patrol, Unicorn Universe
To celebrate Aquaman's breakout film, the hero from beneath the waves has taken over DC Spotlight.
Inside this 100-page special are four movie posters, plus a chance to win a hardcover edition book called The Art and Making of Aquaman.
Fortnite
On sale out now
Frequency monthly
Price £4.99
Distributor Intermedia
Display with Minecraft World, PC Gamer
This new magazine builds on the global success of the Fortnite survival game, which has engaged 200 million registered players worldwide.
The first issue of this planned monthly includes 15 posters, a how-to guide, a Fortnite pets guide and a guide to season six of the game.
Women's Health
On sale out now
Frequency monthly
Price £4.20
Distributor Frontline
Display with Men's Health
This monthly magazine covers health, fitness and wellbeing for women including fashion tips, recipes, and nutrition and motivational advice.
This Christmas bumper issue promises to be the biggest-selling issue of the year and includes a personal training supplement.
Planet Rock
On sale 18 January
Frequency bimonthly
Price £5
Distributor Frontline
---
Specialist choice
John Vine,
News World, Church Stretton 
Who buys it?
It's popular with women. We have three on subscription and one customer is over 60 years old.
How do you display it?
A customer asked for it. I didn't do any promotion on it, but word of mouth means I'm attracting more to the title.
My week in magazines
The many conundrums of Christmas
Christmas starts earlier every year. It is a complaint voiced by many parents, but also retailers, too. Take bumper Christmas issues, for example: while seasonal sales uplifts are undoubtedly welcomed, many retailers are reporting increased customer confusion around having multiple issues on the market.
Gail Winfield, who runs the 727 Newsagent in Lybster, recently reported that one bumper issue arrived at the beginning of November, with instructions from the publisher to display immediately.
All well and good if you have unlimited shelf space, she says, but not practical when your village shop is shoe-box small. "We don't have space to front-face magazines where several issues cross over, and customers get confused over which magazine to buy," she says.
Jason Birks, who runs Mosci Convenience Store in Peterlee, echoes this by saying it would be impossible to front-face all his titles as there are often three issues of the same magazine out at the same time.
Despite having a three-metre bay, he is forced to half-face all his magazines and is similarly dealing with increased customer complaints. Customers either don't know what to buy, or are shocked when the price doubles at the till, he says.
It's a classic chicken and egg situation.
Publishers clearly act on proven sales opportunities and will always say they are helping the retailer.
Exactly how increased editorial marries with the needs of the smaller seller, however, is coming under fire. In a sector where the customer is king but confusion reigns, the loser is always loyalty and sales.