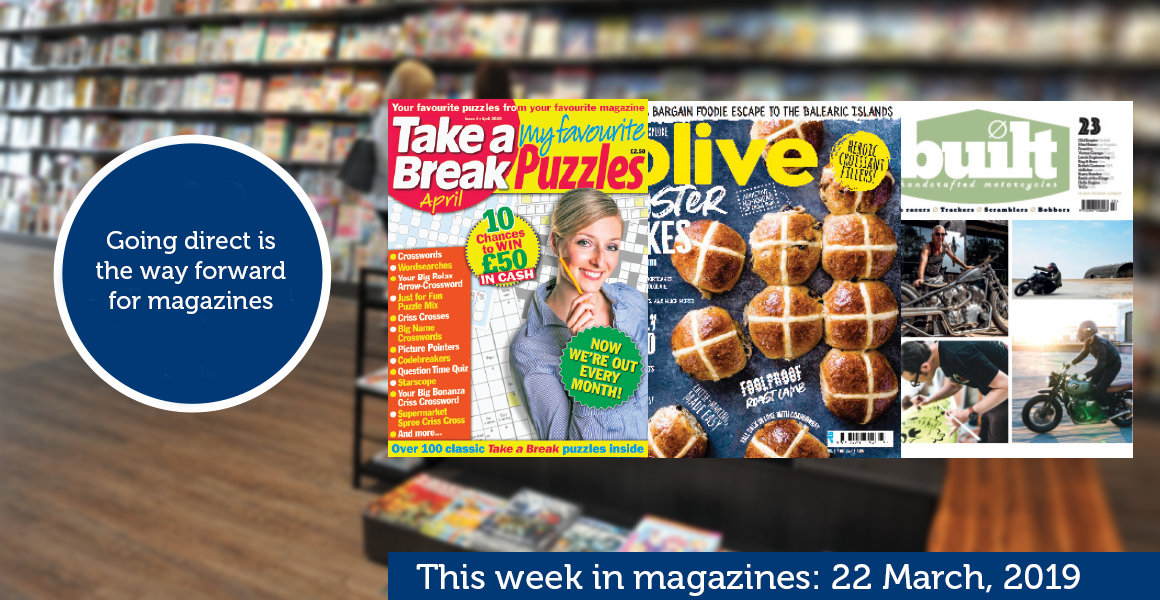 Launch of the week
Bauer is at the centre of a sales boom for puzzle mags. Its recently launched compendium of puzzles from across the publisher's Take a Break portfolio has just switched to a four-week cycle
Take A Break My Favourite Puzzles
On sale 28 March
Frequency four-weekly
Price £2.50
Distributor Frontline
Display with Take a Break's Take a Puzzle, Take a Crossword
---
Following recent ABC figures, Bauer set about its own further research into the puzzle sector, auditing its sales through indies. It makes for impressive reading – eight out of the top 10, and more than half of the top 30, were Bauer titles.
Take a Break's My Favourite Puzzles is its most recent entrant in the sector, and, after its launch in 2018, the frequency was increased this year to every four weeks, resulting in the bestselling launch of the past three years in this vibrant sector.
The fourth issue features a mix of puzzles from across the Take a Break universe, with 10 chances to win £50 cash prizes.
True Crime Library Presents
On sale out now
Frequency one shot
Price £9.99
Distributor Marketforce
Display with Crime Monthly, True Crime
Bauer's new Crime Monthly publication has given a new lease of life to the true-crime sector.
This special from the makers of True Crime looks at America's Most Evil, profiling 24 killers, cannibals and others.
The Idler
On sale out now
Frequency bimonthly
Price £9
Distributor Seymour
Display with Monocle, Esquire
The long-running magazine for loafers and layabouts has extended its brand beyond the publication itself.
The current issue features Spandau Ballet star and actor Gary Kemp on the cover, and features include a look at the history of puppetry.
Olive
On sale out now
Frequency monthly
Price £4.65
Distributor Frontline
Display with BBC Good Food, Delicious, Easy Food
Olive magazine has been redesigned, with new fonts and a fresh look for its features, as well as new regular features.
This Easter-themed issue includes plenty of cakes and other goodies, as well as awards for the best hot cross buns and chocolate eggs in supermarkets.
You & Your Wedding
On sale out now
Frequency bimonthly
Price £2.30
Distributor Frontline
Display with Brides, Asian Wedding, Wedding Ideas
With spring around the corner and the wedding season looming large, this is the perfect time for the latest issue of You & Your Wedding.
Features include the magazine's regular look at the best bridal gowns and dresses.
Built
On sale 27 March
Frequency monthly
Price £4.99
Distributor Frontline
Display with Classic Bike, Motorcycle Classics
Built is a specialist magazine for motorbike collectors, fans and devotees.
Each issue looks at the world of custom motorcycles, from minor tweaks and changes through to complete customisation, as well as the lifestyle surrounding them.
Fast Ford
On sale out now
Frequency monthly
Price £5.99
Distributor Seymour
Display with Ultimate Supercar, Performance VW
The latest issue of the modified and performance Ford magazine comes bagged with a 32-page audio guide.
Independents are the second-biggest outlet for the magazine and the premium pricing gives it an added boost.
Good Housekeeping
On sale 3 April
Frequency monthly
Price £4.50
Distributor Frontline
---
Specialist choice
Meryl Williams,
Pike's Newsagents, Porthmadog
Who buys it?
It's generally women over 40 years old. It's an all-round magazine that takes in cookery, home-making, health, gardening and more. This issue has a free
magazine with cake recipes.
How do you display it?
Alongside women's monthly titles like Woman & Home and Prima.
My week in magazines
A friend of mine recently launched his own magazine. As an online journalist moving into print, he'd taken the reverse route to many, and was keen to create a tactile object for his and his readers' hands.
He also eschewed magazine distributors, preferring to approach his desired audience through retailers such as record shops and clothes outlets.
"A traditional distributor contacted us to offer us in Barnes & Noble across the US and other places, but it just didn't work for me," he said. "I can't risk waiting for six months to get paid only for someone along the chain to go bust."
Instead, he prints limited runs – always around 1,000 or 2,000 copies – enabling management while bringing in enough revenue to make the venture viable. Every issue sells out, too, further heightening its desirability.
In recent weeks I've come across more magazines like this, so much so that we're listing contact numbers, websites and emails now under the 'distributor' heading in these pages, rather than just naming the traditional distributors.
This kind of publishing is similar to the craft beer craze. Independent breweries are working outside traditional models and routes to market.
Smart retailers are sourcing for themselves, tracking down local and small companies and ordering direct, and getting better margins as a result.
Sure, it creates more work, but eventually you'll get a reputation as offering the kind of products that none of your competitors have.
Get ready to go direct.