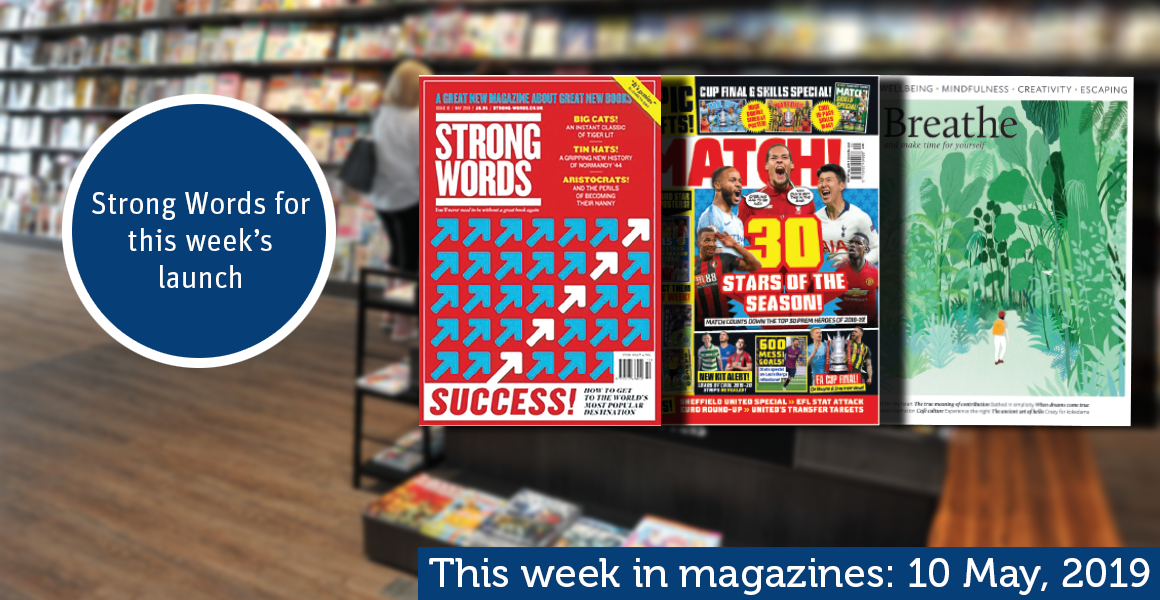 Launch of the week
Seeing a gap in the market, magazine veteran Ed Needham has launched a new publication aiming to give passionate readers access to the world of literature
Strong Words
On sale out now
Frequency monthly
Price £6.95
Distributor Seymour
Display with TLS
---
Books might have the highbrow TLS as well as many different review supplements and pages in the quality press at weekends, but there is little else in magazines for the avid reader to connect with their world.
It's a gap in the market that has been spotted by magazine veteran Ed Needham, whose CV includes stints at FHM in the UK, and its launch in the US, as well as the granddaddy of contemporary American publishing, Rolling Stone.
Described as "a great new magazine about great new books", it includes over 100 reviews in each issue, with interviews and features about authors and their works.
Road To UEFA EURO 2020 Sticker Collection
On sale out now
Frequency collectable
Price £3.99, stickers 70p
Distributor Panini
Display with FIFA 365 trading cards
This Panini sticker collection prepares fans for next year's football tournament.
The publication includes 64 pages with 476 stickers to collect, featuring 28 teams and scores of top European players.
Asimov's Science Fiction
On sale out now
Frequency bimonthly
Price £6.99
Distributor TLS, Strong Words, The Week
This US magazine is named after the science fiction author and pioneer Isaac Asimov.
It includes the best in contemporary sci-fi writing in short story and extract forms, along with news and details of forthcoming events.
MATCH
On sale out now
Frequency weekly
Price £2.99
Distributor Seymour
Display with Match of the Day magazine, Kick
The special FA Cup final edition is traditionally one of Match magazine's bestsellers for the year.
This edition includes a free poster, with finalists Manchester City on one side and Watford on the other, as well as a free 16-page skills booklet
Uncut Ultimate Music Guide
On sale out now
Frequency monthly
Price £8.99
Distributor Marketforce
Display with Uncut, Q, Mojo
Each edition of the ongoing series of specials under the Uncut brand covers a single act.
The latest issue is devoted to prog rockers King Crimson, with new interviews alongside classic features and a guide to their entire recorded output.
DC Comics Graphic Novel Collection
On sale out now
Frequency one shot
Price £21.99
Distributor Seymour Display with Deadpool, DC Comics Graphic Novel Collection
This is the latest special edition spin-off from DC's book-style graphic novel.
It comes with a suitably high retail price tag, and is entitled Reign Of Doomsday, featuring Superman.
Grand Designs
On sale 22 May
Frequency monthly
Price £4.40
Distributor Marketforce
Display with Build It, Real Homes
A special edition of the home improvement magazine that publishes under the banner of 'extend, convert, renovate'.
This special issue has 80 pages of homes that have been given makeovers, alongside all the usual news and features.
Breathe/Teen Breathe
On sale out now
Frequency monthly
Price £5.99
Distributor Seymour
---
Specialist choice
Hitesh Patel,
Gay's Newsagents, Hertford
Who buys it?
Breathe and Teen Breathe tend to sell mainly to well-to-do customers.
How do you display it?
The best place to get magazines noticed for us is our window, so that's where we put them.
My week in magazines
Print is still best for a proper read
Ed Needham knows a thing or two about publishing, and his new publication, Strong Words (see left), has an interesting and unique selling point.
Like the return of Loaded founder James Brown to traditional magazine publishing with FourFourTwo, it's all the more interesting given Needham's track record.
Where he diverges from Brown is in what he thinks about magazine publishing in 2019. It's not about the internet, he says in an interview with Press Gazette, explaining why no content from the printed page can be found on the mag's website. Instead, the online platform focuses on delivering subscription sales and promoting the print brand.
There's already loads online, he argues, lots of which is hit-and-miss, and people browsing will just come across stuff.
Print, he says, is best for anyone looking for a 'proper' read: "Magazines have to be useful, and they have to be helpful, and they have to be entertaining and interesting, whereas that process can be a bit too hit-and-miss online."
It's an argument I use with my kids when I urge them to stop endlessly scrolling through marginally diverting stuff online and pick up a magazine or book instead.
Instead of aping what's happening online – something the women's celebrity weekly market could be accused of – publishers need to hold firm and realise that few want to read lengthy pieces and proper analysis online.
It's also something more retailers should think about asking their customers: "When was the last time you read something you really wanted to?"