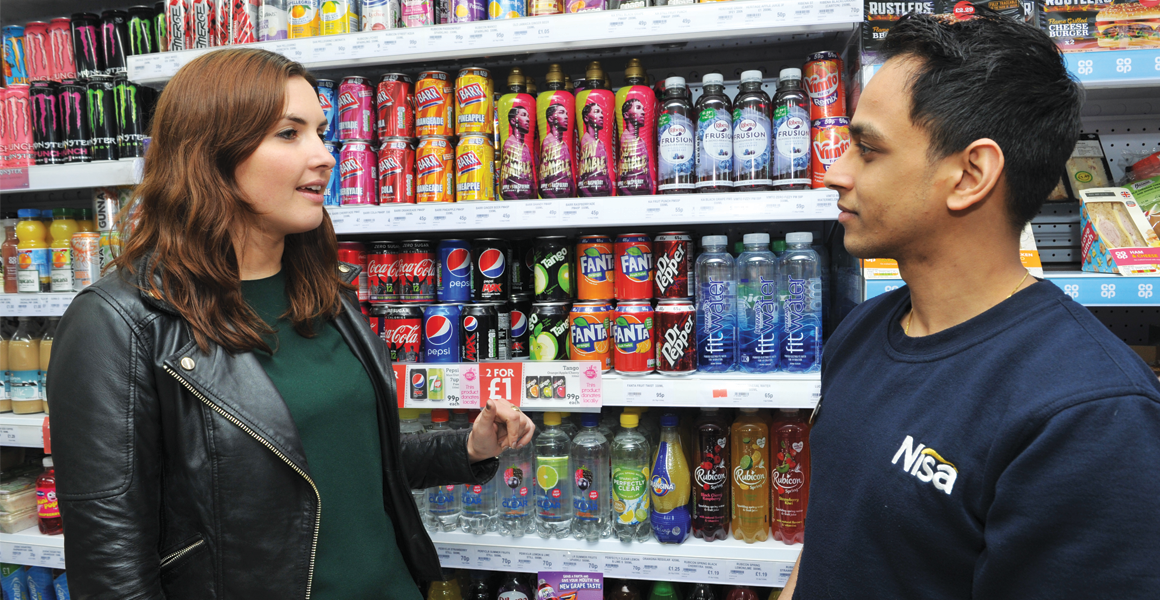 Marketing to customers means promoting and advertising your store in ways that attract the most footfall and sales. Retailers who do this well can drive people to shop with them, attract passers-by to their store and use promotions and loyalty schemes to encourage spending.
Before benchmarking against these criteria and finding out how well you are doing, read how Lucozade Ribena Suntory helped Amit Puntambekar, who runs Ash's Shop (Nisa Local) in Fenstanton, Cambridgeshire, develop an action plan to fit his store's needs.
Amit runs a 1,400sq ft store in a small village, with shoppers mainly drawn from his local community.
One of his biggest challenges is to get shoppers excited about new deals and promotions when they are already so familiar with the store. How can the IAA help him improve?
Name Amit Puntambekar
Shop Ash's Shop (Nisa Local)
Location Fenstanton, Cambridgeshire
Size 1,400sq ft
Staff Three full-time, six part-time
Why I take part
"I wanted to get an outside perspective on how effective my marketing was. I'm hoping that by working with a key supplier like Lucozade Ribena Suntory, we can learn to use promotional tools better and increase our sales across the store. Marketing is so important, because if you cannot communicate what you're doing in store, you will struggle to gain sales and drive profits."
IAA advice
Amit's challenge: Communicating his meal deal offer to target shoppers
Amit currently has his food-to-go offer near the back of the store, siting it after fresh produce. His challenge is how he can introduce and communicate a meal deal offer to shoppers.
Loren says: "Amit has a great store and space he can use to promote meal deals more effectively. One way to address this might be by using coloured stickers on items in meal deals to show shoppers what is included. This will make it easier for consumers to shop."
Action: Place coloured stickers on meal deal items. Have signage nearby to explain to customers what the stickers mean.
Amit's challenge: Showing regular customers what else he offers in store
Amit has a digital screen, but wants to make better use of it. He wants to increase his morning shoppers' basket spend when they come in to buy a newspaper.
Loren says: "It's great that Amit already has a screen in store, as this is a really effective way to grab the attention of shoppers. One way to increase engagement can be by using moving images on his screen and tailoring adverts to the time of day that will appeal most to shoppers."
Action: Tailor digital-screen promotions to the time of day and use moving images to capture attention.
Amit's challenge: Marketing new products to customers
Amit ensures his staff try new products when they come in so they can recommend them to shoppers. His challenge is how he can convert this into a significant sales uplift.
Loren says: "Recommendations are a great way to engage customers and increase sales. Shoppers will listen to local staff members they trust. Amit can reinforce this by placing staff recommendation cards around the store, like they do in Waterstones. Amit can also use these staff recommendations across multiple touchpoints such as social media, community magazines and leaflets so customers are always aware of new and great products in store."
Action: Create staff recommendation cards and place them on shelf to push sales of new and exciting food and drinks.
Partner advice
Loren McErlean
Commercial Planning and Strategy Manager
Lucozade Ribena Suntory
"Marketing to customers is a really important tool in getting more customers to shop with you. Amit has the basics in place, and with a few small tweaks I am sure he will see his average basket spend rise."